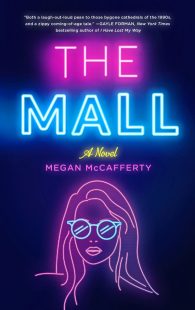 The Mall
by
Megan McCafferty
Purchase on:
Amazon
, 
iBooks
Add to:
Goodreads
Synopsis:

The year is 1991. Scrunchies, mixtapes and 90210 are, like, totally fresh. Cassie Worthy is psyched to spend the summer after graduation working at the Parkway Center Mall. In six weeks, she and her boyfriend head off to college in NYC to fulfill The Plan: higher education and happily ever after.

But you know what they say about the best laid plans...

Set entirely in a classic "monument to consumerism," the novel follows Cassie as she finds friendship, love, and ultimately herself, in the most unexpected of places. Megan McCafferty, beloved New York Times bestselling author of the Jessica Darling series, takes readers on an epic trip back in time to The Mall.
Reading The Mall, by Megan McCafferty, was absolute joy. It felt like slipping on a worn-in sweatshirt and catching up with old friends, even though all of the characters and situations were new. The way McCafferty writes just invokes a lot positive feelings out of me and I always feel so deeply connected to her characters. If you can't tell already, I loved the Sloppy Firsts series. I read them over and over again in high school. They held up when I reread them in grad school. They are warm and familiar.
The Mall continues in this way, even as it brings new characters and is set in an earlier time period (the 90s). There are a few easter eggs to characters from the Sloppy Firsts, which made me smile. But this story is unique and of its own and a great standalone novel that will appeal to current teens, as well as those of us who are bit beyond our teen years.
Troy had always loved that our names were heavily featured in Greek myths. Troy was the city fought over in the Trojan War. Cassandra was the princess of Troy, who saw visions of the future.
Clearly, I had not seen this coming.
The Mall is centered around Cassie Worthy, who is in between graduating from high school and going away to college. Her plan is to work at the mall with her boyfriend for six weeks before heading off on their next big adventure. But that plan is scrapped when her boyfriend breaks up with her and she's left to figure out what she's going to do next.
This bizarre and unwanted interaction was my first hint that 900,000 square feet was not nearly big enough to avoid all the people I never wanted to see again.
Cassie sets out to find a new job and eventually lands in a higher-end women's fashion store with her former best friend. They slowly come around to each other (for the most part) but especially bond over a treasure hunt involving Cabbage Patch Dolls, basements, storerooms and maps. It's a bit crazy and over the top, but also a lot of fun.
This made him smile, which made me smile. My parents would've recommended refitting a new retainer, but I liked his mouth just the way it was when it wasn't smirking.
There's a lot of fun and nostalgia to be had. For those of us who grew up with malls as the main source of entertainment and shopping, (Amazon did not exist my middle school days. I was also still listening to CD's, since the iPod was still a year or two away) it was nice to go back to a different time when everything seemed shinier and simpler. My closest mall was a 45 minute drive, so it was always a day-long affair and a big deal.
I thought I'd avoided the vicious cycle of romantic mistakes, but I was no better off now than I was as the start of the summer: rejected and dejected. How could such a smart girl be so dumb?
I really loved watching Cassie grow, even if sometimes it was slower than I would have liked. But I realize she's a teenager going through a lot of changes and expecting her to be perfect is unrealistic. I loved the summertime fling aspects and the friendships shown in the book as well. There's a few cringe moments here and there, but I can overlook them.
If you're looking for a fun, nostalgia-filled, trip back to the 90's with a book that features a lot pop culture references, funny moments and a side of romance, then be sure to tie your hair back in a scrunchie and dive in.
Related Posts