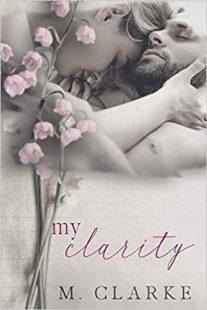 My Clarity
(
My Clarity #1
)
by
M. Clarke
Purchase on:
Amazon
Add to:
Goodreads
Synopsis:

Still reeling from the death of her father, Alexandria hopes to find both independence and reprieve from her grief by heading off to college. However, life throws her a serious curveball when she discovers that her roommate isn't quite the person she imagined.Smoking, tattoos, and street racing for fast cash are Elijah's only interests. A harsh life has made him apathetic and indifferent, until Alexandria enters his life. When their paths cross, turmoil abounds.An inevitable encounter, an undeniable attraction, and an unexpected chance at love-will it be enough?
Review:
My Clarity was an emotional tale of love, friendship and perseverance.  The story unfolded so seamlessly and I loved that we got to hear both of their voices.  If you're a fan of new adult romance that is sexy and sweet, then take a look at adding this one to your tbr!
Gasping for air, tears filled my hands and I couldn't stop them from flowing. My body trembled, and I reached for something to lean on, but there was nothing there. – Alex
Death had punctured a hole that couldn't be mended. How do you get past this? – Elijah
The prologue drew me in right from the start.  And before I knew it, I had tears streaming down my face.  Alexandria's past was heartbreaking and it gutted me to the core.  It was amazing how within a few pages, her pain became mine.  Thankfully we then jumped ahead three months, when Alex was heading off to college.  She was taking over her cousin Jimmy's room but her roommate was not what she expected.  With a play on names, she ended up with a tall, dark, gorgeous, tattooed guy that had a vast sea of secrets.
I'd known he didn't like me when we first met, but I thought he would at least have the decency to be nice to me. My heart twisted painfully at his words. What a great start.
I absolutely loved Alex.  While she could be so innocent, she was also kind and had the hugest heart ever.  She was still drowning in her grief and it pained me that even her relationship with her mom was strained.  But even when she was emotional, her thoughts still held logic.  She had such a good head on her shoulders…..well except when it came to Liam. They were dating and I wasn't the hugest fan of him. I got why she kept him around, and you'll find out too, but I wanted more for her.  So when she found out her roommate was a guy, and one who partied and went through women like water, I was just as nervous as she was.  But I loved watching her grow and stand up for herself, and a lot of that had to do with Elijah.
I didn't understand the hold she had on me. And I didn't like it one bit.

I was infatuated with Elijah!  He had the highest walls ever, so of course he came across as a total douchebag.  It didn't help that he could run hot and cold with Alex.  But he had a tragic past and was haunted, jaded and everything in between because of it.  Tortured doesn't even begin to describe Elijah.  But there was this other side to him too, where he could be seductive or oh so funny when he was playing dirty.  He also listened to Alex and understood her grief.  So as he become protective of her I couldn't stop smiling!  He had this soft side to him that the majority of the world couldn't see.  But we got to, and it was everything.
Lowering his head and brushing his lips against my ear, accentuating one word at a time, he murmured, "You. Are. Better."
Elijah and Alex were definitely attracted to each other, but they were roommates and didn't want to ruin that.  So as they figured out how to live with one another, so many of their moments were beyond adorable.  But there were also moments that held pain, heartache and secrets.  And they both made mistakes, they each had so much to learn and grow as the story unfolded.  But you guys, the moments Alex got Elijah or Elijah was nice to Alex my heart soared.  They didn't have an easy path, but I loved watching every minute of it.
I couldn't look at her. If her eyes gave me permission to do what I wanted to do, I wouldn't stop. Walking away was the only way I could maintain control, but she stopped me.
"Elijah, did you ever love anyone like that before?" she asked softly, still looking overcome, still planted against the cabinet as if glued there.
"No. Goodnight, Freckles," I said and went to my room.
My Clarity was an emotional tale that pulled at my heart.  There is so much I'm not even touching on…..karaoke, street racing, milk and cookies, school, work and so much in-between.  This story was so full of life and the side characters rounded out this story perfectly, I loved their friends Seth and Lexy.  And with an epilogue that jumped 5 years into the future, oh my heart was so happy to see where characters ended up.  I'm so thankful I picked this book up, it's exactly what I needed.
"I'm going to give you a hug now since friends hug after they make up."
He embraced me before I had time to register what he had said. I sucked in air when my body pressed against his. God he felt so good. I needed him off me.
PS I loved how he called her freckles.
Related Posts