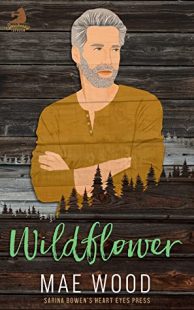 Wildflower
(
Speakeasy Taproom #5
)
by
Sarina Bowen
Purchase on:
Amazon
Add to:
Goodreads
Synopsis:

When the prize is love, sometimes you get stung. But if you're lucky, you just might hit the sweet spot…

Juliana Burton needs a medal at Speakeasy's beer festival to push her brand-new brewery into the spotlight. She thinks she knows how to do it, too--with a beer made exclusively from Vermont hops, barley and the best honey in the state. Too bad the only thing standing in her way is a six feet tall, smokin' sexy, and her secret high school crush.

After a very public disaster in Boston, Riggs Lyon is home with his teenage son in tow. Riggs is taking over the family beekeeping business with an eye to offload it and start life over somewhere where "Lyin' Lyon" isn't a joke. Selling honey to Juliana doesn't make business sense. She can't afford the high prices Lyon honey fetches in specialty shops and farmer's markets. But somehow, he's having trouble saying no to anything she asks for, whether it's in the hive or in the bedroom.
Review
I am OBSESSED with this one!

I have always been a sucker for those stories when one of the characters has had a crush on the other for YEARS but things didn't work out and they are able to come back together, years later, and finally connect. And actually even then it's usually just a few years while they were away at college, whereas with these two it's been about 20. I've actually read a few books/fics lately that feature characters who get a second chance at love when they're in their 40s and I love it. Even if kids are involved, at that point they usually are old enough that they just want their parent to be happy and for the character themselves, they just know what they want out of life and they usually don't want to waste time.

The two may get off to a semi-rocky start, mostly involving old family drama, but it doesn't take long for things to come to a head. And when it does–phew. It's hot. Again, at this point in both Juliana and Riggs's lives, they know what they want (in this case in bed) and are not afraid to ask for what they want and give as good as they've got. That first scene between them was way hotter than I anticipated and I was very happy about it, lol.

Of course I did also enjoy seeing life on the Lyons' apiary and Julie's brewery coming to life and learning about what it means to be a solely woman run business, especially in an area that ALWAYS predominantly features beer-bros. Those ladies were so badass and I loved the process of naming the beers (EXCEPT I WANTED VERMOST TO STICK SO BAD LOL), brewing them, bringing them to the competitions, etc.

Once again a great addition to The World of True North!

Huge thanks to Heart Eyes Press for allowing me to read an eARC of this book in exchange for my honest opinion ♥
Related Posts