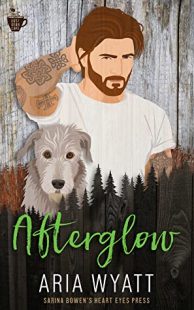 Afterglow
(
Busy Bean #10
)
by
Aria Wyatt
Purchase on:
Amazon
, 
iBooks
Add to:
Goodreads
Synopsis:

I'm a numbers girl.

Or at least I thought I was, until my formula fell apart. Back home in Vermont, with my dream on hiatus, I'm working at the Busy Bean and taking online classes. As long as I keep my focus, I'll be back in New York City next semester. Hopefully.

When Declan O'Shaughnessy storms into the café, all muscles and tattoos, wielding his sexy Irish brogue like a weapon, the only equation I can solve is one that lands me in his bed. Even more dangerous, is my growing affection for his cherub-faced little boy.

But Declan has complications of his own. He's cagey, but I'll win him over.

Yeah, about that focus… mine is all on him. Can we have a harmless fling without getting hurt?
Review
"You good with a tongue bath?"
Wait, what? I stop short and blink a few times. "Excuse me?"
"Jaysus." He claps a hand to his forehead. "Moira. She'll probably lick you to death." His cheeks and neck flush deep crimson as I burst out laughing.

OKAYYY I 100% KNEW going into this that Declan was Irish. Yes. I did know that. BUT WHAT I DIDN'T KNOW was that he was going to exceed each and every one of my expectations as being one of the sexiest characters I've EVER READ ABOUT IN ALL OF MY LIFE. His dirty talk–unparalleled. I wanted to add a few quotes but nahhh I think I'll let you all read them in real time. His dominance in the bedroom–perfect level. LOL In all seriousness though, it was a beautiful thing to see him come alive once Solana came into this life. Sure, he had been living his life just fine before she came along, but after the first time he saw her at the Bean, he lit UP. She was the perfect amount of sunshine to help him grow in a better person, a better partner, and possibly even better father (though he was doing his damn best already).

He suddenly pulls back. Gasping, he drags both hands through his sopping wet hair. "We should stop before I lose my fuckin' mind."
"We can't stop." I'm breathing just as hard, drenched in every sense of the word. "I need you to help me lose my mind."

That five stars though, isn't just because Declan is the sexiest man in the entire world (fictional or not). No, it's so much more than that. This book hit me in the feels on so many different levels. I loved that while Solana (I ALSO LOVE HER TO DEATH) is a literal ray of sunshine, she also has some deep depths of darkness to walk through. The amount of pain and tragedy that she's already been through in her young life and the fact that she can still be the beautifully kind person that she is, really speaks to her character.

That's what made the two of them together so special. The two had such explosive chemistry, Solana helped Declan be a better person, Declan protected and cared and LISTENED to Solana, the two eventually spill their guts to one another and fight for one another. They just fit so perfectly.

Honestly you guys, I'm just going to say it. This is my TOP, TOP favorite book in ALL of The World of True North series. I just really am going to need everyone to run and go read the entire series BUT ESPECIALLY this one. I could honestly gush all day. There is not a single part of this book that I didn't like and you better believe that once there is an audio of this I will be SPRINTING to buy it so I can listen to Declan's sexy Irish brogue in my ear holes. *shivers*

Huge thanks to Heart Eyes Press for allowing me to read an eARC of this book in exchange for my honest review!♥
Related Posts