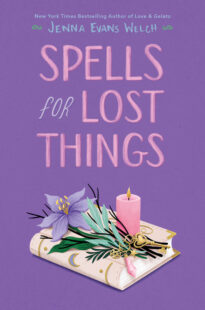 Spells for Lost Things
by
Jenna Evans Welch
Purchase on:
Amazon
, 
iBooks
Add to:
Goodreads
Synopsis:

Willow has never felt like she belonged anywhere and is convinced that the only way to find a true home is to travel the world. But her plans to act on her dream are put on hold when her aloof and often absent mother drags Willow to Salem, Massachusetts, to wrap up the affairs of an aunt Willow didn't even know she had. An aunt who may or may not have been a witch.

There, she meets Mason, a loner who's always felt out of place and has been in and out of foster homes his entire life. He's been classified as one of the runaways, constantly searching for ways to make it back to his mom; even if she can't take care of him, it's his job to try and take care of her. Isn't it?

Naturally pulled to one another, Willow and Mason set out across Salem to discover the secret past of Willow's mother, her aunt, and the ambiguous history of her family. During all of this, the two can't help but act on their natural connection. But with the amount of baggage between them—and Willow's growing conviction her family might be cursed—can they manage to hold onto each other?
Review:
Spells for Lost Things was an emotional tale filled with family, friendship, love and hints of magic. This book reached into my heart so easily. The characters were so vivid and bright. The story-line made me read this book way too fast. I loved every minute of it, even the moments that made me cry. If you're looking for a sweet young adult story filled with magic, first love, family mysteries and deep emotions, then definitely make for sure you have this one on your tbr!
"I love this place," I blurt out.
"Me too," she says. And then there's this moment where we smile at each other, and for one tiny second I swear the entire world stands still.
We alternated the story between Willow and Mason, and both of them were both so easy to connect with. Willow felt adrift in the world. Her passion in life was traveling. With divorced parents who were both too busy to give her their time, Willow felt so utterly alone. Mason was in the system and had been in and out of foster homes over the years. When he landed up being placed with his mom's old best friend and her family, Mason's whole life changed. Yes he still felt alone but he was determined more than ever to find his mom and be back with her again. When fate landed Willow and Mason together, they both grow in leaps and bounds trying to figure out where they both fit in this world. And along the way, love helped them both in unexpected places.
How do I tell him Everything in my future feels fuzzy except for you?
Willow's pain radiated out of her and into readers hearts. Her dad was busy with his new family and her mom was absorbed with her work. Neither had time for Willow. It felt like her parents moved on with their lives after the divorce and Willow was left behind in the dust. And her closest friend was a plane flight away. When her mom dragged her to Salem, to settle an estate for an aunt she never knew she existed, Willow started to get peaks into her mom's life from the past. Willow got to meet her witchy aunts. She read spell books. And was sent on a treasure hunt to break a curse. Willow was focused, had big aspirations and had a kind, gentle soul. She was someone you could talk to for hours and trust with your deepest darkest secrets. She was exactly who Mason needed in his life.
There are so many ways a relationship can go wrong, it's amazing we keep trying at all.
Mason was drowning in pain too. His mom was an addict and that landed him in foster care. When an old best friend of his mom's stepped in and said she would foster him, Mason ended up in Salem too. I loved Emma, his new foster mom. Her, her husband and the three little girls in their house completely exploded Mason's world. With glitter, love and coffee they slowly started to win Mason over. And my heart was bursting for him just to give them a true chance. So I loved when we got to see Mason trying, like breaking into Nova's world. Or when he allowed the two littler girls to play makeup with him. Or even being able to connect with Emma over their love of coffee. Those moments, no matter how quick they were, meant everything. My heart burst with happiness when Mason would smile or relax around his new foster family. But most of all I loved how he instantly clicked with Willow. It was like destiny was in the stars that they were to meet.
Things that Willow and the Night Sky Have in Common:
1. Beautiful
2. Unpredictable
3. Makes you glad to be alive.
Willow and Mason both clang to hope that their future would lead them to greater things. Willow with traveling and Mason being with his mom again. Yet neither of them were living in the moment, it felt like they were constantly waiting for the future to happen. So when they met it was like they both got to take a deep breath. And when they were together, they lived in those moments. It was sweet, kind and honest. And as they opened up, their friendship became deep so quick. It felt real. It felt like I was there with them. And with witchcraft, secrets, fate, and acceptance, they both were on an emotional journey to discover who they both were. While falling in love along the way.
"Every minute with you is magic."
With magic in the air, Spells for Lost Things was such a huge hit! Treasure hunts, spells, acceptance and love made this book impossible to put down! There were moments of laughter and there were also moments where tears kept falling down my face. This book tugged on my heart constantly. And with Willow and Mason, I wanted them desperately to be each other's light in their lives. But at the same time, I wanted their family lives to finally bring them happiness too. Spells for Lost Things was an adorable, emotional tale and I'm looking forward to reading all of Welch's other books!
PS While I wouldn't list this book as paranormal, because the spell/witch aspect seemed like it could be in our everyday world. There were a few things that left me questioning just maybe it was more than a contemporary. Like, how did the aunties know about their loves in food? I truly don't know lol. But I guess anything is possible. ♥
*I voluntarily read and reviewed an advanced copy of this book, provided by the publisher. All thoughts and opinions are my own.*
Find it: Goodreads, Amazon, Kindle, Audible, B&N, iBooks, Kobo, TBD, Bookshop.org
About Jenna:
Jenna Evans Welch was the kind of insatiable child reader who had no choice but to grow up to become a writer. She is the New York Times bestselling author of Love & Gelato, Love & Luck, and Love & Olives. When she isn't writing girl abroad stories, Jenna can be found chasing her children or making elaborate messes in the kitchen. She lives in Salt Lake City, Utah, with her husband and two young children. Visit her online at JennaEvansWelch.com. 

Website | Twitter | Instagram | TikTok | Goodreads | Amazon | BookBub

 
Giveaway:
1 winner will receive a physical copy of SPELLS FOR LOST THINGS, US Only.
Ends October 15th, Midnight EST.
Tour Schedule:
Week One:
| | | |
| --- | --- | --- |
| 9/12/2022 | | Excerpt/IG Post |
| 9/13/2022 | | Review |
| 9/14/2022 | | Review/IG Post |
| 9/15/2022 | | Review/IG Post |
| 9/16/2022 | | Review/IG Post |
| 9/17/2022 | | Excerpt/IG Post |
Week Two:
| | | |
| --- | --- | --- |
| 9/18/2022 | | Review/IG Post |
| 9/19/2022 | | Review/IG Post |
| 9/20/2022 | | Review/TikTok Post |
| 9/21/2022 | | Review/IG Post |
| 9/22/2022 | | IG Review |
| 9/23/2022 | | Review/IG Post |
| 9/24/2022 | | IG Review/TikTok Post |
Week Three:
| | | |
| --- | --- | --- |
| 9/25/2022 | | Review/IG Post |
| 9/26/2022 | | Review |
| 9/27/2022 | | IG Review |
| 9/28/2022 | | Review/TikTok Post |
| 9/29/2022 | | IG Review |
| 9/30/2022 | | IG Spotlight |
| 10/1/2022 | | Review/IG Post |
Week Four:
| | | |
| --- | --- | --- |
| 10/2/2022 | | Review/IG Post |
| 10/3/2022 | | IG Review |
| 10/4/2022 | | Review/IG Post |
| 10/5/2022 | | IG Review/FB Post |
| 10/6/2022 | | Review/IG Post |
| 10/7/2022 | | Review/IG Post |
| 10/8/2022 | | IG Review |
Week Five:
Related Posts
I'm so excited to help host a spot on the Spells for Lost Things tour! Check out my 5 Star review and enter a fabulous giveaway below. Enjoy♥