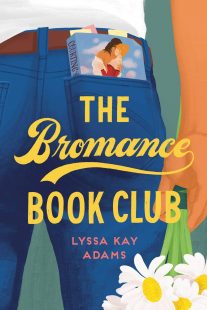 The Bromance Book Club
(
Bromance Book Club #1
)
by
Lyssa Kay Adams
Purchase on:
Amazon
, 
iBooks
, 
Book Depository
Add to:
Goodreads
Synopsis:

The first rule of book club: You don't talk about book club.

Nashville Legends second baseman Gavin Scott's marriage is in major league trouble. He's recently discovered a humiliating secret: his wife Thea has always faked the Big O. When he loses his cool at the revelation, it's the final straw on their already strained relationship. Thea asks for a divorce, and Gavin realizes he's let his pride and fear get the better of him. 

Welcome to the Bromance Book Club.

Distraught and desperate, Gavin finds help from an unlikely source: a secret romance book club made up of Nashville's top alpha men. With the help of their current read, a steamy Regency titled Courting the Countess, the guys coach Gavin on saving his marriage. But it'll take a lot more than flowery words and grand gestures for this hapless Romeo to find his inner hero and win back the trust of his wife.
Review:
The Bromance Book Club was absolutely genius, I was addicted from that first page and finished this book in a day!  And while I devour second chance romances, those stories where they're already married with kids and struggling?  Nope, I always pass on those books.  But The Bromance Book Club completely changed my mind!  I have been so wrong to not read this type of book before!  This story was laced with heart, jealousy, friendship, love and second chances.  If you love romance that is emotional, laugh out loud funny and easy to fall in love then you definitely need this book on your tbr!
"Good. First rule of book club?"
They finished in unison. "You don't talk about book club."
What. The. Fuck.
Gavin Scott was a professional baseball player and had a whirlwind romance with his now wife.  They got pregnant early in their relationship, married, and loved one another with their whole heart.  Yet a few years into their marriage, Gavin discovered his wife had been faking it. The whole time.  Yes they had other issues, but with his heart hurt and wounded he moved out at his wife's request.  I actually felt bad for Gavin the more time we spent with him. He loved his family, but somewhere along the way he lost his spark with them. Especially his wife. So when Gavin got pulled into a book club, and the men tried their best to help him fix his marriage since he was beyond clueless, I couldn't stop laughing!
Read some books and, voilà? Thea would take him back with open arms? Was he really that desperate?
He pictured life without Thea.
Yes, he was really that desperate.
Gavin was determined to win his wife back and be with his twin daughters again.  So he tried so hard in everything that he did. Gavin was sexy and beyond seductive. He made me fall in love with him and was a true book boyfriend we could obsess over!  I loved his moments with his friends and those in the book club.  They were so good at helping him piece things together and coming up with ideas for helping him salvage his marriage.  So I loved watching him try to win his wife back and be the man and best friend she needed him to be. And when he would lay things out, like his rules, I was screaming with joy. He used moments with Thea to show her why they were so good together. That they still had passion and sparks. And why they should stay together. I loved every minute of it!
"Please, Thea. Just give me a chance."
"To do what?" she blurted, throwing her hands wide in an exasperated gesture.
"To prove how much I love you."
Her lips parted again. She stared at him for a moment that lasted forever.
It took me quite some time to warm up to Thea.  She kept her husband at arm's length and the problem was, I had already fallen in love with Gavin.  I wanted to push her back into his arms.  So the moments she would cave or give in to him, ohhhhhhh I was smiling with joy!  The more we got to spend around Thea, and see her past, that pain cut so deep.  I understand why she acted the way she did.  It was disheartening that she didn't share any of that with her husband before, but thank goodness from his book club he realized they had to work through that too. So Gavin tried everything to win Thea back and get her to open up about her past.  I was cheering for them every step of the way to get the HEA they deserved!
They started walking again, but they hadn't taken more than a few steps when Amelia asked. "What are you afraid of, Daddy?"
Losing you and your mom, he thought, his throat thickening.
The side characters added so much to this story! The book club meetings were always a favorite and the lengths they would go to help Gavin, just wow lol! Del and Mack were my absolute favorites. And with Mack, just try and not laugh at his actions. Thea's sister Liv was her biggest champion. Yet she didn't know the whole story behind Gavin and Thea's issues. And I just wanted to whisper to her all the details so she would help them get back together. And then there were Gavin and Thea's twins. Their emotions were strong, overwhelming and so real. They caused me to have tears in my eyes at time. I just wanted them to be a happy family again!
Dammit! Why, dear God, WHY did she have to be married to a man whose job literally depended on him being in peak physical shape?
The Bromance Book Club was laugh out loud hilarious and effortless to love!  With so much emotion, fabulous characters and a story-line that was devoured way too quickly, it easily became a favorite! The scenes between Gavin and Thea were steamy hot! And the mixture of heart, laughter and sadness was done perfectly. This adult, second chance romance is a must read!
PS  Poor Gavin getting spoilers lol
Related Posts