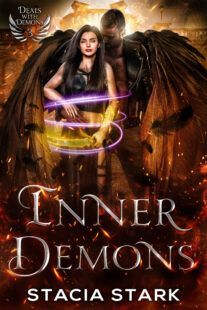 Inner Demons
(
Deals with Demons #3
)
by
Stacia Stark
Purchase on:
Amazon
Add to:
Goodreads
Synopsis:

He's an arrogant control freak.
I'm a stubborn, loose cannon.
We're a match made in hell.
Luckily, that's Samael's home town.

After the Mage Council publicly excised me, I've finally got my first real case. And I've even taken on a brand-new employee: a werewolf with impulse control issues.

But my sister just lost everyone she loves, and she's begging me to ask Samael for help.

Whether I like it or not, I need Samael's resources. Because anyone who can kill that many witches has the kind of power we can't afford to ignore. And there's no point dodging the demon who manages to involve himself in all of my problems.

But the more I work with Samael, the more I'm realizing just who he is beneath the mask he wears for everyone else.

And the demon I never wanted?

He may just be the love I never knew I needed.
Review:
Have you ever heard a song playing in your head while reading a book?  I usually don't, but listening to this book I kept hearing Sucker for Pain haha. Okay, but seriously, this series completely stole all of my attention. Murder blazed through the pages, there were unfathomable tasks, shocking alliances, help from unlikely sources and revelations that were horrifically brutal made this book impossible to put down! I know I keep saying it, but if you love urban fantasy you definitely need to binge this series!
He looked endlessly amused, and it pissed me off. His wings were hidden away, his clothes covered almost every inch of his hard body, but whenever I looked at him, all I saw was that hard body covering mine, the wicked lust on his face as he thrust into me.
"Danica?"
Danica finally started her own business and I loved her new hire, Kyla. She was a werewolf that fit right in and it was impossible not to like her. Danica showed us time and again how smart and tricky she was as we got even more pieces of the puzzle put together. We still have a ways to go, but the picture is definitely getting much clearer! I don't necessarily like some of the things. Such as the new things we learned about *side eyes while trying to keep away the anxiety*. Creepy and eerie doesn't explain the situation enough. And I don't even know what that means for the spinoff series. It left me feeling nervous for how that's all going to unfold!
"And if you didn't know I'm already yours, you haven't been paying close enough attention."
But here's my favorite part of this book….there is a spoiler ahead eeps. I love when a slow burn finally, finally turns into something more and amazing.  While I absolutely love slow burn romances, I love those pivotal moments when they admit to each other how they feel.  So this book made my heart so happy. I loved those scenes so much! But still, the world kept going around them. So we got to watch as Samael proved that he would do anything to protect Danica. Plus his thoughtful gift, awww, he gets her. Truly gets her! It was impossible not to fall head over heels in love with Samael, if you hadn't already. Through it all, they still had fabulous banter. It was so much fun and smile inducing! And their intimate moments together were steamy hot!
A shiver ran up my spine as a warning siren rang out in my brain. There was something I wasn't seeing. Some bigger part of this plan that I'd missed.
I'm so thankful this series is complete because that ending, wow.  The cliffhanger was brutal, my mind was blown and I was left reeling and just wanted to curl into a ball. Be thankful the next book is out! There was blood, creatures, betrayal and mysteries. But there was also humor and love laced into this story too. It was the perfect mixture of fun and intense. And I definitely cried happy and sad tears. But I will end with this…..I can't wait for you to meet Nuri! My lips are zipped for who or what that is eeps! But you'll love it!
Related Posts