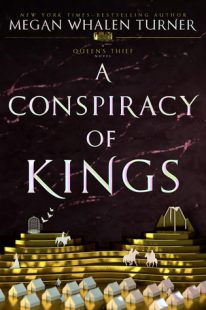 A Conspiracy of Kings
(
The Queen's Thief #4
)
by
Megan Whalen Turner
Purchase on:
Amazon
Add to:
Goodreads
Synopsis:

Sophos, under the guidance of yet another tutor, practices his swordplay and strategizes escape scenarios should his father's villa come under attack. How would he save his mother? His sisters? Himself? Could he reach the horses in time? Where would he go? But nothing prepares him for the day armed men, silent as thieves, swarm the villa courtyard ready to kill, to capture, to kidnap. Sophos, the heir to the throne of Sounis, disappears without a trace.

Across the small peninsula battles are fought, bribes are offered, and conspiracies are set in motion. Darkening the horizon, the Mede Empire threatens, always, from across the sea. And Sophos, anonymous and alone, bides his time. Sophos, drawing on his memories of Gen, Pol, the Magus and Eddis, sets out on an adventure that will change all of their lives forever
Look, I'm not going to beat about the bush : yes, I know that the relative absence of Eugenides as an explanation for my rating is ridiculous. I objectively, honestly know that. Now, does that change in any way the fact that my heart is ridiculous by essence, because that's what hearts do, right, falling in love, breaking, and so on, as the unruly little shits they are? Well, no.
I can stress
a) how captivating A Conspiracy of Kings is ;
b) how brilliantly Megan Whalen Turner handles the POVs ;
c) how endearing and interesting Sophos is (and his growth! Awesome stuff here, I'm telling you!)
(we could go all day, but I'll choose not to, if that's okay with you)
… having said all that, I can't ignore that I didn't enjoy it as much as I did books 2 and 3, and I very much believe that it's because Eugenides' interactions and tricks are necessary for me to give it a full 5. Sophos is a very good character, but he lacks Gen's spark.
¯\_(ツ)_/¯
HOWEVER, let's not make it seem as if A Conspiracy of Kings wasn't an amazing YA Fantasy novel, alright? Because just thinking about what that genre offers us 99% of the time, there's no forgetting that Megan Whalen Turner has by far the upper hand over Morgan Rhodes, Sarah J. Maas or even – and I do love them – Cinda Williams Chima or Julie Kagawa. By the way, I saw readers shelving these novels as middle-grade, and I wonder… Is that because there's no sex scenes, even fade-to-black? No, I have to ask, because I genuinely do not understand what's so childish about intricate conspiracies, complex characters, a writing very engaging, blurred lines between good and evil – there's no such thing as a moustache-twisting villain in these books, but rather, complicated human beings who make the choices they think are best… Perhaps I am deluded about what is Middle-Grade and what it is not, but please enlighten me? Or maybe not, as I'm quite convinced that I wouldn't agree with you. So there's that.
"Then I walked to my bed and sat, making a show of careless bravado by crossing my legs and slumping as if I had not a worry in the world. In other words, I gave my best imitation of Eugenides."
Anyway, as usual with series, I won't rehash the plot because
1) You may not have read the other books, and would probably burn me at a stake if I spoiled you, and we wouldn't want that, would we?
2) I tend to repeat myself in these cases and I assure you that you don't want to be on the receiving end of my disheveled rambling when this series is concerned. Trust me. Or no, better : ask my friends.
On a final note : Yes, every one of Eugenides' apparitions gave me life, and I'm almost certain that would I reread A Conspiracy of Kings later, I'd probably give out a 5 stars rating.
For now, I'll have to accept that I am not an objective reviewer.
*snorts*
As if it existed.