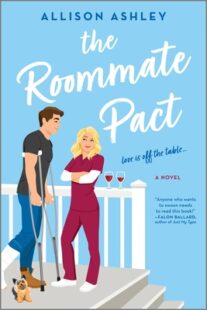 The Roommate Pact
by
Allison Ashley
Purchase on:
Amazon
, 
iBooks
Add to:
Goodreads
Synopsis:

All of the fun, none of the heartache…as long as they stick to the agreement.

The proposition is simple: if ER nurse Claire Harper and her roommate, firefighter Graham Scott, are still single by the time they're forty, they'll take the proverbial plunge together…as friends with benefits. Maybe it's the wine, but in the moment, Claire figures the pact is a safe-enough deal, considering she hasn't had much luck in love and he's in no rush to settle down. Like, at all. Besides, there's no way she could ever really fall for Graham and his thrill-seeking ways. Not after what happened to her father…

Just as things begin to heat up way before the proposed deadline, Graham's injured in a serious rock climbing accident—and he needs Claire's help to heal. She'll do whatever it takes to nurse him back to health…even if it means moving in to Graham's bed and putting up with his little dog, who hates her. But with this no-strings arrangement taking a complicated turn, keeping "for now" from turning into "forever" isn't as easy as they'd planned.
Review:
The Roommate Pact was a friends to lovers romance that was sweet and will have you smiling from that first page to the last!  ER nurse Claire Harper and her roommate, firefighter Graham Scott had a pact that if they weren't married by the time they were 40, they would tie the knot!  Yet one night while drinking, Claire tried to change the rules to being hookup buddies.  While there were sparks, and a scorching hot kiss that seemed to be fueled by a plethora of emotions, both of their lives were turned upside down when Graham was in an accident.  And Claire found herself taking care of him.  We got to alternate between the two of them as this heartwarming story unfolded in an emotional and touching way that will have romance lovers falling in love.
"Thinking about marrying me now, aren't you?" he called after her.
She didn't miss a beat.
"Not a chance."
Claire and Graham's friendship felt like it ran deep.  And it left me wanting to read the previous story about their friends in Would You Rather, just so I could catch more glances of them.  But within their friendship was the most fabulous of banter.  So I loved how Graham teased Claire, and how that would make her flustered.  She tried her best to deny his charm.  But even her bestie thought she should hook up with him, while waiting for Mr. Right.  Why not?  The attraction was there, the tension between them was there and their first kiss turned passionate quickly and was so hot.  It left me desperately wanting more. 
Her gaze started at his collarbone and slowly, slowly traveled down his torso.  Heat followed in the wake of her gaze, which felt more like a caress then a perusal.
Fuck.
What would she do if he grabbed her by the waist and pulled her across his lap?
But there were also emotional moments laced into the story.  Watching Graham get hurt.  Claire's reaction.  Graham's struggle with his long road to recovery.  Claire dealing with her fears from the past.  It hurt.  My throat felt tight and I tried to keep the tears out of my eyes.  And that all led to them slowly opening up about their pasts, telling each other things that they held close to their hearts.  Through it all, Graham was still charming and sexy as hell.  And the tension building between them felt like a scorching inferno.  The shampoo scene?!  Hot!  Yet keep in mind the intimate scenes were almost a fade to black.
"What did you do all day?"
"The usual.  Worked out, watched TV, sat outside."
Wrote you an email.
This story was the perfect mixture of fun with some angst mixed in!  One of my favorite things was the letters.  I'm not saying what they are about, but I laughed and smiled so much!  It felt like each letter stole a little piece of my heart.  They were deep, honest and made me want to shout at someone that they deserved so much more than they thought they did!  Also I absolutely loved Graham's little dog Gertie!  I loved watching Claire struggle with Gertie's feisty self!
"Would it bother you to never kiss me again?"
Graham's chin dipped but his gave lifted to hers, his eyes dark and conflicted. "I think it's best I don't answer that."
With tragic backstories, jaded hearts and a fight for true love, The Roommate Pact had it all!  These pages had a man who was book boyfriend worthy, a woman you'll want to be besties with while you shake a little sense into her, and friends and a little dog that will warm your heart!  This was my first book by Allison Ashley, and I can't wait to read more by her!
*I voluntarily read and reviewed an advanced copy of this book, provided by the publisher. All thoughts and opinions are my own.*