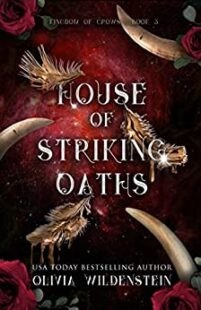 House of Striking Oaths
(
The Kingdom of Crows #3
)
by
Olivia Wildenstein
Purchase on:
Amazon
Add to:
Goodreads
Synopsis:

I WILL BECOME QUEEN OF LUCE... OR DIE TRYING.

There are few people I loathe more than Dante Regio, but my aunt Bronwen, my former grandfather Justus, and my Shabbin grandmother Meriam sit right alongside the Faerie monarch on my list of despicable beings. Especially after they assist the pointy-eared ruler with my kidnapping.

Locked in an obsidian underworld no Crow can reach, not even their king, I soon learn things aren't as they seem. People aren't as they seem. And history... I'm still attempting to reconcile the truth with what I was previously told.

My new allies have an agenda, but I have one of my own. Though there's overlap-we all agree Dante must die-what I desire more than anything is to return to Lore before he levels the kingdom to find me... or loses his humanity trying.

I may favor crowns over coffins, but I refuse to live in a world where my mate only exists as a bird.

Strap in for one last romantic and pulse-pounding adventure in a world governed by magic and hearts.
Review:
"Long live"— I lean all my weight into my arms—" the Crows."
House of Striking Oaths was an action packed ride from start to finish.  This romantasy was filled with life, death, betrayal, love and allies in the most unlikely of places.  Stepping into this story, realize that there is still one more book to be released.  Why I thought it was trilogy is beyond me haha.  While lots of things were wrapped up by the end of this book, there was also a lot that needed to be solved.  So I'm counting down till we get a HEA for those we love in House of Shifting Tides.  And I'm keeping my fingers crossed we get an epilogue of just Fallon and Lore, because I need to see them both completely happy pretty please!
I catch the new spark that animates my violet eyes.
I will set myself free.
Stepping into this story, there was so much up in the air.  Readers will be happy to know that we got a lot of answers!  They made sense, but I was shocked that I didn't see quite a few things coming.  Who was using Brownwen's eyes.  About her mother.  A marriage I couldn't even fathom.  We learned a lot in this story.  Not only what people's intentions were, but also the rules for magic.  And how past deals affected the present.  The alliances, motives and actions of others were all laid out on the table for us.  And that led to dangerous games being played within the pages.
I will murder them all.
But the pages were also filled with torture, regret, and anger that will burn you alive. Death needed to happen to those that didn't deserve to live.  Like Dante.  I hated him.  He was a sociopath filled with lies who was so easy to hate.  I kept waiting for the moment he got what he deserved.  But there was also someone in the story who Wildenstein was able to flip my feeling around for.  Trust was earned, that I never thought could be.  And that left me feeling like I needed to go back and re-read those first two books because my assumptions tainted the story in a certain way.  And I was completely wrong! 
"Ready to become mine, Serpent-charmer?"
I tilt my head, and although Nonna taught me not to provoke purelings, I cannot help but hiss, "I'll never be yours."
Fallon came into her magic and it was fascinating watching her learn how to do things.  But I definitely had a hiccup with Fallon.  I understood that she had so much rage, but why she didn't play nice with Dante so Antoni didn't suffer was beyond me.  Why she wasn't smarter and more careful for her friend's life made me want to shake her.  Hard.  Thankfully as the story progressed, I loved that she stood up for those she loved.  She had so much fire in her!  Yet her and Lore struggled since he was still keeping secrets from her.  And that hurt ugh.  Thankfully Lore loved Fallon with all of his heart and was willing to do whatever it took to save her.  His love for her was larger than life!  And I loved seeing the softer side of him too, like when he was giving Pheebs relationship advice haha.  Ohhh plus the scenes between Fallon and Lore were sooo hot!
He kisses one corner of my lips, then hovers his mouth over the other and murmurs, "My heart."
Bargains were formed.  Forgiveness was given.  Plans were put in place that had the hugest of risks.  And they were sent on the most impossible of quests.  This book will definitely keep you entertained!  And as we watched the story unfold, it didn't matter that some things came to pass that were horrific, fate had a way of achieving what it wanted.  No matter how much one tried to evade it.  Also, there was something setup in this book, for a future spinoff decades down the road and I am so excited that option was given!  Closing this story, the epilogue left me in tears.  I desperately need that next book.  There was something that needed to be "fixed".  And it hurt.  So I'm counting down till that next book is released!
*I voluntarily read and reviewed an advanced copy of this book, provided by the author. All thoughts and opinions are my own.*