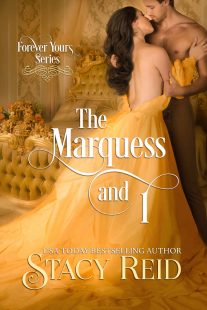 The Marquess and I
(
Forever Yours #1
)
by
Stacy Reid
Purchase on:
Amazon
Add to:
Goodreads
Synopsis:

Lady Willow Arlington, hauntingly lovely, is also blind and known by the ton as the dowry-less daughter. Alasdair Morley, the Marquess of Westcliffe, is in need of an heiress, but Lady Willow should be the last person he craves after she was persuaded to reject his offer of marriage when he was a mere third son. Passion reignites between them, and he makes an enticing offer she cannot resist, drawing them into a dance of lust and love despite the misgivings in his heart.
Review:
I will be your anchor when you falter…always.
The Marquess and I was a delightful, sexy tale. I was looking for a book that I could read in one sitting on KU, and this was exactly what I was looking for! It was amazing how quickly I connected and adored these characters. If you love second chance and historical romance, then this is the book for you!
Hardly worth remembering? She had dreamed of him at the crest of each dawn and nightfall for years. Memories of past kisses, shared dreams, and nightmares rushed through her, causing her heart to tremble in both fear and joy.
Alasdair Hugh Morley, the Marquess of Westcliffe and Lady Willow Rosalind Arlington, the daughter of the Duke and Duchess of Milton, cared deeply for one another in their younger years. And while Alasdair wanted them to marry, Willow's parents would not allow that since he was a third son. She was to be wed to another. Six years later, after drastic events to the both of them, they're near each other again with instant sparks and attraction. But Alasdair is need of a wife with a substantial dowry and Willow has none.
I missed you. Yet the words would not come.
I loved Willow and Alasdair! Alasdair was kind, sexy, but his heart still hurt because of Willow's rejection years ago. He had plans of ruining her, to help get her out of his system. But when he discovers that Willow is now blind, from an accident in the past, that pulls at his heartstrings. And Willow?! You guys, I loved her! She was brave and strong, but she also sees herself as a burden to others. They both had so much to learn and grow, with themselves and each other, and the moment they came together again everything changes.
I desire you to touch me, to kiss me, because I crave something more in my life.
This was a beautiful and quick story about two souls who were destined to be together. I loved seeing that they still cared and trusted one another so deeply. And I loved watching their story unfold, especially their moment by the lake *fans face*. Their times together were seductive and sensual and I could have easily stayed with these characters longer. I highlighted close to half this book, that's how much I enjoyed this story lol. Now I can't wait to devour the rest of the books in this series!