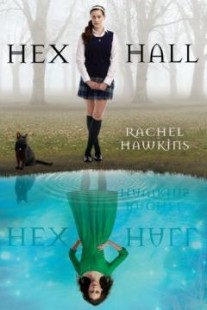 Hex Hall
(
Hex Hall #1
)
by
Rachel Hawkins
Purchase on:
Amazon
, 
iBooks
Add to:
Goodreads

"You're just not used to meeting women who don't fall all over your ass like you're in a boy band or something," I said when our laughter had subsided a little.
I'd turned back to my essay, so I had to look up when I realized he hadn't answered me.
He was looking at me with a small smile, a strange glint in his eye. "So why didn't you?"
"Excuse me?"
"Well, according to you, women are always falling all over me. So why didn't you?…"

This is one of those stories where it was very good and very entertaining, but I'm not quite sure what to say. There were so many characters and so many situations that I don't think I could adequately identify everything that made this book so special. I think my favorite thing about this author, though, is her ability to make a gravid situation appear lighter than it actually is and to add humor to every scene.
It's nice to be involved in a world where everything isn't as serious or angsty as other books in the genre are. It's almost like taking a vacation.
I tugged at the hem of my brand-new Hectate Hall-issue blue plaid skirt (kilt? Some sort of bizarre skirt/kilt hybrid? A skilt?) and wondered why a school in the middle of the Deep South would have wool uniforms.
Sophie is a witch who is trying to live among the humans-forever trying to fit in and always doing the wrong thing-thus landing her in Hectate Hall, a school for the wayward witches, warlocks, shifters, and what-have-you that have done something wrong in society that has drawn attention to them personally. Hectate Hall is also, in a way, a safe haven. Because the main goal of all the witches and such is to stay under the radar-there are elite groups designed to hunt and take down these otherworldly folk, and using their magic publicly draws a big neon sign showing 'they do exist!' and that leads to massacre. Humans wouldn't be able to handle the knowledge that they live among magical beings and that is also a stimulant for why they must never know about Sophie and those like her.
She shook her head, her pink stripe falling in front of one eye. "Just thinking. Man, Sophie, it's only your first day and you've already befriended the school outcast, pissed off the most popular girls at Hectate, and developed a full-blown thing for the hottest guy. If you can manage to get detention tomorrow, you'll be like, legendary."
I liked all the characters and how they were represented in this book. Each character had a little cliche to them, but not in a tired way. We had the mean girls, the outcast, the teacher out to get everyone, the hot, mysterious bad boy, and the new girl. I think it goes without saying that I loved our bad boy and new girl the best (along with her vampire best friend who was AWESOME), but in a cast of supporting characters, these guys were all pretty fun to follow.
…But then Archer's hand tightened on my waist, and Jenna slid completely from my mind.
I looked up to see him studying me intensely with an expression I'd never seen before. Well, one he'd never directed at me before.
"She was right," he murmured.
"About what?" I said, and my voice didn't even sound like mine. It was low and breathy.
"I did want to spend the ball with you."
Archer is your typical bad boy, but there is something extremely sweet and intriguing about him. Sophie is labeled an outcast because of who her father is, and more than that, she is the new girl, but at no time does Archer treat her rudely or unlike anyone else at the school-some might say he showed affectionate feelings towards her when no one else would give her the time of day. But along with his snarky and personable jibes and conversations with Sophie, he also has a mysterious side to him. We don't quite know everything there is to know about him and it shines through in certain instances leaving us wondering if there is more than we are seeing.
In fact, the more time we spent cataloguing in the cellar or blocking each other's elbows in Defense, the more I began to suspect that my crush might be deepening into something else, something that I really didn't want to put a name to. It wasn't just that he was hot-although, believe me, that was definitely part of it-it was the way he ran his fingers through his hair. The way he looked at me like I was actually interesting to talk to. The way his eyes lit up when he laughed at my jokes. Hell, that he laughed at my jokes.
All in all a very fun and refreshing take on the paranormal side of things. This author is on my radar and I have now read two books by her that have been home runs in my eyes. I think I will always consider reading a book by Hawkins if ever I need a good laugh and fun story-there aren't many authors I can go to for light, funny reads that don't have a large cheese-factor lodged into the story (as I mentioned in my Rebel Belle review by same author). So now I will continue through the second book (already 50% in) and see where this series takes me-I can only hope that I get more and more of that not-so-bad boy I love so much-I just can't get enough!