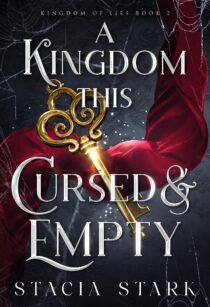 A Kingdom This Cursed and Empty
(
Kingdom of Lies #2
)
by
Stacia Stark
Purchase on:
Amazon
Add to:
Goodreads
Synopsis:

Risk everything for your kingdom...Or be destroyed by it.

In a world darkened by deceit, the truth is a light that won't be dimmed. Even when it illuminates Lorian's betrayals more starkly than I could ever want to see.

They call him the Bloodthirsty Prince.

His reign of terror has left a trail of blood across this continent. A trail that intertwines with my own past-not even my parents were spared from his merciless slaughter.

To save my brother's life, I agreed to another bargain with the fae prince. Now, I'm forced to work with him. Forced to travel to the fae lands. Forced to spend my every waking moment with the man who betrayed me. All because King Sabium has woven a deadly tapestry of manipulation, using those we least suspect for his wicked schemes.

There are no lines I won't cross to protect the people I love. So I'll work with former enemies. I'll manipulate, blackmail, and deceive potential allies. I'll swallow my pride, bury my shattered heart, and cooperate with the fae to prepare for the coming war.

Because there are creatures far more monstrous than the fae.

And some of them masquerade as men.
Review:
His lies had hurt the most.
With secrets swirling, danger on the horizon, and perilous journeys, A Kingdom This Cursed and Empty was a fabulous continuation of the Kingdom of Lies Series!  There were scenes that will have you on the edge of your seat.  Steamy moments that will tug at your heart.  And an addictive storyline and world that continues to build and grow.  Fans of romantasy definitely need to have this series in their life!
"Why would you do this?" she asked.
The question burrowed deep into my chest. I clenched my teeth. "Figure it out."
Prisca was a heroine we could easily love and respect.  She was smart, had grown so much and her strength and courage gave her a backbone of steel.  Yet Prisca was struggling.  Not only with learning that she was fated to become the queen.  Since she didn't see herself being worthy enough to rule the hybrids.  But also with accepting what Lorian was.  She was raised to see the Fae as the nightmares and monsters of the world.  He was supposed to have been the one who killed her biological parents.  And she had been falling for him all along, none the wiser.  But as their journey progressed, she still confided in him.  Trained with him.  And she saw how much he cared and wanted her to be the best she could be.  She just needed to learn to accept what he was.
He'd asked if I remembered how he'd made me feel.
Some days, it was the only thing I could think about.
"Please," I said quietly.
Lorian was protective, lethal, deadly and would do anything to keep Prisca safe.  He would hand her the world if he could, yet he lied to her.  And according to her, destroyed her past.  Yet as a skeptic I kept hoping there was more to the story, because I am ever so hopeful and can only be positive when it comes to Lorian haha.  He may be the villain to others, but he could never be that to Prisca.  So I loved as we watched him let her grow.  That he stood by her as she figured out how to rule and deal with powerful people.  And the words he would say to Prisca *screaming while jumping up and down*?!  Lorian's words to Prisca were beautiful, powerful and elicited so much emotion! Lorian was the ultimate book boyfriend! 
"This is never going to work. You and I. We're doomed. You know that."
He sighed, and I closed my eyes, basking in the feel of his breath against my neck.
"I know." He slowly drew back. "But that doesn't mean I won't wish for you with every fucking breath for the rest of my life."
While the odds were continually stacked higher against them, they fought with everything they had. I cried tears for Lorian. I was terrified for some of the situations Prisca was put in. And through it all, Lorian and Prisca had the most fabulous banter!   It was laced with even more emotion now! They were from opposite ends, even if they were fighting a common enemy. They could never be together, so my heart cried trying to figure out how it'll all work out in the end. So I loved their steamy moments and that they were detailed, explicit, and absolutely fabulous! And when you get to the part where Lorian lists things, try not to have your heart explode!
He smiled, as if he'd expected nothing less.
I smiled back. One day, I would make him pay for everything I suspected he had done to Lorian.
We got so many answers to questions, yet we were also left with many more questions.  And as the world expanded and we met others, I was completely enthralled. I was happily surprised to see that we got this story in a few different point of views.  Prisca was still the main one, and of course Lorian too.  But we also got some moments with the Queen.  Those moments made me contemplate everything I knew.  I did not expect to feel compassion towards her or learn all that we did.  There were quite a few times where my mouth was left hanging open.  And there was even one moment I cried tears for the Queen, I am still shocked.  So where this story ended with her left me terrified.  With political intrigue, and dangerous ploys, I can't wait to see what happens next with the Queen!
The war had barely begun. And we were already losing.
A Kingdom This Cursed and Empty was laced with friendship, love, quests, forgiveness, battles, death and it was so easy to devour! With a star-crossed lovers romance, forced proximity and a found family, just know that this story ended with a fabulous cliffhanger. Don't mind me over here panicking until that next book is in my hands! I absolutely love this world and these characters and I can't wait to see what happens next!
I just wanted her to be mine.
PS My favorite new character we met was Drakoryx, by far!
PPS Is anyone else keeping their fingers crossed that Asinia & Demos become a couple?
*I voluntarily read and reviewed an advanced copy of this book, provided by the author. All thoughts and opinions are my own.*