I just re-read this book and loved it even more this time around! I laughed so much and it was just what I needed♥.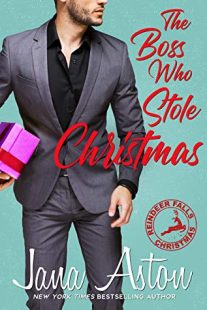 The Boss Who Stole Christmas
(
Reindeer Falls #1
)
by
Jana Aston
Purchase on:
Amazon
Add to:
Goodreads
Synopsis:

Dear Santa,

Please bring me a new boss for Christmas. Mine is the worst. The worst, hidden in a six foot tall package of male perfection. It'd be easier if he looked like an old Scrooge, wouldn't it?

Nick Saint-Croix doesn't look like an old scrooge. He's hot as-

Um, never mind. Just bring me a new boss. Please.

Sincerely,
Holly Winter

Warning:
Reindeer Falls is more naughty than nice. They're over-the-top Christmas with merrily-ever-afters guaranteed. These stories are novella length for quick holiday binging. Enjoy!
Review:
The Boss Who Stole Christmas was laugh out loud funny, sigh inducing, and there was so much Christmas cheer I couldn't stop smiling.  With characters that came alive and a story line that played out like a movie, this easily became my favorite Jana Aston book!  Just so you know, I loved this book so much that I've already read it twice (now three times lol)!  So if you adore romance and Christmas, then you definitely have to pick this one up!
I shouldn't be thinking about doing things with him that would put me on top of Santa's naughty list.
Yet I do. I think those things.
I'm feeling suffocated in this car. Suffocated by all the different versions of Nick dancing in my head.
Holly Winter, whose family obviously loved Christmas ha, worked at the Flying Reindeer Toy Company.  She loved her job and was such a hard worker, but there was one small problem.  Or maybe I should say one tall, gorgeous problem.  Nick Saint-Croix.  He took over his Uncle's toy company and had been driving Holly crazy ever since.
The tone of his voice sounds like every filthy thought I've ever had coated in a candy-cane sugar glaze.
You guys, I loved Holly.  She made me laugh, was devious, quick witted and had no problem going toe to toe with her Grinchy boss.  Even when Holly saw little clues that maybe, just maybe, Nick wasn't the Grinch she thought he was.  She tried her best to ignore it.  Along with her attraction to him too.  But the more time they spent together, the more that became impossible to do.
"If you could have anything you wanted for Christmas, what would you ask for?" I question while we're waiting for the shopkeeper to bag up my collection of gingerbread. He's silent and I'm not sure he heard me so I turn, one eyebrow raised in question.
"Nothing I can have," he answers, and he seems uncomfortable, not looking directly at me.
I was obsessed with Nick.  He was charming, smart, sexy and took being in control in the most wonderful of ways.  Nick was also full of surprises and the definition of sigh worthy.  And any time that Nick and Holly were together, their moments felt erotic and hot.  They were like fire and gas, when they were near each other they burned so brightly.  I loved them together!

"Holly," Ginger chastises. "Where is your seasonal spirit? Is there no room at the Vagina Inn for Nick?"
"Oh, my God, you did not just say that." I shove chocolates behind the new doors and start to gather my things.
On top of this book being scorching hot, it was beyond hilarious!  I loved when Holly was with her sisters.  They made me laugh so hard and you could feel all of the love between them.  Like the creation of Dickmas.  Oh my gosh, I kept finding myself laughing so hard I couldn't even catch my breath!   But Holly and Nick together made me laugh so much too.  This was the perfect feel good book and I loved every minute of it.
Kissing Nick is like finding out that Santa is coming twice this year. And he's bringing things you didn't even think about putting on your list.
The Boss Who Stole Christmas had everything I could want in a Christmas story.  There was so much emotion packed into the pages and the characters leaped from the story, this book sure didn't feel like a novella.  Especially since I laughed from beginning to end.  And with Christmas sprinkled throughout the pages, this book was a ton of fun to read.  The Boss Who Stole Christmas was festive, smile inducing and oh so hot, I can't recommend it enough!
PS Here are some of Holly's Christmas thoughts I loved and I've been stealing her Oh my Santa! saying…
I've got the nervous energy of an elf who overindulged in candy canes.
Oh, my Santa Claus, please stop talking!
I stand a little straighter. Be brave like Rudolph, I remind myself.