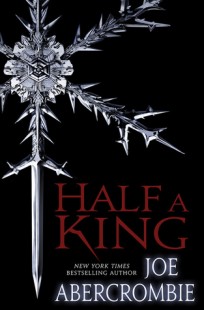 Half a King
(
Shattered Sea #1
)
by
Joe Abercrombie
Purchase on:
Amazon
, 
iBooks
Add to:
Goodreads

"You may need two hands to fight someone. But only one to stab them in the back."

I really enjoyed this one!! I think this is going to be short and sweet, because while I enjoyed it, there is so much that happens that I just can't say…and the story will be that much better when you decide to read it if I leave a ton of things in the dark. Like when View Spoiler » Yarvi jumps overboard after his uncle, the only person he ever felt loved him, tries to murder him so he can take the throne, « Hide Spoiler or when View Spoiler » Nothing turns out to be his strongest ally « Hide Spoiler or when View Spoiler » Nothing turns out to be his 'long dead' uncle and rightful heir to throne at the end, « Hide Spoiler and last but not least, when he View Spoiler » kills his long time mentor….fulfilling his full oath to seek revenge on all those that meant to harm him, even though it killed him inside to do so. « Hide Spoiler Aaaaaah revenge…..a dish best served cold :P.
"When you're in hell," murmured Yarvi, "only a devil can point the way out."
Yarvi's life, while somewhat fulfilled, is a sad one. He is always angry. He is always sorry. He is mocked in public for his half a hand. Then the day comes when he is called upon to become King…but his not-so-obvious enemies have other ideas in store for him-namely, death.
Always he was angry. As soon as it was too late to do him any good.
I think I liked this story so much because it's so different from what I usually read. It wasn't so far out there that I felt awkward reading it, and it wasn't so mild as to pretend that it's not a brutal book with harsh ends for those who deserve it. This is a story about revenge. Getting back at those that wronged or hurt you…no matter how much you once cared about them….and finding kinship among the most unlikely allies.
The fool strikes, she had said. The wise man smiles, and watches, and learns.
Then strikes.
I really enjoyed the simplistic writing. In so many novels that reach far beyond my normal spectrum, the writing astounds and confuses me because of my lack of focus for that particular story-I'm simply just trying to spread my wings and I end up getting overwhelmed by the siege and storm tactics, the manner of speak, the overdrawn and utterly overwhelming dialogue, and most of all the strategizing. Allllll of these books tend to overly strategize and strategize and strategize….all the while losing me in all the heavy handed dialogue. But not this book-each scene was perfectly placed and well thought out-not once was I bored when they were trying to figure out their next move. I actually quite enjoyed their bonding time-it was heartwarming. Even more than the bonding was his gradual growth of feelings for one of the people trapped on the ship with him, one of his fellow slaves. It was so sweet to see them growing tender towards one another-without even realizing it.
Perhaps even those we raise highest never get that far above the mud.
Overall this story was heartbreaking, but I loved pretty much every minute of it. I think I once again didn't have time to fully immerse myself into the story, but more than that I think it disjointed the most pivotal moments-I severely hate when life gets in the way. More than once, though, I did feel something a little…odd about a scene. Like, I'd be reading about what was going to happen, and then in a blink of an eye, the scene was halfway through what was 'about' to happen. This might have just been exhaustion and fatigue on my part, and thank God it didn't ruin the story for me. I loved Yarvi and his struggles with acting strong and becoming the person he was meant to be. He was a strong-willed character with a good heart and an even more cunning mind…and I loved following him on his journey for revenge.
That ending doooeee….