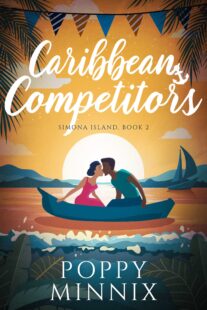 Caribbean Competitors
(
Simona Island #2
)
by
Poppy Minnix
Purchase on:
Amazon
, 
iBooks
Add to:
Goodreads
Synopsis:

Xiamara Nivar and Apollo Fischer had the perfect childhood friendship, leading her to believe they'd transition to soulmate-status seamlessly. She couldn't have been more wrong. When it came to a more-than-friends relationship, they were super cringe. No wonder Xia didn't believe him when he promised to come back for her the night before he left for college. But still, she waited.

After seven years of foolishly hoping he'd keep his word, Xia has put all that behind her. She's got a career, a cast of colorful comrades, and a competitive streak bigger than the Caribbean Ocean. Winning this year's Moss Monster Meet will be a cinch—until Apollo returns to the small island of Simona.

Not only is she a stumbling, stuttering, shipwreck of a human whenever he's present, but the unthinkable has happened. Apollo plans to compete in the race, threatening the three-year winning streak that will earn her the coveted title of Moss Boss.

When they are thrust together, Xia can't maintain her composure—and Apollo knows it. He isn't above using it against her, either. With the finish line in sight, Xia has one burning question: is it the race Apollo wants to win, or her heart?
Review:
"I've always got you."
Caribbean Competitors was steamy, smile inducing and so much fun!  This book is at the very top of my favorite contemporaries this year, sitting right in-between The Hating Game and The Love Hypothesis!  This book was pure gold and had it all!  Spicy romance?  Check!  Laugh out loud moments?  Check!  Characters that will become a part of your soul?  Do I even need to say check?!  This truly had it all.  If you want a book that is impossible to put down and will feel as though one of your favorite movies or shows is playing out in the pages of a book, then you need this story in your life!  This is one I'll definitely be re-reading again and again!
I exhale and shake my head. Moss Monster Meet. Training. Work. This is my life.
I truly don't know who I loved more, Xiamara or Apollo.  Xiamara lived on Simona Island where she had family, friends and a job she loved.  Apollo's family and friends were there too, but he had been in New York for the last 7 years.  They were bestest of friends in their younger years, but when they tried to move their friendship to more, it didn't work.  Apollo promised to come back to Xiamara when he left, but never did.  So when Xiamara saw Apollo back on the island, and joining in the Moss Monster Meet that was her blood, sweat and tears, oh my heart I felt for her.  But fate has a funny way of working out, and Xiamara and Apollo's paths were filled with lots of fun and heat!
He dips his head until his lips brush my ear. "You've changed." His statement is a rugged rasp that's deep enough to penetrate my spine and send a purr through each cell of my body.
Xiamara, aka Xia, was hilarious and someone that you could easily see yourself being best friends with.  Her thoughts were so much fun, her feelings become my own and I loved how she could be a tiny bit dramatic at times.  Hiding out and sneaking around, just try and not smile lol.  I also loved how passionate she was with her job, and it was so easy to fall in love with the gorgeous small community she lived in.  Yet that community provided no privacy.  And Xia was a little nervous about what other people thought with Apollo being back.  They all knew their history.  So when rules chandged and it pushed Xia and Apollo back together, I was so giddy and excited.  The chemistry and tension between them was delicious and I couldn't get enough of it!
"Where do you go, Xia?" His lips twist, boyishness gone, curious adult gaze in full scrutiny. "When you look at me like that?"
Biting my lip, I pull the rings from my fingers. "Nowhere."
I wanted to be unsure of Apollo, but that was beyond impossible.  He had so much charisma, that he easily swept me under his spell.    He was charming, seductive, thoughtful, funny and seemed definitely interested in Xia.  His little comments like it's a date, for meeting up to train for the Moss Monster Meet had me squealing in excitement!  I loved how he played her little games and how they both messed with the other.  But most of all I loved how Apollo made Xia nervous.  Xia was always so put together and Apollo emotionally and physically made her stumble.  His presence alone impacted her time and again.  As the story unfolded, he showed us his protective side, and there was no way to not be obsessed with Apollo!
One of his last posts is a picture out the airplane window with the caption, "I'll miss you, New York, but I miss her so much more."
My heart thrums a wicked beat as I stare at his words. Who is this her? A tiny, hopeful voice says, "Could be you," but I smash that hope to dust because the notion is ludicrous.
As Xia and Apollo continued to train, there was so much sexual tension.  And even when Apollo seemed to be giving Xia all the signs he was interested, she didn't grasp it.  He was leaving in a bit, right?  She didn't want to get attached and hurt.  Again.  So we listened as Xia tried to lie to herself she didn't want Apollo.  But it was impossible since so many of their moments together felt like more. Laced with longing and scorching hot looks or touches, Xia and Apollo were explosive together.  Their dancing scene, oh my gosh *fans face*.  And when they did cross the line to more, it was erotic, intoxicating and sensual.  Yet mistakes were made, by both of them.  And there was healing that needed to be done too.
There's no future for us, so why is he torturing me with touches that no one else has ever come close to replicating?
I was beyond excited to see characters from the previous book, Holiday Hotel, but you don't have to read that one first. Although I can't recommend it enough!  Caribbean Competitors can easily be read as a standalone! Between the training for the upcoming event, the side characters that are heartwarming, and the main characters, I couldn't stop smiling! With setups, secrets and emotions on the line, this book was so entertaining! Truths came out and I loved how the story unfolded! If you're a fan of adult romance that is steamy and heartfelt, you definitely need this book on your tbr!
Apollo Fischer kisses me down to my soul.
PS I loved the chapter titles and serenity now reference lol!
He cups my face, studying me. I may just die of warm, gooey overload right here, right now.
He stays still as if asking a thousand questions I don't have answers to, and my heart pangs, my eyes burn, and I spiral into a serious emotional overload.
"Don't stop kissing me." My voice is a thready, weak wisp.
PPS I can't wait for the next book about Roxanne and Ziggy *fingers crossed*!
*I voluntarily read and reviewed an advanced copy of this book, provided by the author. All thoughts and opinions are my own.*