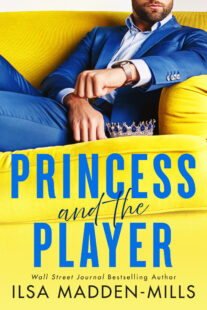 Princess and the Player
(
Strangers in Love #2
)
by
Ilsa Madden-Mills
Purchase on:
Amazon
Add to:
Goodreads
Synopsis:

A masquerade ball brings together an NFL player and a penniless princess in this smart and sexy romance from Wall Street Journal bestselling author Ilsa Madden-Mills.

Levelheaded Francesca Lane never thought she'd miss her own wedding. But when her fiancé betrays her, she puts on her wedding dress and ditches the altar for a masquerade ball—at an exclusive lifestyle club.

There, she meets unknown-to-her NFL star Tuck Avery, dressed as a prince and hiding behind a mask—he's there to celebrate his birthday. For one night, Francesca and Tuck indulge in a wickedly incognito affair. No names. No strings. And the masks don't come off.

Unfortunately, Francesca realizes quickly that her masked prince is the wealthy jock who lives in the penthouse of her apartment building. His hobbies include parties and supermodels—or so the tabloids say. Getting tangled up with a shallow jerk is the last thing Francesca needs right now, so she vows to keep Tuck from recognizing her (not that she's his type anyway).

But fate has a teeny-tiny trick up her sleeve…a plus sign on a pregnancy test. Can this tormented prince accept love, or will he push his princess away forever?
Review:
Princess and the Player was a charming, romantic story. With two jaded characters, some steamy scenes, a surprise pregnancy and friends that will have you laughing out loud, this book was so much fun! If you adore adult sports romance, definitely put this one on your list!
"One night. No names. No strings. And the masks don't come off."
"Deal."
This story started us off in a sex club. Tuck was taken there by his best friends, for his birthday. And Francesca, looking like Princess Bride, ended up there after ditching her wedding because her fiancée cheated on her. When Tuck was challenged by his friends to win over the closed off Princess Bride, it led him to rescuing her from a complete jerk. After one thing led to another, they slept together. And it was unforgettable. For the both of them. Yet they left not knowing who the other was, but thankfully fate was on their side.
"Not sweet at all. See, I recall a girl who sat in my lap and fed me birthday cake. She said I slayed the pantyhose dragon. She was perfect."
"I was drunk, and perfect girls don't exist."
I liked Francesca right away. She was a tattoo artist and painted too. Her past and situation with her ex just made me want to hug her and help her find her HEA! Especially when she found out she was pregnant, from her one night stand with a stranger. But I loved her positive attitude and those she surrounded herself with. Her made family was so heartwarming. So when she put the pieces together for who that mystery man was, a NFL player who lived in her building, I was screaming. And so nervous for her. Because there was still that chemistry there. Lots of chemistry. And it seemed that everywhere she turned, Tuck seemed to be there too.
He is everything I shouldn't want, but . . .
I close the distance between us. My hands move up his chest and curl around his neck. My fingers tangle in his hair.
While Tuck fought so many demons and struggles, he was such a thoughtful gentlemen. He had a rough past and his parents shaped his idea of how he saw his worth in relationships and wanting love. He didn't ever want commitment or a family. On top of that he didn't have a ton of trust in strangers after dealing with a crazy stalker from his past. So Tuck was the ultimate player. And he never got attached. He also had a lot on his plate since he was old for being in the NFL. He knew his days were numbered, but that had been his world forever. Yet even with his dying career, he couldn't seem to get Francesca out of his mind. Tuck wanted her again. And Tuck always seemed to get what he wanted.
I wanted anyone, someone, to just pick me.
I want him to pick our child. Would he?
As the pieces fell together and they figured out who the other was, I was laughing and even gasped out loud. Their banter was fabulous and I loved the ease they could talk to one another. And while they both had some steep walls, Francesca's seemed even higher. So when she would give Tuck an inch, my heart would soar. But with jealousy, desire and friendship mixed together, they were explosive. And secrets were kept, by the both of them. So while there was a lot they had to conquer, I felt like this book had a good amount of angst. Neither too much or too little. It fit. And so did the fate between the two of them too. Francesca started to believe, but Tuck wasn't there. I kept my fingers crossed for the both of them while they kept having steamy or heartwarming moments together.
"Francesca," Mr. Darden says, then takes my shoulder. "My dear . . ."
I turn to him, and he wraps his arms around me. "My eyes are leaking again," I whisper.
He gives me his handkerchief.
With a fabulous group of friends, it rounded out this story so well! I adored Jasper and his crazy ways. Darden was her grumpy elderly neighbor who made me smile. I adored Francesca's friendship with Cece, it felt like they were sisters. And from the moment I met Gianna, I liked her right away! And I just have to say that you definitely don't have to read the first book in this series, Beauty and the Baller, to enjoy this book at all. It can easily be read as a standalone but I can't recommend that other book enough! And disclaimer, I didn't read the synopsis so I had no clue this had the pregnancy trope. I love Ilsa's books so I went in knowing nothing, other than it would revolve around a football player and I enjoyed every minute!
"I'm half-afraid you might disappear." The words are barely a whisper, and I'm not sure she hears. I watch the slow rise of her chest as she drifts off. I'm in deep with her, and I've got no idea where we're going. My fear? This is gonna hurt when it's over.
If you're looking for a romantic Kindle Unlimited book to binge, I definitely recommend Princess and the Player! With flawed and relatable characters, a heartwarming story-line, fun side characters and a fabulous HEA, this book was such a huge win! I can't wait to read whatever Ilsa releases next!
*I voluntarily read and reviewed an advanced copy of this book, provided by the author. All thoughts and opinions are my own.*
About Ilsa Madden-Mills:
Wall Street Journal, New York Times and USA Today best-selling author Ilsa Madden-Mills is best known for her angsty new adult romances and romantic comedies.

Eight of her eleven novels have placed in the Amazon Top 10 Best-seller List: Dirty English #1; Fake Fiancée and I Dare You #2; I Bet You, Filthy English, and Very Bad Things #6; Boyfriend Bargain #8; The Last Guy, her collaboration with Tia Louise, #4.

A former high school English teacher, she adores all things Pride and Prejudice, and of course, Mr. Darcy is her ultimate hero.

She's addicted to frothy coffee beverages, cheesy magnets, and any book featuring unicorns and sword-wielding females. Feel free to stalk her online.

Amazon I Instagram I Mailing List I Goodreads I Bookbub I Book+Main I Website

Join her Unicorn Girls Group on FB, the best way to keep up here.

Sign up for phone alert for book releases (max of 4) Text ROMANCE to 21000
*Text message rates apply*