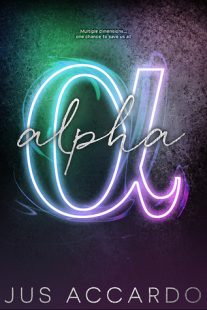 Alpha
(
The Infinity Division #3
)
by
Jus Accardo
Purchase on:
Amazon
, 
iBooks
Add to:
Goodreads
Synopsis:

Sera has no memory of her life before. Before captivity, before experiments, before the only lifeline she had was the voice of a boy in the cell next to hers. Before G.

G wishes he could forget everything before Sera brought him back to life. Forget his memories as a ruthless mercenary on an alternate version of Earth. Forget that he was part of an experiment simply known as Alpha.

Now on the run from their captors and in need of an antidote to save his life, G and Sera's clock is ticking. And they'll have to gamble everything on the bond they forged in captivity if they want to survive.
Review:
Alpha was the final book in The Infinity Division Trilogy and it ended with a bang!  I loved watching all the loose ends get tied up and those I've come to care for get their happily ever afters. But it was a rough road get there.  Heartache, redemption, sacrifice, lies and love filled the pages and at times everything seemed so unsure in this parallel dimension story.  So if you're interested in giving this series a try you definitely have to go back to book one, Infinity. Yes each book is about a different couple, but the stories and threads are all linked together. It was so much fun seeing it all come full circle and there's a moment that takes us back to the beginning of this series, awww loved it!!  So to finish up this trilogy, here are some of my favorite aspects:
"Dylan, everyone on every earth is breaking at some point or another." I looked him dead in the eye. "Bad things happen to all of us. Horrible, life-altering things. It's how we choose to deal with them that defines us." – Sera
✮ Everlasting Love:
"I'm not going to kiss you again." The statement was crystal clear; it was the delivery that lacked conviction. "I'm poison. Inside and out."
"Then poison me," I said. I brushed my lips to his again, this time slightly harder. He stayed absolutely still. I pulled away. "Do it so that I can show you I won't break. I'm not fragile, G. I'm made of steel. You told me that, remember? I'm a fighter, so let me fight for you."
I loved the idea that no matter what dimension you were in, there were always the constants in your life.  And within those constants was that one true love. I loved KCade and Kori, then Noah and Ash and finally I got to swoon for G and Sera.  We've known different versions of them on other dimensions and their true names are Dylan and Ava. But G and Sera faced the biggest hurdles and struggles yet.  And as if that wasnt enough, they had Dylan after them, in different ways. But regardless of everything they were put through, their love stood strong and not only fought the test of time but dimensions too.
✮ Friendships That Span The Dimensions:
"G, take a deep breath. We're here to help you." Kori… She came around to stand in front of me . Her gaze flickered to something on my right, then back to me. "We're your friends."
Someone beyond my field of vision snorted. Had to be Noah. "Friends? Not sure I'd go that far," he said. "But we won't set you on fire or anything."
There was an echoing thwap—probably from Ash smacking the shit out of him— and a hiss.
I loved how this group of six, could be found in almost every dimension.  Their dynamic was a ton of fun and added so much to this series.  So it made my heart happy that we seemed to gather the best of all of their selves into this rag tag kinda group.  When they were together it definitely wasn't easy, and not everyone was going to end up bffs, but still, it was so entertaining to watch them together. In this book I adored watching what happened between G and Cade.  G was another Dylan, so the two of them were brothers in a sense, and I loved some of the moments they had together.
✮ Action!:
I screamed at night over the things Cora had done to me, but Dylan was right. The devil was standing at my back.
And he had Dylan's face. – Sera
There was a ton of action and this book had that go, go, go feeling.  But there was also moments where we got to breathe.  Thank goodness because we had Cora after Sera and Ash, Dylan was after so much I can't even talk about, G and Cade were trying to save Sera and then there's also the projects we learned about in book 2.  Oh my gosh, there was a lot going on. I'm happy I quickly skimmed some of my highlights from book 2, Omega, so that way I knew exactly where I stood before stepping into this book. BUT I never once felt lost or confused. The story and characters were extremely easy to follow and it made Alpha fly by super fast!
✮ That Ending:
She was the sun in my world, and I was simply a planet caught in her gravitational pull, helpless. Without her light, I would wither and die. – G
If you adore happily ever afters, then you're going love the ending to this series.  We got to see what happened and where their lives would lead with so many of our favorites.  Did everyone get a HEA? Ummmm no lol. But that was bound to be expected and all I can say is that I'm ecstatic with how many epilogues we got at the back of the book.  
"She was that for me," Dylan said. He grinned, and for the first time since I'd met him, it was a genuine smile. "She was the only one who saw me. If you're really that for him, don't let go, because without you… Without you, he'll just become me."
I had a lot of fun reading this trilogy.  It was unlike a lot of other books I have read but it had that chemistry and tension that I always crave when I pick up a book. So if you adore books that have complicated friendships and love interests, solid characters that stand out and a fun science fiction element then you should give this series a try.  I will definitely be picking up other books by this author!
*I voluntarily read and reviewed an advanced copy of this book, provided by Entangled Teen. All thoughts and opinions are my own.*
Reading Order & Links:


Amazon

(click on covers),

iBooks (click on titles) & Book Depository (click on book #)

Infinity #1
Review:
Jen

Omega #2
Review:
Jen

Alpha #3
Review:
Jen