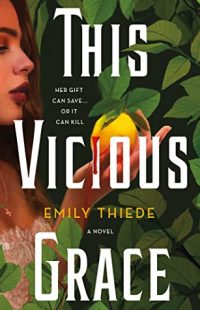 This Vicious Grace
(
The Last Finestra #1
)
by
Emily Thiede
Purchase on:
Amazon
Add to:
Goodreads
Synopsis:

Three weddings. Three funerals. Alessa's gift from the gods is supposed to magnify a partner's magic, not kill every suitor she touches.

Now, with only weeks left until a hungry swarm of demons devours everything on her island home, Alessa is running out of time to find a partner and stop the invasion. When a powerful priest convinces the faithful that killing Alessa is the island's only hope, her own soldiers try to assassinate her.

Desperate to survive, Alessa hires Dante, a cynical outcast marked as a killer, to become her personal bodyguard. But as rebellion explodes outside the gates, Dante's dark secrets may be the biggest betrayal. He holds the key to her survival and her heart, but is he the one person who can help her master her gift or destroy her once and for all?

Emily Thiede's exciting fantasy debut, This Vicious Grace, will keep readers turning the pages until the devastating conclusion and leave them primed for more!
Thank you to St. Martin's Press and Netgalley for an ARC of this book in exchange for an honest review.
Choose a Fonte.
Do not kill them.
Aplify their magic to save everyone and everything on Saverio—or become the first to die.
Forgive me if this review is a wonky, as I'm trying to shake off the rust. It's been a minute since I wrote a review (family life and work really suck up all of my time and energy), but as soon as I finished this book I knew it was time to get back at it.
This Vicious Grace was the first book finished book of the year for me and what I imagine will be one of my favorites. It was a breath of fresh air in the YA fantasy realm, where I feel I've gotten much more picky and have a hard time being impressed. The fact that was by a debut author makes it even more surprising (and better)!
From the very first lines, I knew there was something about this book. The Finestra, Alessa, was mourning her third Fonte, who she had accidentally killed with her powers. As a chosen Finestra, her calling is to amplify a Fonte's (partner) powers, in so to ward off a deadly attack on their country. Alessa's touch is deadly to almost everyone else, and because of this, she is incredibly lonely. She is essentially royalty, but she is not respected or loved, and with a third Fonte's death, support is waning for her.
She'd give anything for a hand to hold. Or a hug. She would kill for a hug. Literally.
After an attempt is made on her life and her guards help her attacker escape, Alessa decides to make some changes. It is during a trip out of to the seedier parts of her city that she meets Dante. Dante, with his tough exterior and slightly less tough interior, eventually agrees to be Alessa's bodyguard until it's time for her to take her next Fonte and face the evils headed to test them.
And for the first time in an incredibly long time, Alessa is no longer lonely. She is making connections and remembering how to feel again. Slowly, her personality comes out and she grows into her role as Finestra. Alessa's growth as a character was really lovely to read. Her struggles, her vulnerabilities further solidified just how strong and caring she is. This really shines as we meet a host of side characters and I couldn't believe how much I came to enjoy them as I got to know them.
"I can't blame anyone for keeping their distance."
He gave her a level stare. "Then let them walk around you."
There's some twists and turns as the final battle nears and I found myself desperate to get to the end. I needed to know who was going to be OK and who wouldn't be so lucky. It honestly reminded me a lot of Mockingjay – a battle leaves a lot of scars (physically and emotionally) and sacrifices can have a lot of unintended consequences. I think the author really scraped the surface of the fallout from the main battle and set up the next book quite well.
"You're the hero. I'm just asking a girl to hold my hand."
Sorry I'm getting vague here, but I don't want to spoil anything. But if you're looking for a unique world, a slow-ish burn romance, a soft yet fierce MC, a snarky and tortured main boy, lovable side characters and a found family trope, then you're in the right place. I'm super excited to see what happens next. I truly hope this isn't another series where I loved the first book and am totally disappointed by the sequel. I know only time will tell. But overall I was a huge fan of Alessa, Dante, all their friends and of this book as a whole. I know I'm writing this book review in January and it doesn't even come out until June, but don't sleep on this book.