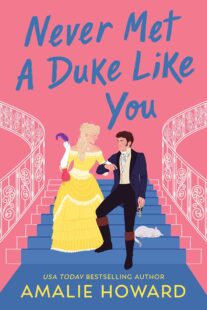 Never Met a Duke Like You
(
Taming of the Dukes #2
)
by
Amalie Howard
Purchase on:
Amazon
, 
iBooks
Add to:
Goodreads
Synopsis:

Clueless meets Bridgerton in this spicy opposites-attract Regency romance from "a must-read author" (Jodi Picoult, #1 New York Times bestselling author).

Lady Vesper Lyndhurst is beautiful, clever, and popular. Afforded every luxury as a duke's daughter, she fills her days with friends, intrigues, and a self-professed knack for matchmaking. She may have sworn off love for herself, but she is rather excellent at arranging it.

Faced with an insolvent estate, the Duke of Greydon has no choice but to return to England in a final attempt to revive his family's fortunes. He's been gone for years, happy to have escaped his mother and the petty circles of the ton. To his dismay, not much has changed, including the beautiful and vexing heiress next door.

But when an accident of fate traps the friends-turned-enemies in an attic together, the explosive attraction between them becomes impossible to ignore and even harder to resist. They are total opposites and their lives don't align in the slightest, but fate, the ultimate matchmaker, appears to have other plans . . .
Review:
Never Met a Duke Like You was a historical romance meets Clueless.  With a little bit of enemies to lovers mixed with friends to lovers, this book was an easy read.  My absolute favorite thing were the ties to the movie Clueless, and looking for those moments here and there within the pages.
"Every damsel dreams of being rescued from a tower by a handsome knight, only in my case, said knight is in the same snare as the damsel."
He glanced at her, breath faltering on an unexpected hitch. "You think I'm handsome?"
As childhood friends and neighbors, Aspen had ruined Vesper's idea of them being together at her coming out. He had been her first love and best friend.  So when he scorned her, Vesper never forgave him.  Getting to see pieces of their past throughout the story, I saw that Vesper missed her friend.  As he grew up, and since he was two years older than her, he became cold. And their friendship stopped.  Yet after not seeing one another for seven years, they found themselves stuck in the attic together.  Alone. 
Had he been so very wrong about her all along?
Getting to hear both of their thoughts, I was shocked listening to Aspen.  He thought Vesper was cold and vain, like his mother.  Yet he had no problems toying with her, and he could be absolutely hilarious. So their banter and jabs were so much fun and impossible not to smile when they were going back and forth. And his history is definitely one that will pull on hearts.  There was a reason he had walls, and they were so hard to break down.  Yet he could also be mean to Vesper at times, like belittling her for being so prim and proper. Plus he assumed wrong time and again when it came to Vesper.  Just like Aspen, Vesper felt so alone. Even though she had a wonderful group of friends. But I loved how prim and proper Vesper was. And with her having a heart of gold, it led this story in a heartwarming way.
He canted his head. "Do you always do what's required of you?"
"Usually," she said, stiffening at the slight tone of mockery.
He stared at her for such a prolonged moment that Vesper felt the back of neck start to sweat. "I see you, Viper," he said softly. "The real you underneath all those rules and regulations."
The connections to Clueless?!  They were what pulled me along and left me hunting for little moments here and there!  Now I need to preface that with this book doesn't give the same types of vibes that Clueless does.  There is a darker element to this story, and the friendships didn't vibe the same.  Yet I loved that we got some scenes that were similar to the movie. And when characters in this book acted similar to the characters in the movie too.  Here are some I caught…..
*Aspen could be so serious like Josh! 
*Vesper was obsessed with match making like Cher.  One of the stories reminded me of her trying to have her two teachers fall in love.
*Vesper was wrong about a lot of things, just like Cher.
*When Aspen accuses Vesper of just being concerned about being pretty and going to parties, it reminded me of more moments like when Josh accused Cher with just being concerned about directions to the mall. 
*It felt like Judith was most definitely Tai. 
*I struggled figuring out Deonne though, maybe it was Effie or her brother?  Idk. 
*There was something similar to when Cher was highlighting for her dad. 
*Vesper's dad gave me vibes of Cher's dad.
Your Grace," she said, lifting her wineglass and sipping. "You have to stop this, Greydon. This possessive, prevailing male performance when you have no right to be this way. I am not yours to command."
"You should be."
He had no idea where the growled words had come from—somewhere deep and raw and primal. Fuck.
The ending gave us a wonderful happily ever after, and things were set in motion for future books with side characters. There was definitely steam within the pages, but some things like tickling weren't for me. And an outcome with a character, oh how I wanted there to be harsher consequences. But that's just me and my difficult heart haha. Yet Vesper and Aspen were given fabulous ending that will warm your hearts!
*I voluntarily read and reviewed an advanced copy of this book, provided by the publisher. All thoughts and opinions are my own.*