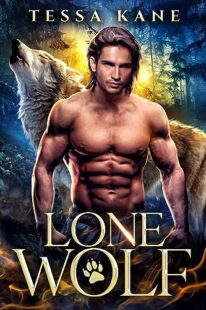 Lone Wolf
(
Exiled Omegas #1
)
by
Tessa Kane
Purchase on:
Amazon
Add to:
Goodreads
Synopsis:

No good deed goes unpunished.

After being exiled by my pack at seventeen, I've spent the last four years constantly on the move trying to avoid all ties to the shifter world.

Unfortunately, I can't outrun fate.

When I step in to break up a fight, the shifters involved realize I'm a rare male omega. Not only does that revelation put me in the crosshairs of competing packs that would do anything to control me, it also leads me to cross paths with an Alpha who claims to be my fated mate.

Past experiences have left scars—both literal and figurative—and, fated mate or not, permanently binding myself to an Alpha is the last thing I want.

But Julien might be exactly what I need.

As my life erupts into chaos and new threats emerge from the secrets of my past, I realize this Alpha is different and placing my trust in him could finally allow me to have the one thing I've always wanted.

A home.

Lone Wolf is a fast-paced MM fated mates shifter romance set in an A/B/O world with mpreg. It features a cynical omega who's a little skeptical of this whole fated mates thing and the cinnamon roll Alpha who refuses to let him go. This book was previously published in serial format on Kindle Vella under the same title. This version has been edited and expanded.
Review:
Lone Wolf was a MM shifter romance that was impossible to put down. With an addictively quick pace, entertaining storyline, and fabulous characters, this book was such a huge hit! If you love shifters, paranormal stories, or MM romance, definitely put this one on your tbr!
Dawn is creeping along the edges of the sky before I can pull myself together enough to shift into my wolf. I grab the bag Luke left for me in my mouth and run as quickly as my still healing legs can manage.
I don't look back.
The prologue pulls you right into Keir's life. He was an omega shifter, which was looked down upon within his pack. After his cousin Luke helped him escape being beaten to death, Keir spent the last four years on the run. He was utterly alone and my heart hurt for him. Chicago had been the longest he had stayed anywhere, and even that amounted to just a couple of months. Yet when Keir stepped in to protect someone, it put him in the middle of a huge push and pull. Other packs wanted to control Keir because of what he was.  A male omega was extremely rare. Yet through it all he met Julien, who was Keir's fated mate. The path to their happily ever after was filled with obstacles at every single turn. Making this book impossible to put down.
Nothing good can come from associating with Alphas, no matter how nice they seem— or how loudly my wolf is whining about not wanting to leave Julien's side.
I absolutely loved Keir. He was resourceful, quick witted, and had the kindest heart. The life he had been dealt was challenging, and his past will tug at your heart. Yet Keir had been in the dark for so much. So I loved that we learned things right along with him. For what he truly was. What that meant. The possibilities for his future. We felt what Keir did, right along with him. And from the moment he met Julien, there was a war within himself. He was pulled to his mate, yet he was scared. The past hadn't been kind to him and others seemed to want him for different nefarious reasons. So I kept my fingers crossed that Keir would follow his instincts, and trust Julien whole heartedly.
I guess— I halfway expect to him to just rip my clothes off and claim me right here.
But that's not what happens.
He simply holds me close, breathing me in as he runs his hands up and down my arms.
I was obsessed with Julien and wanted him for myself. Julien was sexy, his intentions were breathtaking, and he was someone you can easily swoon over. We also got a few chapters in his POV, which had me cheering with joy! So when Julien stepped in to save Keir from a precarious situation, my heart beat faster. Not only did he recognize him as his fated mate, but his level of protection was through the roof hot. Julien was brave, fierce, and completely seductive.
"Promise me you'll be fine," he says, taking hold of my hand and giving it a squeeze.
"I promise." I lean down and rub my cheek over the top of his head. "I won't let anything take me away from you, especially not Stevens."
Keir and Julien together were like an explosion. From that first day, things escalated quickly and even their kissing was hot. And their moments together were steamy and sensual. Yet there was also a connection between them that grew and I loved watching that friendship and trust flourish. Around them were side characters who I absolutely adored, Luke I'm looking at you! And others who I was counting down until they met their death! Especially when there was a flashback that showed grooming of a minor, I was hoping his death would be the worst! On top of that were politics that were fascinating, and a storyline that will keep you turning the pages to see what happens next.
I chuckle, the sound barely more than a puff of breath. "You and me against the world?"
"If that's what it takes, then yes. Always."
Lone Wolf was a deeply romantic MM shifter romance that was so easy to devour. With political intrigue, life and death situations, and plans in play, this mesmerizing tale will sweep you away! The epilogue will leave a smile on your face for Keir and Julien. And you'll also be left so excited for the next book, which is Luke's story. I can't wait to be back in this world, see what happens next, and follow Luke who I fell so easily for!
*I voluntarily read and reviewed an advanced copy of this book, provided by the author. All thoughts and opinions are my own.*