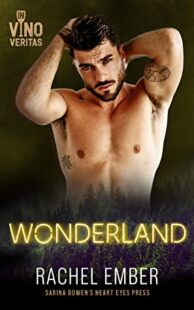 Wonderland
(
In Vino Veritas #5
)
by
Rachel Ember
Purchase on:
Amazon
Add to:
Goodreads
Synopsis:

I left Vermont on the most painful day of my life and swore I'd never go back. Meadows Park–the shuttered amusement park that's been in my family for generations–is the home of all my finest and worst memories. They all star Peter Landry–the best friend I ever had, and the only guy I've ever loved.

But then my eccentric grandfather buried two million dollars on the property and couldn't remember where.

So I'm back, and asking Peter for help. He's an Ivy League lawyer now. Still gorgeous, and able to gut me with a single smile. And I'm still a disappointment, living in the city and washing dishes to get by. As soon as we strike off down the first sunlit path, the Meadows Park magic begins to fill my heart with yearning, lust, and most dangerous of all—dreams.

I'm secretly relieved each time the day ends, leaving us empty-handed. I know it's wrong—without that money, we could lose the park.

But if I find the treasure, I lose the guy.
Review
Wonderland truly deserves gold for having the most unique premise in this series! This story revolves around Peter (Aaron's friend from law school that we meet in Counterpoint) and Riley Meadows. Riley's grandpa who was his most stable and caring family member growing up was best friends with Peter's uncle so the two spent many a summer together when they were younger on the land that Grandpa Meadows owned. It was home to an old amusement park that had been closed down for many years even at that point but it didn't stop the two from exploring every inch and using the land as their personal playground. Naturally the two became best friends and from there, their relationship progressed into something more and they eventually experienced quite a few firsts together.

Fast forward about ten years and the two are thrown together again after not having any contact for YEARS. After a falling out/injury the two parted ways, never planning on seeing each other again. Because of how special their relationship had been in the past, it was no surprise to me when they immediately felt that old sizzle during their first meeting. Sure, part of it was anger and confusion on Peter's part from not knowing what even happened to cause the rift in the first place but mostly it was purely their old attraction.

In a wild turn of events Riley finds out that his grandpa…..misplaced…something, LOL and the two band together like old times to help him find it. That honestly was my favorite part. Just those two, "forced" together trying to do this very important thing for Grandpa Meadows, back in a place that meant SO much to the both of them. I loved seeing them talk about what went wrong with that last argument they had in the past and how they still meant so much to each other, even after all these years. I am such a sucker to childhood-friends-turned-lovers, especially if a second chance romance is also thrown in the mix. SUCH a good story and I really really enjoyed every minute. AND LEMON!!!

Huge thanks to Heart Eyes Press for allowing me to listen to an ALC in exchange for my honest review!♥
Related Posts