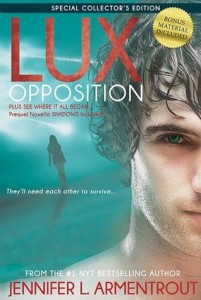 Opposition
(
Lux #5
)
by
Jennifer L. Armentrout
Purchase on:
Amazon
, 
iBooks
Add to:
Goodreads

Everything had started with Dawson and Beth.
"Kat?"
My breath caught as I heard his voice. My chin dipped to my chest as I slowly wheeled around.
And everything ended with Daemon and me.

I can't believe it's over. I just can't. Believe. It's over. Not too long ago I picked up Obsidian on a whim, and my whole reading persona was irrevocably changed from that moment on.
Gone was the girl who only read random contemporary romances because she couldn't find anything else to read-this girl was opened up to a whole different world where romance and peril accompanied each other like peanut butter and jelly (GRAPE jelly, if any of my weird best GR friends are reading this-GRAPE is the correct jelly). If anyone ever wondered what happened and why all of a sudden my GR shelves changed from normal romance to bizarro and crazy perilistic…they can thank this series. My life was never the same after.
I was in so deep. We were in so deep, and I didn't want her here. I wanted her far, far away from all of this, but it was too late. 
Too late for both of us, and maybe for everyone else, too.
Daemon and Katy are yet again in the middle of chaos. People are different, the Lux have invaded and, oh shit, View Spoiler » Daemon, Dee, and Dawson were swept up by the Lux at the end of book four « Hide Spoiler so who knows what's going on with that. I don't want to say a ton so as not to ruin the plot, but things will never be the same after this. Lives are at stake, people of earth are dying, and no one is safe. How can the world ever move on after this? What if there isn't an after?
…I couldn't sleep. Not when Daemon was out there somewhere, and not when the whole world was on the verge of…hell, turning into a dystopia, like one of those novels I used to read.
Sigh. Books. I missed them.
I think that while I had always been obsessed with book boys, this is the first guy who embedded his way into my whole heart. It took forever, and I do mean forever for any other book guys to get up to his level. Maybe it's his snark, maybe it's the way he was always so protective of Katy even when they weren't a couple, or maybe it's because he acted so damn tough and impenetrable like he could never love Katy…but had loved her all along. I don't know. But what I do know is that nothing will ever be as simple as that moment when Katy stepped on his porch to ask for directions and he all but kicked her to the curb. Life will never be so simple…and not everyone will make it.
Daemon closed his eyes, and several long moments passed before he spoke in a voice that ripped up my insides. He only said one word. "Go."
I let out the breath I didn't realize I was holding and then took another I didn't need. I tried to step back, but his grip was fierce. I gently grasped his arms, and it took everything in me to force him to let go.
I loved seeing Daemon protect Katy-even when it's at the cost of his own life, he would die protecting her. I love that. Will always love that. I loved his vulnerability when it came to her, to his family, to saving the only people in the world that mattered to him. But Katy? He chooses her. Will always choose her. Guess he's selfish like that.
Closing my eyes, I moved my mouth to the base of her neck and made myself a promise I would do terrible things to keep. 
There would not be another scar on her body.
Not one.
So…admission time. I cried. I admit it. She got me. Not just 'Oh muh God, Oh no' tears-she got me on the 'Oh, God, Oh no, it's the end of one of my all time favorite series ever' tears. I don't cry those often-but she got me-TWICE. TWICE in the same damn book. I love these people. I've been with them since book one. I've seen the good, the bad and the ugly when it came to these guys. I've grown up with them and seen them learn from their mistakes-seen their heartaches and devastation and the impossible choices they've had to make. I've seen it all, so it's extremely hard to say goodbye. It pains me that I'll never hear 'Kitten' in the same context and extremely perfect way Daemon says it or feel Katy's reluctant smiles and frustrations when Daemon pokes her in the back with his damnable pen in the classroom….no more 'Bart' or 'Bimbo' or 'Barf' comments and no more adorable jealousies as Daemon tries to win Katy's heart. That's over. Forever. And it sucks. But they've come full circle and nothing more could possibly happen without it being way too much, so it's time to lay it to rest.
Did I miss school? Not really. Did I miss life before this crap, when it was just me, my trusty pen, and Kat sitting in front of me?
Yeah. Sometimes.
And…the elephant in the room. The pissy pink elephant in the room (hehe), for me, is the dialogue. Only sometimes did I kinda get aggravated, but I mean I can only hear about monkeys or ninjas or alien babies so many times. I've always adored Armentrout's writing style-always. So it sucks to say that I didn't love all the 'humorous' ways of saying, let's admit it, 'oh shit.' Why can't they ever just say that? It's just as effective and so much more mature (come on, it's bad when the word shit is mature). I've always loved her dialogue and cracked up at all these phrases-maybe I've changed a little or perhaps in this final installment she amped up the addition of these phrases, who's to say? Either way, I still loved the book, I just wish some of those phrases would have been nixed.
Daemon kissed like he was staking a claim, but he already had me-all of me. My heart. My soul. My whole being.
Damn. I've been putting this off…..soooo this is it. My final paragraph (is it sad I have to address this as if my review is an essay or a book in itself? Hmm) of my final Daemon review. I don't know how else to say this so I'll make it brief. Books one through three will always be my favorite-they hold the angst and youthful portrayal of a skewed world where aliens and humans can fall in love in high school. I still liked the last two-they were just more serious. I don't know. They all rock, but in the end, I wanted to make it clear that book one stole my heart, and book three cemented it in stone-that cliffhanger will forever be one of my all time favorite crazy endings-it was amazing. So, goodbye to Daemon, Dee, Dawson, View Spoiler »Beth « Hide Spoiler (I kinda hated her. Is that weird? So mousy…), Archer, Luc, and even that creepy old Blake (hey, he added a ton of snarky humor from Daemon so I'll forever be grateful for his presence). I will forever re read these books and never get tired of them…and I am so glad they are sitting happily on my book shelf-even if Armentrout pulled a hail Mary and changed the last book cover in the series and ruined my collection of the previous four. Ugh. Oh well, I'll deal.
"Together," I whispered.
Daemon bowed his head, lowering his mouth to mine, as a sudden rush of noise caused the blood to freeze in my veins. I feared that this was it-the end.
Related Posts