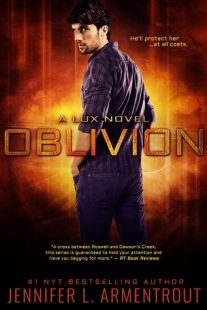 Oblivion
(
Lux #1.5
)
by
Jennifer L. Armentrout
Purchase on:
Amazon
, 
iBooks
Add to:
Goodreads
Synopsis:

I knew the moment Katy Swartz moved in next door, there was going to be trouble. Lots of it.

And trouble's the last thing I need, since I'm not exactly from around here. My people arrived on Earth from Lux, a planet thirteen billion light years away. Plus, if there's one thing I know, it's that humans can't be trusted. We scare them. We can do things they only dream about, and honestly, we make them look weak as hell. 'Cuz they are.

But Kat is getting to me in ways no one else has, and I can't stop myself from wanting her—or wanting to use my powers to protect her. She makes me weak, and I'm the strongest of our kind, tasked with protecting us all. So this one simple girl…she can mean the end for us. Because the Luxen have an even bigger enemy—the Arum, and I need to stay on my game.

Falling for Katy—a human—won't just place her in danger. It could get us all killed, and that's one thing I'll never let happen...
Review:
Oblivion was gripping, emotional and I loved every minute of it!  So when I started reading that very first page I found myself crying.  I was so happy to be back in a world with characters that I absolutely loved with my whole heart.  Four years later and the Lux Series is still my favorite series and Daemon Black still holds the number one spot as my favorite book boyfriend ever.  So the fact that we got to hear the first three Lux books in Daemon Black's voice?!  It was priceless.  Oblivion was completely perfect and this book is for everyone out there that loved The Lux Series!
"Why…?" Her voice cracked. "Why do you hate me so much?"
My control slipped for a moment, and I flinched. I didn't hate her. God, I wished I did, but I didn't, and seeing the tears building in her eyes killed me.
From the moment Daemon saw Katy, I had the hugest grin on my face.  No matter how hard he tried to not like or be around her, it was all so futile.  He constantly found himself drawn to her.  And I loved listening to his internal struggle, because Dawson was a constant reminder of why he shouldn't be around Katy.  But right from the start of the book we saw what a huge heart Daemon had.  He was such a good guy.  There was no guessing his motives or what he was thinking, like when I first read Obsidian.  This time around it was effortless to fall in love with him within those first few pages.
From the very first time I'd seen her standing on my porch—the first argument, the first time she called me a douche, and from the very first time I realized how strong and brave she truly was, I'd been attracted to her. I'd wanted her.
I loved that Oblivion was smile inducing.  From getting to hear the little lies Daemon made up, just so he could hang around Katy.  To seeing how much he enjoyed causing their fights or goading her on, I couldn't help myself, I kept laughing out loud.  Daemon was hilarious without even trying.  Especially since he was so inappropriate at times.  Yeahhhhhh I know Daemon could be the biggest douche on the planet, but this time we got to hear his thoughts and see how he felt during each of those moments.  That made a world of a difference for understanding why he did and said the things he did.
"Kitten," I repeated. "You don't get to do that and then stop. That's not how it works. Not when you're mine." I backed up until I hit the wall. Sliding down, I pulled her onto my lap, her knees on either side of my hips. "And you're mine."
One of my favorite thing about this book is that there were so many moments and conversations that were not in the first three Lux books.  We got to see what Daemon was up to, when he wasn't around Katy.  We also got to be privy to a lot of conversations just between Daemon and Dee or Daemon and the other Luxen.  I treasured every single one of them because they filled in so much of the story.  Between the new scenes, and being able to hear Daemon's brutally honest thoughts, it made this book feel fresh and new.  But at the same time it still had so much of what made me fall in love with The Lux Series to begin with.
Air punched out of my lungs. I held her tight, and I knew right then I would burn down the whole universe for her if I had to. I would do anything to keep her safe. Kill. Heal. Die. Anything. Because she was my everything.
In case you can't tell, Oblivion was everything!  Daemon was sigh worthy, lust worthy and dream worthy.  Watching Katy slowly sneak into his head and heart, oh, each moment was beautiful.  So by the time I got to the end of these three books, I found myself loving Daemon and Katy even more.  I didn't even know that was possible.  I still found myself fiercely hated Blake, I eventually liked Ash and Adam again, I wanted to steal Dee as my new bff and surprisingly I even forgot some of the backstabbing and perilous moments that happened in the Obsidian, Onyx and Opal *gasp*.  There were so many scenes that had me smiling, laughing, crying and I absolutely loved every single thing about this book!  I hope everyone out there that loved The Lux Series picks this book up too.  It was beyond worth it!
Other Favorite Quotes:
And there it was. The spark in her eyes was a blazing fire now, and I was fighting a full-on grin. Damn, she wasn't just cute anymore. She was much, much more, and my stomach sank.
********************
Huh. Perhaps I was a bit too much of a dick the first two times I talked to her. Good thing she didn't know I briefly considered burning her house down.
********************
Kat wasn't cute. She wasn't even sexy. She was beautiful—absolutely breathtakingly beautiful. Not that I hadn't noticed that before, but now? Now was something entirely different.
********************
This girl could slay me if I let her.
********************
By the time we hit Interstate 81, I wanted to kick Blake out of the damn car, tie him to the middle of the road, and run him over several times. At least fifty times. Maybe fifty-one.
********************
Reading Order & Links:


Amazon

(click on covers),

iBooks (click on titles) & Book Depository

(click on book #)


Shadows #0.5
Reviews:
Jen

Obsidian #1
Reviews:
Jen
Chelsea

Onyx #2
Reviews:
Jen
Chelsea

Opal #3
Reviews:
Jen
Chelsea

Origin #4
Reviews:
Jen
Chelsea

Obsession (Companion novel) #4.5
Reviews:
Jen
Chelsea

Opposition #5
Reviews:
Jen
Chelsea

Oblivion #Companion Novel
OBSIDIAN, ONYX & OPAL
Told by Daemon Black
Reviews:
Jen

Related Posts