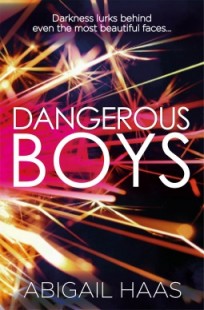 Dangerous Boys
by
Abigail Haas
Purchase on:
Amazon
Add to:
Goodreads
Synopsis:

Three teens venture into the abandoned Monroe estate one night; hours later, only two emerge from the burning wreckage. Chloe drags one Reznick brother to safety, unconscious and bleeding; the other is left to burn, dead in the fire. But which brother survives? And is his death a tragic accident? Desperate self-defense? Or murder?

Chloe is the only one with the answers. As the fire rages, and police and parents demand the truth, she struggles to piece together the story of how they got there-a story of jealousy, twisted passion, and the darkness that lurks behind even the most beautiful of faces…
☎ DISPATCH : Nine one one, what's your emergency?
☏ CALLER : Please, I… I think – I think I have to review this and –
☎ DISPATCH : OK, we'll send help. Just calm down, and tell me where you are.
☏ CALLER : I don't fucking know! I mean, yes, it was unputdownable and gritty as hell but in a good way, you know? All these emotions we fought every once in a while, discarding them because bad, bad, bad us to think such things, see? Abigail Haas magnifies them, showing her special talent for unraveling all the layers of pretending. Take these characters. I hated them. Each and every one of them at some point. But God, do I love them still! Because –
☎ DISPATCH : Where are you, honey? What happened?
☏ CALLER : Ugh. I was talking there so – what was I saying – oh, yes. Despite all theirs flaws and the moments I wanted to 1)slap them, 2)shake them, 3)make a face at them, 4)call the cops, and fucking run – the truth is, they are the kind of characters I want to see more often in my books. I crave for them. Why? Because I'm a psychopath? Come on, don't be silly. No – In my opinion, what makes them so captivating is their unpredictability and above that, their complexity, because even if I can't relate to any of them, yet I can find shattered fragments of myself in every one of them. Don't lie : that's probably the same for you.
☎ DISPATCH : I'm sending an ambulance now. Tell me what happened, where is he hurt?
(Silence)
"From the moment you're born, people start folding you into neat pieces and tucking you inside a box of their own design. (…)
That box becomes so cozy and warm, you never really notice that you're bent double, fighting for room to breathe."
☎ DISPATCH : Honey? Are you there? Talk to me.
☏ CALLER : (whisper) I can't say anything. Look – I know many readers prefered Dangerous Girls and although I can understand why, it remains that these two books are different on so many levels that I can't bring myself to compare them. Are you looking for a mindfuck? In that case, you may be disappointed, as some clues appear to be easy to grasp. Do you want to wander into the human mind, in the inner darkness everyone hides? You've got your book, then.
► Pick your choice.
"Stop pretending. Stop hiding. Stop being the girl they all said you should be.
Imagine that freedom. God, can't you feel it?
What harm could it do?"
BR with my fantastic partner in crime, Chelsea

Related Posts