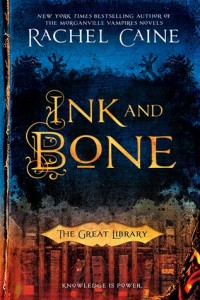 Ink and Bone
(
The Great Library #1
)
by
Rachel Caine
Purchase on:
Amazon
, 
iBooks
, 
Book Depository
Add to:
Goodreads
Synopsis:

In an exhilarating new series, New York Times bestselling author Rachel Caine rewrites history, creating a dangerous world where the Great Library of Alexandria has survived the test of time.…

Ruthless and supremely powerful, the Great Library is now a presence in every major city, governing the flow of knowledge to the masses. Alchemy allows the Library to deliver the content of the greatest works of history instantly—but the personal ownership of books is expressly forbidden.

Jess Brightwell believes in the value of the Library, but the majority of his knowledge comes from illegal books obtained by his family, who are involved in the thriving black market. Jess has been sent to be his family's spy, but his loyalties are tested in the final months of his training to enter the Library's service.

When he inadvertently commits heresy by creating a device that could change the world, Jess discovers that those who control the Great Library believe that knowledge is more valuable than any human life—and soon both heretics and books will burn.…
Give in. Give up.
Survive.

Beautiful. Mesmerizing. Addictive. So many words come to mind when I think of this story. I have many regrets as of late, and not being able to read my dystopian/sci-fi/fantasy is one of them. But perhaps the larger crime is that when I do attempt to stick one of these stories in my reading schedule I'm either:
A) too tired
B) too tired
C) too tired
Oh, and did I mention my time has been severely limited? I've always been that girl that scoffs when people say they are 'too tired' or 'don't have time'. I mean, we have the time we make, ya know? And believe me, I still live by this. I set aside adequate time to read this story, only to realize that after about 10 pages (at times while reading) I wouldn't even know what had happened. That was when I decided it was time to set this story down and pick it up when I had time.
Doing this pained me-I never put aside those I truly cherish, and this story was just magnificent. But when you can't do it…you just can't fucking do it. So, as I read 50% on Saturday, I decided to read the last 50% (the most action-packed, heart-wrenching parts of the story) when I had the chance. And oh man, did it kill me-what if when I picked it up, the characters/pace/plot were like strangers to me? But as I (surprisingly) gained a large amount of time yesterday, I picked this story up and it was like I'd never left.
"No, it's alright," he said, and tried to sit up, but the brief nap had stiffened his sore muscles, and it was a clumsy process. He grabbed at the robe to keep it more or less closed. It was mostly a failed attempt, and it exposed the livid black-and-blue of his side. She took in a breath and came to help him rise. He yanked the robe back together and tied it shut.
"Don't apologize," she said. "I've seen worse."
"You mean the bruises, I hope."
It speaks volumes to me when I can put a story down and come back to it with much (if not all) the same feels. Jess's story intrigued and delighted me, making me feel like I was in this magical world that has long since been lost to me. Dare I say that this reminded me of a very twisted version of Harry Potter mixed with The Testing? Not one moment was dull and more than once I felt like I was trapped in a super psycho version of Hogwarts.
Reset the board and keep playing.
That's not to say I felt the story was anything like Harry's, naturally. No, what we have here is dark, sinister, and twisted-wrapped in a neat little package so people believe the Library is good, whole, looking out for the betterment of the world and those who wish to prosper in it. But what lies beneath is much more terrifying (Cue The Testing vibes) and unlike anything Jess could have imagined.
What if all you had ever worked for, everything you dreamed of, everything you put your whole life into turned out to be exactly what the underbelly of the world said it was? What if your life's goal turned out to be like making a deal with the devil? And what happens when all of your newly found friends began to disappear in horrible and unimaginable ways…..and not just when they get sent home? What then?
What would that be like, to have that single, unshakable faith in the world, to not see all the shadows?
Jess was a truly remarkable character. I remember when my lovely friend Anna was talking about him-She got the vibe that he cared more about this futuristic world where books were coveted holier and more valuable than human lives. She wanted him to care, to fight for people. And in a way I see what she's saying-He was kind of out for himself, ya know? But then here's me, right where I always am: Team Boy. I mean, come on. He's a book smuggler, brought up in an illegal business only to pass a test to be admitted for the chance to become a Library Scholar/Representative/Whatever. He is against other students and time and again proves how cunning he is….and yes, he rocks a 'tude….and I fucking loved it.
Jess is smart and he knows it. He does what he has to to move onto the next round, doing what must be done to move on….but he begins to change. He starts to care. Those people he looked at with competition in his eyes start to become his family, these people who are standing in his way. And would you be so quick to befriend those who could possibly send you back to the horrible world you once lived in? I think not. But Jess…Hmm I loved Jess. Shocking, isn't it?

You said stay.

And the romance. Daaawww I loved it. While not the main plot point, it still touched me deeply and ripped my heart in two. Morgan and Jess's journey was a tremulous one, danger and secrets swirling around them like an unkempt tornado of peril and destruction. I think that was my favorite part about their romance-which is sick-but I've never said I'm sane, k? Desperation, despair, and longing convolute what is, making for an emotional vortex that you don't realize you're being sucked into….until a plea and raspy voice (Have I mentioned raspy voices in books are my downfall in an emotional scene?? Muaha) are staring you right in the face and you just know it's going to haunt your dreams long after you've finished and gone to bed.
He wanted to laugh at himself for being so stupid. He wanted to scream until his throat bled.
I just…I can't say why I loved this so much. And I can't say I gave it my all-which breaks my heart. A 5 star book has been lowered because, again, I didn't have the time to give to it, so I can assure you I will be re-reading this as soon as humanly possible. Jess's turmoil touched something deep inside of me, and I longed for him to succeed, to break away from the horrible life he grew up living. I am a sucker for male POVs….and I'm more than certain I will be searching for more male POV books-they seem to be my favorites lately. Again, shocking, isn't it?
Related Posts