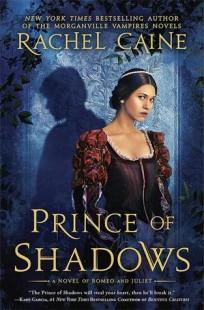 Prince of Shadows
by
Rachel Caine
Purchase on:
Amazon
Add to:
Goodreads
Synopsis:

A thrilling retelling of the star-crossed tale of Romeo and Juliet, from the New York Times bestselling author of the Morganville Vampires series.

In the Houses of Montague and Capulet, there is only one goal: power. The boys are born to fight and die for honor and—if they survive—marry for influence and money, not love. The girls are assets, to be spent wisely. Their wishes are of no import. Their fates are written on the day they are born.

Benvolio Montague, cousin to Romeo, knows all this. He expects to die for his cousin, for his house, but a spark of rebellion still lives inside him. At night, he is the Prince of Shadows, the greatest thief in Verona—and he risks all as he steals from House Capulet. In doing so, he sets eyes on convent-bound Rosaline, and a terrible curse begins that will claim the lives of many in Verona…

…And will rewrite all their fates, forever.

Wow. Here I am, in love with a Romeo and Juliet retelling. Who would have ever believed that it was possible? Not me for sure.
① Romeo is a foolish infatuated kid who composes poems like we would write a shopping list. Yay! Finally I found in Benvolio a hero who shares my opinion of Romeo : as a kind but inconsistent and immature teenager who craves for drama. God, I'll take the Prince of Shadows on any day.
"It's Romeo. He'd swoon over a dancing bear if it wore a skirt."
My thoughts exactly.
② Tybalt Capulet is an abusive asshole who deserves to die from a slow and painful death (I'm ready)
③ I have a love/hate relationship with Mercutio, but mostly, I can't help but love him.
"I love Rosaline", Romeo said. "One risks anything for love"
Mercutio gave him a disbelieving stare, then turned to me. "You actually let this infant out in the streets, Ben? On his own?"
Their friendship was so fierce and heartwarming that I found myself smiling more often than not.
④ Romeo and Juliet's love story is filled with madness. Indeed the direction chosen by Rachel Caine to portray Romeo and Juliet's love story was surprising and pleased me a lot. I don't want to say too much but I found this way so much more understandable and believable!
① Benvolio is such a complex and captivating character. I shall marry him someday. The oldest of his generation, he can't afford to be a dreamer like Romeo : by all appearances he's (almost) exactly what we could call a wise fellow : strong, discreet, respectful, and if he sometimes sheds the blood, it's only to protect himself. Except that appearances can be deceitful and that's for the best : indeed Benvolio is none other than the Prince of Shadows, famous thief who strikes, revengeful, in the most important houses of Verona.
"I smiled, feeling fierce and free and wild in ways that no one would ever believe of the quiet, solid, responsible Benvolio Montague. At night I could be something else than what my city, my station, and my family required."
Benvolio is trust-worthy and loyal where Romeo is charming, but restlessly fights against his own inner demons, either impossible feelings or thirst for blood.
"There was a wilderness trembling inside me that begged to let fly, and let the arrows fall as random as rain."
I loved this about him – How couldn't I? It makes his character so much layered and real.
② Rosaline is an heroine I can admire : strong-minded, smart, brave. I fell in love with them both – and suffered for them. One might say that it was insta-love, but I don't agree, as their relationship grows slowly, after perhaps an insta sparkle of interest on both counts, and with reasons, because they're both different from other people around them and both bounded by secrecy. In any case it didn't prevent me from loving the story because there was a splendid characterization and yeah, I fell in love with them.

③ Don't get fooled though : It would be grandly unfair to reduce this book to a love-story, because even if it is present, it's far, far away from being the main plot. Verona's world is brutal, unforgiving, filled with secrets, political alliances, violence and betrayals. Each path can lead to destruction, and one might act like a wolf to escape wolves' wrath.
How to survive in this pack of wolves? How to avoid all the low blows and manipulations present along the road? How far will you go to protect your family, your friends, your love?

How to live a life where deception is the norm and personal happiness a stupid and impossible dream?

④ The writing is utterly beautiful, and creates an haunting atmosphere that I wasn't able to escape before the last sentence. From the very first page I was transported into Verona, enthralled by Rachel Caine's vivid and superb words.
⑤ Whether because of the awesome action scenes or the slowly growing tension, I felt so many emotions – compassion, hope, rage, love, with always, in this world, the despair lurking.
Frankly? As far as retellings are concerned, it was fantastic. Why, it almost makes me want to read Romeo & Juliet again – except I won't, because this is the story I want to carry in my heart.
Related Posts