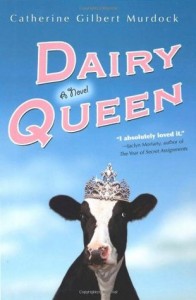 Dairy Queen
(
Dairy Queen #1
)
by
Catherine Gilbert Murdock
Purchase on:
Amazon
, 
iBooks
Add to:
Goodreads
Synopsis:

When you don't talk, there's a lot of stuff that ends up not getting said.
Harsh words indeed, from Brian Nelson of all people. But, D. J. can't help admitting, maybe he's right.

When you don't talk, there's a lot of stuff that ends up not getting said.
Stuff like why her best friend, Amber, isn't so friendly anymore. Or why her little brother, Curtis, never opens his mouth. Why her mom has two jobs and a big secret. Why her college-football-star brothers won't even call home. Why her dad would go ballistic if she tried out for the high school football team herself. And why Brian is so, so out of her league.

When you don't talk, there's a lot of stuff that ends up not getting said.
Welcome to the summer that fifteen-year-old D. J. Schwenk of Red Bend, Wisconsin, learns to talk, and ends up having an awful lot of stuff to say.
That's one advantage to not talking. After a while people stop talking back.
I swear, I swear to you….I am not a snob. Really!! Swear!! But come on…look at this cover. It's a cow. In a tiara. With a blue sky in the background and named after a restaurant I love. What's a girl to think when she sees this? Oh well, guess it's a moot point…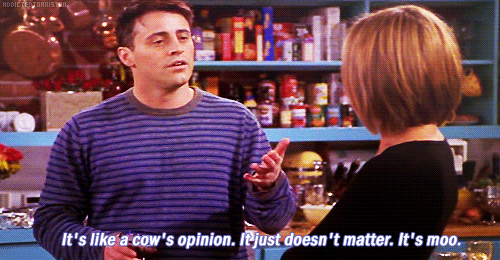 Because this book was fabulous. (okay, I was guna use that GIF anyway because duh, friends, but it just worked out so well 😉 )
Basically what it came down to was that my life sucked. It sucked even more than it had before Brian showed up, because now I knew it.
This book, while funny and outwardly mocking in and of itself, was also surprisingly deep, full of values that aren't always put first in a teenager's life. D.J.'s voice is one that, while a little different at first, is one that I think many young girls could relate to. Hell, I could relate to it.
Think about it-No, I'm not a farmer, and no, I wasn't totally socially awkward ever, but I had trouble finding my voice. And not everyone runs into this problem, I know that. But, hey, I grew up in the country, and I went to a school where driving your tractor there wouldn't raise eyebrows. It was Hick City people. The kids were very kind, very well brought up for a public school, so it should come as no shock to you that when my parents ripped me out of that happy (and horrible academically wise) school away from all my friends just as I was getting my braces and figuring out who I was (thanks mom and dad, really), I had trouble finding my place at the elite schools in town. I bet you're asking why they pulled me out. I'll tell you why in a few words: Soccer program (as in, ours was nonexistent and I was REALLY GOOD) and academics. I couldn't go into high school without a better level of academics and not knowing the in town program and it's people and coaches. ANYWAY.
I hate it when people make fun of me and it turns out they're right.
So, when I started in town at a tiny private school with a totally different grading scale and girls that were far more advanced than I in 7th grade, I found that I was standing on the outside of the circle with very little to say besides a literal smile and nod of the head for everything they deemed important. Ah, youth. I want to incinerate some of those moments. But that's my whole point-I knew what I wanted to say, and I rarely agreed with what they were going on and on about. I had my own opinions, but I was both too shy and too backwards (at the time) to express them…so I just looked wild-eyed at them and nodded my head so as to fit in. Yeah. That worked out great. But, again, the point-I am just like D.J. in this instance…and I think many young girls are, as well.
How could a guy who was such a jerk, how could he act so nice?
And that's why I loved this cute little story so much. Yeah, the writing was great and the boy was great (Brian!!!!) and it was so so funny…but I fell for D.J.. She's this girl who thinks so little of herself, yet she's so very strong and smart and determined. She has trouble expressing herself, even though she has so much to say. And I loved that. I loved her voice and her thoughtful sentences and the way she spoke to you as if you were a friend. It was a journey of discovering herself and finding out that not everybody is what you'd imagine them to be. And…most importantly, this chick tries out for football. And then she falls for the rival team's quarterback. Be still my star-crossed heart.
I couldn't help wondering if maybe it had something to do with me, like our water fight and all. But then I realized that I was totally stupid and there's no way it could ever be about me, not in a million years, not if I was the only girl on the entire planet.
Now, I know what you're thinking: What a weird concept. I know, I thought so too. But when she decides to try out for football, it actually became my favorite part…because, you know, she has to play that rival football team MUAHA! lol. I'm weird today. Anyway! She decides to train Brian all summer after some prompting from a family friend because she trained with her brothers who are now big names in college football. What starts out as reluctant training and working together on the farm becomes a highlight of each of their weeks, and something so much more.
The whole book D.J. is trying to prove her worth to herself, that she's not just some cow that does what everybody says, and when she finally finds a purpose, playing football for her school's team, it helps her to feel vindicated and strong and worthy of people's admiration. I think that's where my admiration came in for her…what a brave (and hilarious) thing to do.
I saw something I wanted to do and I decided to do it. The feeling of freedom this gave me-I can't even describe it. It was my decision. I chose it. I am not a cow.
So, you know, despite my earlier trepidation of how this story would be, I got just as many feels from this as any other book: Angst, fear, butterflies, sadness, giddiness, family issues, this book had it all. Near the end my stomach was in such a big bundle of nerves I almost couldn't sleep. And I guess that's my other life lesson…you can't judge a book by it's cover. Sometimes you find the best stories with the worst covers…it just happens. But I'm sure I'll continue to make that mistake…but I'll do my best to shake the habit.
************************
Surprisingly deep with wonderful values…I can't wait to read more of this series.
And, you know…
Just sayin'
RTC
Related Posts