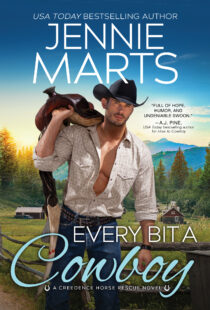 Every Bit a Cowboy
(
Creedence Horse Rescue #5
)
by
Jennie Marts
Purchase on:
Amazon
, 
iBooks
, 
Book Depository
Add to:
Goodreads
Synopsis:

There's nothing quite like a cowboy.

No matter how swoony the cute cowboy is, romance is the last thing on Carley Chapman's mind. But it's hard to ignore Knox Garrison and the spark of attraction she feels every time he's near. When a water line break floods her building, she's forced to move her salon out to the Horse Rescue ranch, and Knox shows up to help. But things get even more complicated when Carley's no-good ex comes sniffing around and Knox "fixes" the problem by telling him they're engaged…
Review:
Every Bit a Cowboy was a heartwarming, small town romance.  With fake dating, adorably cute farm animals and characters that leapt from the pages, this book was such a huge win!
"Lunch isn't exactly what I'm hungry for…"
He left the statement open-ended, as if passing the flirty ball back to her side of the court. But as much as her body was responding to his words with surges of heat and crazy stomach flutters, this was one game she wasn't prepared to play.
Carley Chapman was a hairdresser in town, and we got to meet her in Never Enough Cowboy.  When she got her moving weekends mixed up, and her sister and friends weren't available, she turned to Knox.  Knox Garrison was a deputy in their town, who worked with her sister's husband. They got along so easily and there was a definite spark between them!  So when Carley's horrific ex came back to town, who definitely had some creepy stalker vibes, Knox stood up for her and ended up stating they were engaged.  Living in a small town had word spreading fast.  And they both decided it was best to continue the farce, until her ex left town. What unfolded was so much fun!
"Oh, and Knox," she said softly. "Thanks for checking in with me. It helped."
"That's what friends are for," he said. "See you tonight."
That's what friends are for? He gave himself a mental head slap. Why had he said that? He didn't want to be her friend.
Carley was definitely jaded from her past, since her ex was a complete douchebag.  Because of him, she didn't want to go on a date let alone have a relationship with a man.  When she found out that Knox had said they were engaged, I was so nervous.  When she agreed to go along with his plan, butterflies erupted.  I had so much hope Carley.  She never felt like she had a home anywhere.  She moved around a lot as a kid and her ex-husband didn't make things stable for them.  So it was easy to understand why she internally struggled about Knox.  She liked him and even though he kept helping her out, she was still terrified that he would hurt her.  Or leave her, like everyone else did.  I patiently waited for Carley to catch up with what her heart already knew, that Knox was one of the good ones.
She closed her fingers around his hand. "You're a good man, Knox Garrison. Better than I deserve."
"You deserve everything," he whispered, the emotion stealing his voice.
Knox was so easy to love!  He showed us time and again that he was kind, thoughtful and caring.  He was so good to his townspeople and I loved how they thanked him with Twinkies lol.  And I loved how he put his feelings out there. He was forward with Carley and let her know that he was interested. Even in front of others. So watching him care and protect Carley shined beautifully from the pages. When they started to pretend that they were engaged, it was impossible not to be giddy with the little touches here and there.  Along with the moments they wanted to be seen together.  But most of all I loved how hot their first kiss was!  The passion and chemistry between them was electrifying!  And together they made such a good team.  They had similar pasts, similar friends and their friendship seemed seamless.  I kept hoping they would switch from faking to real. They both deserved their HEAs!
A grin tugged at his lips. "You think I'm hot?"
She pressed her lips together as if trying not to smile, but in the end she failed. "Yes, of course I do. Remember our moment on the dryer?"
"Darlin', to my dyin' day, I will forever remember our moment on the dryer."
Rounding out this story were side characters that were so easy to like….or dislike.  I was so over the moon happy to see characters from It Started With a Cowboy, that's one of my favorites in the Cowboys of Creedence Series!  We saw soooo many of those we loved from that series and this one too.  Plus we got to attend a wedding for a couple we love!  While yes, you can easily read this as a standalone, I can't recommend the other books in Cowboys of Creedence Series and Creedence Horse Rescue Series enough!  There were also animals we adored from previous books and the introduction of new ones too.  Otis and Tiny and their antics had me cracking up again!  I wish they were real, I'd love to meet them!  And the newest additions, awww sooo cute, and I loved the nod to Friends.  Now for the dislike side, ohhh how I hated Paul and kept wishing for something bad karma to happen!
For just that moment in time, she let herself trust Knox, with her body and her heart, and surrendered herself to him.
Every Bit a Cowboy was a romantic fake dating romance that brimmed with tons of heart! With characters that were so easy to connect with, a town that felt like home, and friendships and love that filled the pages with so emotion, it was impossible not to love this book. I always pick up Jennie Marts books knowing that I'll smile, laugh and fall in love, so I can't wait to read her next release!
*I voluntarily read and reviewed an advanced copy of this book, provided by the publisher. All thoughts and opinions are my own.*
Related Posts