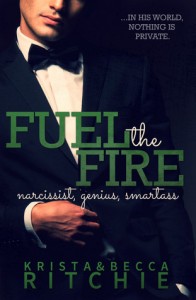 Fuel the Fire
by
Becca Ritchie, Krista Ritchie
Purchase on:
Amazon
Add to:
Goodreads
Synopsis:

Protect your family. At all costs.

It'd take the impossible to hurt Connor Cobalt, even for a moment.

Protect your family. At all costs.

At twenty-six, his narcissistic tendencies have made room for the people he loves.

Protect your family. At all costs.

And he loves Rose. But when his love is threatened, when his greatest dreams with her are compromised — what is the cost then?

Protect your family. At all costs.

Love will guide his choices.
For the first time in his life.

I never realized how bored I had been with life. How mundane my surroundings looked. How unchallenged I'd become. 
I never realized all of these things.
Until I met her.

You know those books where you highlight so much that almost every page is filled with a rainbow of colors? No? Well, I can tell you that this happens to me frequently. And it's not always the same types of books, the same types of characters, the same types of boys….it's almost every type of book that gets me giddy, and that's an awesome thing. But, I will admit that certain characters or series do tend to draw out the worst kind of highlighting fangirl in me, marking quote after quote in an endless stream of sighs, giggles, smiles, and heartaches; This is one of those series.
"And Rose?"
"Yes?" I breathe.
"I'm tragically in love with you too."
I'm shocked to announce that perhaps one of my absolute favorite stories ever is none other than the Calloway Sisters spin-off of the Addicted series. I've heard nothing but bad things [from my closest and most trusted friends] when it comes to the first book of the Addicted series, and I was inclined to agree, at the time. However, when a certain best best friend of mine read the spin-off Kiss the Sky first (she is like me-no thank you on the depressing kind of angst) and absolutely GUSHED and OBSESSED over my dear boy Connor, I have to say my interest was piqued. I mean, she is as hardcore on rating as you can get (You know who you are, Dark Pup), and she was sitting here ranting and raving about a NA that is split down the middle on ratings.
Her mouth falls and eyes flame. "What we did wasn't flirting."
I arch a brow. "When I was seventeen you said you wanted to perform an autopsy on me, to crack open my rib cage and squeeze my heart until it burst between your fingers."
What is that-if not flirting?
She lifts her head off a pillow to near me, propping her elbows on the mattress. "That was me hating you, Richard. I dreamed of your death."
"You dreamed of clutching my heart," I rebut.
"Of killing you," she emphasizes.
I lean closer to her, our eyes locking, "Vous m'aimiez." You loved me.
But then those magic magic words….Bu-bu-but, CONNOR!!! They changed my life forever. She knew that was all she had to utter to win me over completely, and I am so glad I am a sucker for her bu-bu-but explanations. I mean, what better language to express how abso-fucking-lutely perfect a boy is than utter nonsense babbling between two gal pals?? We know what each other likes, and we know what to pass along-we don't fuck around by pushing books that test our boundaries in bad ways.
"Then you'll need to buy me some barf bags." She looked me up and down. I was always physically fit, and I appeared exactly as I dressed: well-off, cultured, proper, rich. An elite boarding school prick.
"Do you always vomit on guys you like," I asked, "or just me?"
She glared. "The more you fish for compliments, the more I want to puke on you."
"So it is just me then."
She growled.
I grinned.
So when this New Adult book, of all things, brought the Frowner to her knees…I knew I just had to get in on this shit. Now, here I am, a couple months after finishing KTS and HF, having been waiting on the perfect opportunity to finally give enough time and devotion to my man, enough time to cherish his every word, breath, and phrase. I mean look it:
"Why aren't you wearing green?!" the bartender asks Connor, sliding over my apple-tini and slicing into our conversation. I gratefully take the drink.
Connor has a shadow of irritation in his eyes, only perceptible by me, most likely. He answers the bartender very casually. "I make my own luck, so really St. Patrick's Day should be celebrating me." He pauses. "And I prefer blue."
I adore him way too much and find him way too funny lol
When I read the first, I had hardly any time to cherish the narcissistic words he spoke, only using the time I had, not knowing how big of a deal my love for him would be. But, you know, there really is no perfect time for your favorite books. *shrugs* There just isn't. So I finally took the plunge and read the GD book I've been wanting to read since early January.
Rose drills a hole in them, like they've offended her. "What are those?"
I answer first, "Sneakers. Tennis shoes. Running shoes. There are a plethora of useless names for them in my opinion."
When her eyes ping to me, they narrow. And I grin, any sort of annoyance starting to seep into better sentiments that I enjoy.
"Your opinions are useless," she retorts.
"And your opinions are biased. Do you want me to keep going?"
Lo cuts in, "Please don't."
I can't say I loved having to read 10-20% a night, this is a travesty to me, breaking apart all he and Rose's moments as if they didn't deserve to be read in a perfect sequence with zero interruptions and my undivided attention. It took me basically a week to read it (vile, just vile, I tell you), which normally stunts my enjoyment of a novel. Who likes stopping and re-starting all the time? Not me. But, as I have said many times before, if you love a book enough…it just doesn't fucking matter. I may have lost some bits and pieces, sure, but no amount of breaks stole the love I had for each and every character and each and every scene about each and every one of them loving, protecting, caring, and watching out for each other. Nothing can top that. Nothing.
I scowl. He always has to one-up me. I'll beat him, make him uncomfortable for once. Game on. I scan the wall and remove the largest of the dildos, big and fat, also a shade of blue. Its girth alone looks insanely miserable. My vagina quivers in warning like hell no.
I check the tag: horse cock.
I swear I'm not lying.
I rotate it to Connor. He's not the least bit flustered.
You see, this wasn't simply a book about Connor and Rose, though there was that, but a book about the bonds that have been formed throughout this devastatingly hopeful and tragic series. Addictions are abundant in their household, possibly filled with more downs than ups, but they have all stuck together from the very beginning. The Calloway sisters are blood, obviously, but Connor and Ryke and Loren are not. Ryke and Lo are half brothers, and Lo has been around since the girls' childhood-but, for the most part, and what I'm trying to say here is, these bonds have grown stronger not only by blood, but by friends and lovers who have been through it all together.
A string of tense silence lingers in the air.
He sips his coffee.
I sip mine. "I've had better conversations with a stuttering parakeet Frederick used to own, though he wasn't nearly as intelligent as you."
Ryke digests my statement quicker than most. "I'm sure you loved hearing your own fucking words repeated back to you."
This book made me cry more than I have for any other book in a long long time. If I wasn't laughing out loud or giggling or sighing or my heart wasn't beating out of my chest and stomach erupting with butterflies, I was tearing up….or bawling. What is it about these people that touch me so deeply? Everyone knows from my first review that I am utterly obsessed, infatuated, and in love with Connor (and Rose, for that matter), but the other characters are like family to me, too. It means so much to love the main two of a story, it does, but when you add in a never ending stream of love and support that break your heart almost as much as your main man does…you really have something here. I cried for Connor as his world came crashing down on him. I cried for Rose and how she would never let Connor go through anything alone, acting as his equal in every physical and intellectual way.
I glare, spinning fully towards him while we wait for the green light. He wears a blue button-down and suit jacket, tailored perfectly for his six-foot-four frame. Connor Cobalt is as classy as he is conceited. Both attract me.
Both annoy me.
I'm a paradox. And maybe that's why he loves me.
I cried as their hopes and dreams began to crash and burn around them. And I cried for all the brothers, sisters, friends and their broken moments that Connor's untimely (almost) demise brought down on them.
My defenses waver in my mind.
We have sex tapes.
Staged, they will say.
We have a child.
Business arrangement, they will argue.
I am hopelessly in love with her.
Who else can see this but you?
So, okay, I won't make this much longer because I've already written a review for KTS that was extremely long already (sigh, I lubbs my Connor), but I do need to touch on Rose and Connor's growth as a couple-not that they needed much. Did you know the authors didn't plan this book? They did it for the fans. So, you know, this was just a bunch of extra we got to feast our eyes on-Connor and Rose awesome-ness! And awesome they were-Connor and Rose together are unstoppable. #RCCthisislove …..just sayin'.
Her words flood me, choke me, grip me and burn me.
Her words light me in a lethal blaze, and I'm smothered in hot sentiments that pull at me and beg me to scream. I hold her harder, tighter, my forehead pressed against hers.
I'm on fire, every part of me.
Connor, to me, was everything I could ever ask for, in this book. Yes, we still got the self-assured, perfectly kempt, responsible, and level-headed boy we have grown to love. Of course he was abundantly arrogant in this, or else would he even be Connor? But what we got to see here was the new and improved Connor.
I cling to the rarities in life, the unusual fragments that open windows into a person's soul. Rose's genuine, warm smile is a rarity. It's not a constant. And I wouldn't want it to be. It's a powerful blip that punches me hard. If this happened frequently, it wouldn't have the same effect. It wouldn't be unique anymore.
The Connor that loves Rose with all his heart. The Connor that would risk it all to keep his family safe and happy, even at the cost of his own happiness. The Connor we once knew would never have thought of such a thing, risking everything he'd ever worked for and knew to be true in life…but for Rose? He'd risk it all.
Rose will be dragged into this by her ankles, suffocating beneath someone else's rising tide, and the best I can do is hold her while we go under. I've never imagined myself drowning before. Not like this. And I've never imagined I'd have these two choices: drown apart or drown together.
Together.
Always.
And the same for Rose, the ice queen. I absolutely adore her snide comments, stupid tests and rules, and glares that could turn anyone's heart to ice in less than a moment's notice. Never Connor, though, he merely catches her glare and smirks in return.
My scathing look could burn holes in a man, and yet Connor doesn't even bat an eye. He's sleeping in the same bed as a volcano that would very much like to sear and scald everything around me, including him, and he's okay with it. What is wrong with my husband?
She is his equal in every way, challenging his mind and heart at every turn. She is everything he has ever needed to make him not an unfeeling monster, but a man who knows everything…but can relinquish his soul that he has kept and held inside and swore wasn't able to beat in time with another. He can concede on things, bend and break, whereas before he had a rigid finality that kept him perfect and without doubt, completely in control of himself and all those surrounding him.
'"I took a deep breath and listened to the old brag of my heart.'" My lips pull higher, into a livelier smile. '"I am, I am, I am."'
But this is the story where we see not only his love, but his tears, his heartache, his determination to stop something that already is in motion….and he is finally unable to control something that can tarnish his life forever. I loved, asshole that I am, seeing his broken heart, his loss of control, his tears, his determination to keep Rose safe under any and all circumstances. I just loved seeing him not so sure of himself all the time-and loved every minute when he was. I love every little thing about him, his comments making my day no matter my mood. And his and Rose's banter, along with Ryke and Lo, caused my heart to squeeze and me to burst into fits of laughter when I least expected it (and even when I did, whatever, it's all funny no matter what).
"I shoved it up your ass, don't you remember? Or are you still trying to forget?" I mime a tear streak down my cheek.
There it is. He flashes me that dry half-smile. "Your husband pulled it out for me. He likes my ass."
I roll my eyes. "I gag at your friendship." It's too sweet for me. The compliments they bounce back and forth. Ugh.
So, yeah, like always, I could go on and on and on about a book I consider a favorite. Would you believe me if I said that I had no clue what to say at the beginning? I typed one sentence, and then BAM! This review took off. I love when that happens, when I don't want to write a review but end up publishing a book, because that means it was something that truly touched my heart, and that's hard to come by these days. Rose's loyalty, Connor's devotion, Lily's support, Ryke's unflinching encouragement, Lo's underhanded trust and admiration, and Daisy's unflinching happiness and positivity are things I will never forget. They are all so important to each other, making a broken household whole…and every single one of them will always own a piece of my soul.
(Shout out to Coconut and Sadie :P)
*QUOTES I REFUSE TO DELETE EVEN THOUGH THEY DON'T FIT*….
My hand shakes. "Rose," I murmur, my chest blazing the longer I stare into her. She fuels the fire in my soul, the embers slowly dying, and she tries feverishly to awaken me.
One more step and I'll feel his pelvis against me. His toned arms always seem larger and more sculpted without a shirt: perfect with a suit on, not too bulky, and perfect with a suit off, not too lean. There is too much perfect behind me-it's infuriating.
"I don't know what you want me to say," I tell her. "And what are you still doing awake?" I feel old, asking my mother this. Connor watches me intently and I whisper to him, "Am I old?"
His lips pull upward. "No, darling. We're still young."
****
Rose will be dragged into this by her ankles, suffocating beneath someone else's rising tide, and the best I can do is hold her while we go under. I've never imagined myself drowning before. Not like this. And I've never imagined I'd have these two choices: drown apart or drown together.
Together.
Always.
I mean…I can't even.
RTC.
Related Posts