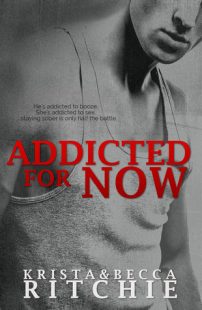 Addicted for Now
(
Addicted #2
)
by
Krista and Becca Ritchie
Purchase on:
Amazon
, 
iBooks
Add to:
Goodreads
Synopsis:

He's addicted to booze. She's addicted to sex... staying sober is only half the battle.

No. More. Sex.

Those are the three words Lily Calloway fears the most. But Loren Hale is determined to be with Lily without enabling her dangerous compulsions. With their new living situation—sleeping in the same bed, for real, together—Lily has new battles. Like not jumping Lo's bones every night. Not being consumed by sex and his body.

Loren plans to stay sober, to right all of his wrongs. So when someone threatens to expose Lily's secret to her family and the public, he promises that he'll do anything to protect her. But with old enemies surfacing, Lo has more at stake than his sobriety.

They will torment Lily until Lo breaks.

And his worst fear isn't relapsing. He hears the end. He sees it. The one thing that could change everything. Just three words.

No. More. Us.

New Adult Romance recommended for readers 18+ for mature content
"Lo?" Ryke's voice turns serious. "Hey, talk to me." 
I let out a breath. "Tell me why I shouldn't." I pinch my eyes. I want this to end. This torment. These feelings. I want to help Lily without needing something to drown my own thoughts.
"Because you love Lily more than that." 
This book picks up right at the end of Lo's three month stint at rehab. Lily had already moved in with Rose when Lo left so this is the first time that they will really be tested together since they both made moves to work on their addictions. This is the first book of the series that has both of their POVs which is great because now the reader gets to see firsthand how Lo struggles instead of just seeing Lily's side of things. I was so glad that his POV was added because in the first book, even though you can clearly see how much he loves Lily, it might be still easy to not like him because let's face it, he can be a major ass. Once you get to see into his head and how much he struggles and how sometimes even though the first words out of his mouth are meant to hurt a person as much as possible, you realize that he isn't a bad person. He's just a fragile human who has an addiction and grew up with a father that has that very same addiction and who could tear Lo down better than anyone else (even if he clearly loves his son—it's all a pretty messed up and vicious cycle). 
Fortunately in this book Lily's addiction is still a secret so she spends most of the book doing normal things like wading through schoolwork and working for Rose at Calloway Couture. She ended up transferring to Princeton because of her move with Rose and while I don't think that Lily is dumb, it's pretty obvious that she only got into Princeton because of her last name (no offense, dear Lily!!). Instead of having Connor the wonder tutor available, she gets stuck with Rose's jackass friend. Basically I hate him because he gets Lily to cheat by giving her old tests and tries to manipulate Rose/ break up her and Connor's relationship. He's the worst—and obviously an idiot if he thought he could break up the nerd stars.
"I don't know how to live without you." And I shake my head quickly as tears pool. "And I don't want to know how. I don't want to find out." He is my breath. My soul. My life-force. I have spent forever with him. Being apart is the most unnatural feeling in the world. Three months—I could handle that like a bad itch. Forever without him?
All in all this is basically a transition book that is once again more focused on the characters. While one of the main threads of the book deals with all of the nasty, anonymous tests that Lily and Lo are getting about exposing her addiction, a lot more of it just focuses on the two of them going through their lives while the battle their addictions. Because I read Kiss the Sky first (after Lily's secret had been exposed) it was actually really nice to read about their lives before they got SUPER chaotic. Obviously they still are really rich and help run their own companies and go to galas…but still. They are safe from the paparazzi and their lives are semi private. Other than their addictions they live relatively "normal" lives. 
Certain parts that I loved included Rose and Connor going to different therapists pretending to be Lily and Lo to find the perfect one for Lily. I literally can't imagine Connor pretending to be an alcoholic with Lo's attitude bahaha. I also loved their trip to Mexico because we get to see more interactions between Ryke and Daisy and how protective Lo and Lily are. Also there's the fact that Rose gets drunk so that's a funny bonus too.
In the end you finally find out who leaks Lily's secret and it's pretty devastating for all involved. We see the very beginning of the fallout for Lily and things obviously spiral out of control very quickly. It's honestly so heartbreaking to see how people treat her..including her own mother and father. What's also hard is when Lily goes through enough therapy to figure out what might have pushed her down the path she ended up going down. Despite that though, I was reminded how darn funny she is. Sweet Lily is so kind and geeky and I laugh so hard every time she hides underneath Lo's shirt or climbs up his body like a koala. I love that her and Lo talk about fandoms and and Marvel and that even though Connor is a certified genius, that he doesn't know what she's talking about half of the time, lol. Other than the sex addiction I would definitely relate the most to her out of the three sisters. So yes, this might have been one of the "tamest" books of the series but it still was enjoyable to read. Any more pages spent with this group of people is a win for me.
So in Harry Potter's epic final words, "All was well."
Related Posts