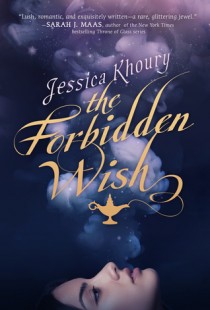 The Forbidden Wish
by
Jessica Khoury
Purchase on:
Amazon
, 
iBooks
Add to:
Goodreads
Synopsis:

She is the most powerful Jinni of all. He is a boy from the streets. Their love will shake the world...

When Aladdin discovers Zahra's jinni lamp, Zahra is thrust back into a world she hasn't seen in hundreds of years -- a world where magic is forbidden and Zahra's very existence is illegal. She must disguise herself to stay alive, using ancient shape-shifting magic, until her new master has selected his three wishes. 



But when the King of the Jinn offers Zahra a chance to be free of her lamp forever, she seizes the opportunity—only to discover she is falling in love with Aladdin. When saving herself means betraying him, Zahra must decide once and for all: is winning her freedom worth losing her heart?

As time unravels and her enemies close in, Zahra finds herself suspended between danger and desire in this dazzling retelling of Aladdin from acclaimed author Jessica Khoury.
Review:
Buddy Read with my fabulous co-bloggers Anna & Chelsea for Anna's belated birthday read! ♥
The Forbidden Wish was a magical journey that was fun and enchanting.  It started off with a bang, and each page was wrapped in beautifully, intoxicating words.  I rooted for the boy and the jinni to have a chance.  To find their happiness.  But I did struggle making that connection to Zahra, the jinni, and at times I would forget some of the characters names.  But there were still so many moments that captured my attention and continually kept pulling me back into the story.
He is just a boy, a moment in time that will soon pass. I have known a thousand and one like him. I will know a thousand and one more. He is nothing. I tell myself this, so that I will not hope for him. I am not allowed to hope. I am forbidden a wish of my own.
Before I go any further, I have a teeny tiny confession.  I literally remember nothing from the Disney movie Aladdin.  I saw it when it first released in the theaters, and while I remember what the characters looked like, I don't remember much else.  Case in point, I thought that the jinni's name was Aladdin.  Thank you giggling, gossiping friends from back in the day that I went to the theater with lol.  So while I can't compare this book to the movie,  I'm glad I went into it partially blind.  It made the characters feel that much more unique to me.
Aladdin raises a tentative hand to my cheek. Immobile with both dread and longing, I can only stare up at him, flushing with warmth when he gently runs his hand down the side of my face. I shut my eyes, leaning into his touch just slightly, my stomach leaping. Longing. Wishing.
Zahra was such an enigma.  She could be so level-headed one moment, and then the next her emotions would get the better part of her.  She had the capability of being a true friend, but she also had to become manipulative at times.  But there was a valid reason for the manipulative part. After thousands of years of being a slave to her bottle and granting wishes for others, she had a chance to be free.  But to do so, she had to manipulate Aladdin.  Which seemed simple enough to her at first.  Yet there's no way it could be simple once she truly started to see who Aladdin was as a person.
Even a thief may have honor, and even a jinni may have a heart. -Aladdin
Aladdin.  Oh, he was a truly remarkable thief.  Especially when it came to people's hearts.  But my favorite thing about him was his thoughtful heart.  The moments he was selfless and thought of others firsts was amazing.  So it's no surprise that his thievery, drunken ways and flirtation with other women didn't bother me.  Especially when I saw how he interacted with Zahra.  But him and Zahra together was something that could never be.  But then again, rules were meant to be broken at times, right?
I meet his eyes, feeling the vibrations of the thunder outside echoing in my chest. The way he looks at me—steady and silent, bold and bright—makes me feel as if the storm outside were trapped inside me, thunder and rain and light, rolling and crashing.
While I enjoyed the time Zahra and Aladdin were together, I kept trying to find a connection or a link to Zahra.  She had many attributes that were respectable, but I couldn't click with her.  And since she's the narrator, it made me feel as though I was a little bit outside of the story, instead of fully immersed.  And unfortunately I struggled with another point.  Names.  We were introduced to a lot of characters and many of their names were unique to me.  So they wouldn't stick.  I even struggled remembering Zahra's name at times.  Or the women who surrounded Caspida, I can't even remember one of their names.  But speaking of Caspida, I would love to learn more about her.  There is so much story in the past and future to be told when it comes to her.
"You know we don't stand a chance," I whisper. Aladdin looks down at me, his hand squeezing my arm. "We're still alive, aren't we? Come on, Smoky. Where's your sense of adventure?"
So I had a lot of fun following Zahra and Aladdin on their adventurous tale.  I wish I would have found that connection to Zahra, but maybe you'll be able to easily make that connection  Regardless, if you adore a retelling, then you should definitely check this one out.  It's filled with lots of adventure, love and friendship and I can tell that many people are going to fall hard for The Forbidden Wish! PS The nicknames were beyond adorable, with Zahra calling Aladdin thief, and Aladdin calling Zahra smokey.
Save
Related Posts