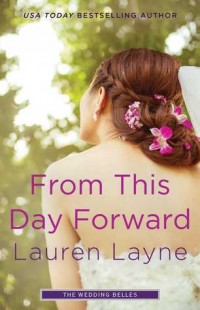 From This Day Forward
(
The Wedding Belles #0.5
)
by
Lauren Layne
Purchase on:
Amazon
, 
iBooks
Add to:
Goodreads
Synopsis:

Sex and the City meets The Wedding Planner in this prequel to USA TODAY bestselling author Lauren Layne's The Wedding Belles series about three high-powered New York City women who can plan any wedding—but their own.

Up-and-coming wedding photographer Leah McHale's career is on the rise–thanks in no small part to the Wedding Belles, the elite New York wedding planning agency that always throws top-tier business Leah's way. So when one of the Belles asks Leah to fill in at the former First Daughter's wedding, Leah is overjoyed to say yes–until she finds out who she'll be working with.

Jason Rhodes is the one man who was able to capture Leah's heart and, once he had it, promptly stepped all over it and left her broken. Now he's working side-by-side with her at the biggest wedding of the season and Leah is determined to give him the cold shoulder. Despite his persistence, she is not going to fall for his charming, impish ways again. Not even if he still has that killer, irresistible smile...
Review:
From This Day Forward had everything that I have come to love from Lauren Layne.  And this time she pulled it off in a Novella.  Usually I'm not a novella girl, unless it's in the middle of a series I'm obsessed with.  But when it comes to her books, I have learned that if it's something I'm usually not the biggest fan of, you can bet that I will be since she wrote it!  So get ready because this series looks like it is going to be filled with friendships, laughter, sexiness and moments that will make me sigh and fall madly in love!  I can't wait to read the rest of this series and I'm keeping my fingers crossed that I get lots of peaks of Jason and Leah too!
"Leah—"
Her stomach flipped a little. He'd only ever called her Leah in bed. Otherwise it was always Red. "Please don't," she whispered.
Ohhhh Jason and Leah.  A year has passed since they roughly parted ways.  Leah thought Jason was cheating on her and Jason never tried hard enough to talk with Leah after what happened.  But now they are going to spend the weekend working around each other photographing the previous President's daughter's wedding.  And the sexual tension is running high!
The first time Leah had seen Jason Rhodes, she'd lost a little part of her soul.
Or at the very least, a little part of her dignity.
Never in her thirty-one years had she encountered a man who'd been able to turn her on just by looking at her.
Leah and Jason are the type of couple that radiates sexual tension and electricity.  When they're near each other they have this pull towards one another that is blatantly obvious to everyone!  And they can't even try and ignore it!  But even though they're still jaded from their past it doesn't put a damper on their chemistry.  I had so much fun watching Jason try to seduce Leah. *fans face*  Jason is an alpha male who is extremely charismatic and I fell hard for him.  Especially since he could be thoughtful at just the right moment.  He was definitely sigh worthy.
"Never mind," she muttered. "I can't talk to you when you're like this."
"Charming?" he asked.
"Presumptuous," she corrected. "Contrary to the delusions in your head, you're not every woman's fantasy."
"I never wanted to be every woman's fantasy. Just yours."
Leah froze at the unexpected seriousness in his voice. "Jason . . ."
Now I'm not sure if we were supposed to or not, but I figured out the twist near the beginning of the story.  That definitely didn't bother me, because I patiently waited to see if my guess panned out.  And I was so happy when it did!
From This Day Forward was a story that quickly pulled me in and I easily found myself connecting with the characters.  The amount of emotions packed into this novella was beyond fabulous!  My only wish was that their story was a little longer.  I know, I know, this is a novella.  But she created these characters that were so wonderful that it pained me to not read a full length novel with them.  Jason had such a huge back story that I would have loved to dive into more and I wish I could have had some flashbacks to their past but you can totally ignore my whining because this was so well written that I just wanted more.  I'm greedy like that!  Now I can't wait to see them in the future books in this series!  I hope you enjoy meeting Leah and Jason too!
*ARC kindly provided by Pocket Star via Netgalley in exchange for an honest review*
BUY NOW
Excerpt:
[scroll-box]"Do you have any plans for your unexpectedly free weekend?" Alexis asked as she perused the menu.
Leah's eyes narrowed on her friend. Alexis Morgan might be the queen of poker face, but Leah had known Alexis for close to a decade now. She knew when she was being handled, and right now, Alexis was definitely working up to something.
Instead of answering the question, Leah took a sip of her mimosa and waited. When Alexis's brown eyes flicked up to hers, Leah merely lifted her brows. Waited some more.
With a sigh, Alexis set the menu aside and folded both arms on the table, leaning toward Leah. "I need a favor."
"Anything," Leah said automatically, meaning it completely.
Her relationship with Alexis may have started as a business arrangement—they'd both arrived in the city ten years earlier with big dreams of pursuing their dream careers.
But somewhere along the way, Alexis and Leah had transitioned from sometimes business associates to friends. Alexis had been there for Leah when she'd needed her, and Leah fully intended to repay the favor any way she could.
"I need you to work the Preston wedding."
Leah blinked. "The Preston wedding. As in, the wedding of the former First Daughter we were just talking about? The one this weekend?"
Alexis nodded.
Leah sat back, stunned. "Holy crap, Lex. That's not really me doing you a favor, hon. More like the other way around. This would be the opportunity of a lifetime for me. For any photographer."
"I know, but I still hate asking last minute like this. If it were up to me, I'd have recommended you from the very beginning, but Kylie's college roommate and her husband are a two-person photographer team, and Kylie wanted to give the opportunity to her friend."
"So what happened? They had a falling-out?"
Alexis shook her head. "They live in San Francisco and she's a few months pregnant. There was some complication; she's been put on bed rest. Nothing serious, just a precaution, but ergo . . . she's certainly not going to be flying to New York any time soon, and certainly can't be photographing a wedding."
"Ugh. That sucks," Leah said sympathetically.
Alexis smiled. "This is why I knew you were right for the job. You get it. You get people."
Leah rolled her eyes. "You hardly have to sweet talk me into taking a job that's likely to be the highest-profile wedding of my career."
Alexis glanced down at her Bloody Mary, stirring a pickled green bean. "Well there is one tiny thing I haven't mentioned."
"Bring it."
Alexis looked up. "It's a huge wedding. One photographer's not going to cut it."
Leah waved her hand. "Oh please. My ego's not so big I can't handle a little teamwork. Who else you bringing in?"
Alexis bit her lip, and Leah tensed at the rare unease she saw on her usually confident friend's face.
Alexis leaned forward and touched her arm. "Leah, you have to know how impossible it is to book one good photographer on short notice in June, much less two, and I'm counting myself lucky because two of the best happened to be available, but . . ."
"But what?" Leah asked, her heart pounding faster as she somehow knew what her friend was trying to say. Knew whose name Alexis was terrified to say.
Alexis's gaze cut away from hers and fell somewhere over Leah's shoulder, even as Leah felt the shiver of awareness that someone else had stepped into her personal space.
Alexis glared at the newcomer. "You're early, Rhodes."
Leah's heart stopped, just for a moment. Slowly, she turned around and glanced up into the dark brown eyes of Jason Rhodes.
He pulled a toothpick from his mouth and gave her a slow, sexy once-over. "Hiya, Red. Long time."
Leah could only shake her head. It had been a long time, but not nearly long enough.
Not only was he the one man on the planet she could absolutely, positively not work with.
He was the one man who Leah had let in close enough to break her heart.[/scroll-box]
About Lauren Layne:
Lauren Layne is the USA Today bestselling author of more than a dozen romantic comedies. She lives in New York City with her husband (who was her high school sweetheart–cute, right?!) and plus-sized Pomeranian.

In 2011, she ditched her corporate career in Seattle to pursue a full-time writing career in Manhattan, and never looked back.
In her ideal world, every stiletto-wearing, Kate Spade wielding woman would carry a Kindle stocked with Lauren Layne books.
For a list of all her works, please be sure to check out her official website!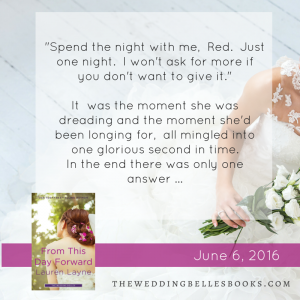 Giveaway:
Related Posts
In case you didn't know, I adore Lauren Layne books! They are filled with friendship, love and scenes that make me laugh and melt my heart. So check out my 4 Star Review below, read a scene where Jason and Leah come face to face and enter a fabulous giveaway to win a print ARC of Book 1,To Have and to Hold, in this series. Enjoy!