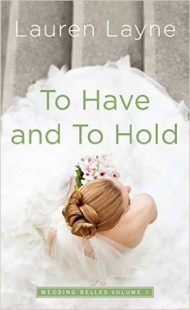 To Have and to Hold
(
The Wedding Belles #1
)
by
Lauren Layne
Purchase on:
Amazon
, 
iBooks
Add to:
Goodreads
Synopsis:

Discovering her fiancé is an international con man just moments before they exchange vows devastates celebrity wedding planner Brooke Baldwin's business—and breaks her heart. Now a pariah in Los Angeles, she seeks a fresh start in New York City and thinks she's found it with her first bridal client, a sweet—if slightly spoiled—hotel heiress. Then she meets the uptight businessman who's holding the purse strings.

Seth Tyler wishes he could write a blank check and be done with his sister Maya's fancy-pants wedding. Unfortunately, micromanaging the event is his only chance at proving Maya's fiancé is a liar. Standing directly in his way is the stunning blonde wedding planner whose practiced smiles and sassy comebacks both irritate and arouse him. He needs Brooke's help. But can he persuade a wedding planner on a comeback mission to unplan a wedding? And more importantly, how will he convince her that the wedding she should be planning…is theirs?
Review:
Oh my gosh, I feel sick to my stomach and I want to cry over this rating.   I love this author.   In case you didn't know, she's one of my favorites.  I adore her books and her latest releases always makes me think, now this is my favorite.  Just like two of her releases this year, I Wish You Were Mine and Good Girl.  Wow, they were sooooo good and definitely must reads!  But To Have And to Hold didn't wow me or let alone work for me.  I loved some of the ideas, but unfortunately the story and the majority of the characters fell flat.  *cries*
I kept thinking what was wrong with me?  I should love this!  So I sent a whining text to my co-blogger Chelsea, who had just finished this book.  I rambled on in my text that the main male character felt fleshed out but the others were like cardboard characters.  That the heroine and side characters would vacillate between being believable to being written like they were one-dimensional, and I just didn't get it.  Chelsea was like wait…..and she screen shot her review.  Our thoughts were so similar, I wasn't alone!  But I still hoped that my opinion might change. But as I continued trudging through the pages, I was left feeling not much at all.
We start out the story following Brooke who has recently moved to NY from LA.  She's been hired by The Wedding Belles and I went into this thinking YAY, another group of females to love.  Because I love, love, love the women at Stilleto!  But the Belle ladies didn't even get close to the friendship, love and banter of the Stiletto women.  And while I have a fabulous grasp on what each character looks like in Stiletto, well, I don't even remember what our heroine looks like let alone any of the 3 other women.  None of the Belle's stood out.  I truly wished each of them and their friendship would have floated off of the pages and into my heart. *cries again*
So with the Wedding Belle ladies falling flat, I hoped I would love Brooke.  But that didn't happen either.  Her internal dialogues never gripped me and in the moments where it felt like Brooke's character was alive, she rubbed me in all of the wrong ways.  Her actions and words irritated me in certain situations.  Like the breakfast scene.  I just wanted to knock some sense into her.  Now I'm usually a little too forgiving when it comes to heroines.  But this time, I didn't care for her enough to want to work towards forgiveness or even liking her.
So Brooke meets Seth, who is going to help pay for his little sister's wedding.  And ultimately Seth becomes the one who wants Brooke to help him unplan the wedding, because he doesn't trust his sister's fiance.  And this is where I got hung up.  Because things come into play and I kept scratching my head wondering why no one mentioned View Spoiler »a prenup. If Seth was so concerned about his sister, why not at least work on protecting their hotel fortune? Then after that's secured he could work on trying to figure out how to protect his sister's heart, if he still wasn't a fan of the guy or was afraid that his sister was going to get her heart-broken. That makes the most sense in my head. « Hide Spoiler  Maybe that's too logical, but I wish one of them would have at least talked about it.  And Seth being the guy who tries every avenue to help or protect the ones he loves, I was shocked he never thought of it.
Now you see, at first I loved Seth. He was my only light in this whole book.  He felt real.  I could feel his emotions radiating off of the page.  Plus I loved how demanding and sometimes possessive he could be, oh, he was so hot.  But then, my feelings towards him stopped.  I don't now if it's because I couldn't truly care for the other characters and those meh feelings transferred over to Seth?  *shrugs*  I'm so disappointed and saddened I felt this way towards this book and the characters.  I wish I could give this book a glowing review, but I can't.  But on a huge positive note, I'm definitely going to try the 2nd book in this series, so fingers crossed that book will be a much better fit!
*ARC kindly provided by Gallery, Threshold, Pocket Books via Netgalley in exchange for an honest review*
Related Posts