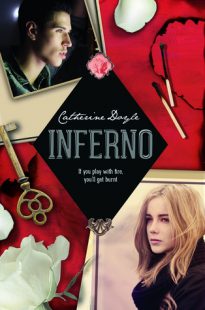 Inferno
(
Blood for Blood #2
)
by
Catherine Doyle
Purchase on:
Amazon
Add to:
Goodreads
Synopsis:

Romeo and Juliet meets The Godfather in the second installment of Catherine Doyle's Blood for Blood series.

Sophie's life has been turned upside-down, and she's determined to set things right. But Nic, the Falcone brother who represents everything she's trying to forget, won't give up on their love - and it's Luca's knife she clutches for comfort. Soon another mafia clan spoils the fragile peace - and with her heart drawn in one direction and her blood in another, Sophie's in deeper than ever.
Don't be fooled by my positive rating, it only means that I can't come to terms with giving a low rating to Luca. Luca, who is life and absolutely fabulous, 'kay? But please keep in mind that this 3 stars rating is nothing more than the average between the 2 stars this mess of a book deserves as a whole and the 5 stars every scene involving Luca earned. Yes he's that good.
I want to save him from that book. That boy deserves better, okay?
Would I go as far as saying that the series is worth it thanks to him? I WOULD, but my brain might be malfunctioning right now, so, you know, don't trust me for one second. Also, I skimmed a lot? XD
Now if you would excuse me, I'm gonna read allllll the short stories in Luca's POV <3
PS. For PROS & CONS, you can refer to my review of the first book, Vendetta. Most of them are the same here, with the very important exception that Nic does get what he deserves (did I say that I despised him very much? Yeah?) and that Luca is way more present (and interesting).
Related Posts