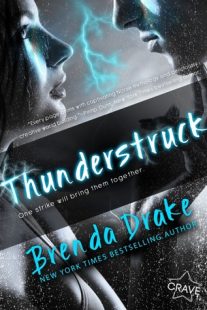 Thunderstruck
by
Brenda Drake
Purchase on:
Amazon
, 
iBooks
Add to:
Goodreads
Synopsis:

Stevie Moon is famous...at least to the subscribers on her comic review vlog. At school, she's as plain as the gray painted walls in the cafeteria. So when Blake, the hot new guy at school, shows an interest in her, she knows trouble when she sees it. Been there. And never doing it again.

As the son of the god Thor, Blake Foster's been given an important mission—to recover the Norse god Heimdall's sacred and powerful horn before someone uses it to herald in the destruction of the entire universe. But while Blake is great in a fight, the battlefield that is a high school's social scene is another matter.

Blake knows his only choice is to team up with the adorable Stevie, but she's not willing to give him even the time of day. He'll need to woo the girl and find the horn if he hopes to win this war. Who better to tackle Stevie's defenses than the demi-god of thunder?
Review:
Thunderstruck was such a cute story.  It revolved around Norse Mythology and the pages were filled with friendship, drama, first love and some mystery.  I quickly read it in two sittings and I found myself smiling a lot.  While it had a younger vibe and a few adorable yet cheesy moments, I enjoyed Thunderstruck and it's characters!
He wanted to get lost in her. Forget he was from another world. A world where she could never go. A world he no longer wanted to return to without her.
Blake, the son of Thor, was my favorite out of all of the characters.  He was to recover a horn, and bring it back home.  But Blake found himself distracted by Stevie, a girl who goes to the same school as him.  And while I thought the son of a god would be charming and charismatic, it didn't always work out that way lol.  He was soooooooo out of his element on Earth.   He was awkward at times, used too proper of English, and he didn't understand slang (the Netflix comment was my fave rofl!). There were moments that I was laughing yet also cringing for him.  But thankfully Stevie was able to see past all of that, just like I was able to.
He just didn't seem like he belonged on this planet, which was a weird thing to think, but it kept playing in her head.
Really, Stevie. You're not living in a comic.
Stevie was an adorable girl who had a vlog and loved cosplay.  And I assumed her and Blake would easily end up together, that's not exactly how it went down.  It all became convoluted when Blake wasn't sure who had the horn.  And because of that, he ended up hanging around another girl a lot.  Her name was Grace, and I was not a fan.  So a love triangle formed.  And there was definitely a lot of drama.  I'm one of those that loves drama (I use to watch soaps back in the day), so I was a happy girl.
Kyle was leaning against his passenger side door. "Now, wasn't that sweet? Kill a troll, hack up its body and dump it in the bay, then kiss a cute girl. All in one night."
"What do you want, now?" Blake rounded the hood to the driver's side. "Don't you have someone else you can bother?"
Another character that helped cause a lot of drama was Kyle.  He was Blake's brother and in the beginning I wasn't too sure where his loyalty resided.  I kept getting annoyed at myself because Kyle came across as someone who I shouldn't necessarily like.  Yet I did.  He was the annoying brother who would never go away.  Heaven help me for liking him lol.
"Why me?" Her words were as silent as a feather falling from a dove. When she looked back up the moonlight touched her face, her cheeks flushed and her dark eyes glistened with tears held back. And he didn't care that he told her his feelings, because they made her look like that— beautiful.
Now underneath it all, was Norse Mythology.  And maybe this is more my issue than anyone else's, but I'm clueless about Norse Mythology.  So when a character's name would appear, I didn't understand who they were.  It'd say if they were related, but I would have loved to have a little bit of a backstory on who was who.  Thankfully I was reading on my kindle, so I would highlight the name and read more about them on the Wikipedia pop-up box.  But I do wish some of that info was within the actual story so I'd know who we were meeting or who they were dressing up as.
This time he turned his back. Because he would do anything to save her, even betray her.
The creatures, characters, mystery, and action made this book such a quick, fun read!  I was completely entertained, and the story went by too fast.  I'm always bummed when I devour a story too quickly.  Ohhh one more thing before I go, while it's a YA book, I felt like it would be a great step for those ready to leave MG and step into YA.  
PS This is SO random but Trevon (Stevie's best friend's boyfriend) reminded me so much of Murray, Dionne's boyfriend, from Clueless for some reason.  So I was always smiling when he was gracing the pages.
*ARC kindly provided by Entangled:Crave via Netgalley in exchange for an honest review*
Related Posts