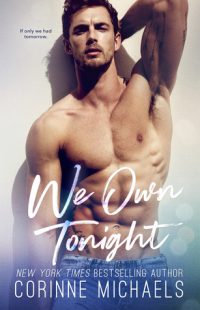 We Own Tonight
by
Corinne Michaels
Purchase on:
Amazon
, 
iBooks
Add to:
Goodreads
Synopsis:

From New York Times Bestseller, Corinne Michaels, comes a sexy new STANDALONE romance novel.

I'm not a one-night stand kind of woman. I'm especially not the woman who has a few drinks at a concert and ends up in bed with my childhood celebrity crush, Eli Walsh.

However, that's exactly where I find myself.

What's a girl to do after a drunken mistake? Run. I grab my clothes and get away from the powerful, irresistible, and best-sex-of-my-life superstar as fast as I can. His gorgeous green eyes, rock-hard body, and cocky smile have no place in my world. My life is complicated enough.

Someone forgot to tell him that.

Eli is relentless. Pushing his way into my heart, wearing me down, proving he's nothing like I assumed, and everything I need. But when my world shatters to pieces, he holds the broken bits together. Unwillingly, I fall desperately in love with him.

He made me think we'd have forever . . . I should've listened when he said we could only own tonight.
Review:
"It's not a line. It's you. I can't explain it, but you're all I think about. The way you hide your face from me when you're unsure of yourself. How your smile makes my heart stop, and how even now, with speckles of paint on your face, you take my breath away. Don't you see? I tried to stay away, but I keep finding myself back here." 
Mmm I am very torn on this book. I finished it last night and have since decided on rating it a 3.5. The tricky thing about these books and these characters is that while there were a lot of *different* aspects for me, there was also a lot of run-of-the-mill plot points and characteristics, too. There were times that I was tearing up and had giddiness fizzing up inside of me..but then other times were I found myself skimming through cheesy lines and the steamy scenes—which is never a good sign lol. It was in no way bad, but I wouldn't say that I would consider it a great romance either by any means.
I tell myself, and everyone else, that there's nothing here, but when he's close, I can't pretend. Eli breathes life into a heart that was deflated.
We start the generic plot line with there being a famous musician, Eli, who was/is still part of a boy band that was huge back in the day and who currently is doing a reunion tour with the rest of his band members. Other MC, Heather, is dragged to the concert by her best friend (thought it isn't that much of a hardship because she's had a HUGE crush on Eli since the band was first popular. Of course, the group of girl friends have front row tickets and OF COURSE the two lock eyes. She's called on stage, serenaded by Eli, and is asked to join him backstage….we can all guess what happens. Sexy times and then she runs from him. WHICH NEVER HAPPENS TO THIS SEX PANTHER! Lol but really. Obviously the fact that she ran piqued his interest enough for him to chase after her and I think we all can guess what happens after….the pursuit.
As I'm typing this I realize I'm making it sound worse that it was but you know, it did take me an abnormally long time to finish so I guess there were some parts that really just didn't rub me the right way *shrug*.
Being vulnerable is a scary thing. It's hard to give anyone, let alone Eli, unfettered access to my biggest fear. I've been alone for a long time, and I've learned to handle it. This, though? I have no idea how to handle. Having a taste of Eli's affection is enough to make me an addict.
The biggest part of this book that was different to me (based solely on the romances that I normally read) was their ages. Both of them were either late thirties or early forties and had obviously *lived* more than me. They had seen a divorce, a failed engagement, and just weren't immature and dealing with issues that I normally see in the books that I read. There was also a pretty unique storyline about Heather taking care of a sister with Huntington's and maybe another illness of some kind. I loved seeing how nurturing Heather was and it completely made sense why she was as vulnerable as she was. Other things going on with Eli, along with that older age also made it realistic that he was as sweet and as caring for her as he was. I mean, yeah it all happened so fast but they also weren't in the beginnings of figuring out who they were as adults. Like I said, I understood it BUT there were also many times where their words of passion just kind of had me rolling my eyes. I love my husband with all of my heart and he is 100% my soul mate and I am a HUGE romantic BUTTTT there's no way in hell I could imagine us having those conversations together lol. Too too much.
Now don't go reading all of this and dismiss this book. It is good. It does touch on subjects like illness in the family and how hard and demanding being a caretaker can be. (I had an uncle who had Down Syndrome that lived with us for three years after my grandma died and I saw firsthand how much of a toll it took on my mom, even though we LOVED having him with us). The writing was good and the dialogue was well written, it just overall wasn't my complete cup of tea!
"More. I want more." 
"And what if you realize I'm not worth more?" 
He shakes his head. "What if you're worth it all?"
Related Posts