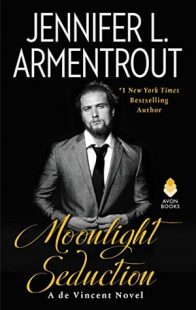 Moonlight Seduction
(
de Vincent #2
)
by
Jennifer L. Armentrout
Purchase on:
Amazon
, 
iBooks
, 
Book Depository
Add to:
Goodreads
Synopsis:

The de Vincent brothers are back—and so is the intrigue that surrounds them—in New York Times bestselling author Jennifer L. Armentrout's sizzling new novel . . .

Nicolette Bresson never thought she'd return to the de Vincents' bayou compound. It's where her parents work, where Nikki grew up . . . and where she got her heart broken by Gabriel de Vincent himself. Yet here she is, filling in for her sick mother. Avoiding Gabe should be easy, especially when so much of Nikki's time is spent trying not to be stabbed in the back by the malicious hangers-on who frequent the mansion. But escaping memories of Gabe, much less his smoking-hot presence, is harder than expected—especially since he seems determined to be in Nikki's space as much as possible.

Gabriel spent years beating himself up over his last encounter with Nikki. He'd wanted her then, but for reasons that were bad for both of them. Things have now changed. Gabe sees more than a girl he's known forever; he sees a smart, talented, and heartbreakingly beautiful woman . . . one who's being stalked from the shadows. Now, Gabe will do anything to keep Nikki safe—and to stop the de Vincent curse from striking again.
Review:
Moonlight Seduction was a whirlwind of emotions and completely addicting!  Being back in this world, and falling for a different de Vincent brother made me oh so happy.  I loved how mystery weaved into the story and that there was a strong female who I adored. So if you like adult romance that is slow-burn, sexy, will pull at your emotions and is a page turner then you definitely have to give this book a try!
"Nic."
She stopped. It was like she had no control.
Silence.
Biting down on her lip and telling herself she was probably going to regret this, she slowly faced him.
This time around we got to jump into Gabriel de Vincent's life.  He was the middle brother and he definitely had some secrets from his past.  And one of them was tied to Nicolette Bresson, aka Nikki. Nikki found herself back in town, and working at the de Vincent's house to fill in for her mom.  Her parents had worked for them forever and Nikki had crushed on Gabe when she was younger. Even though he was ten years older than her. They hadn't seen each other in years and something happened that made their friendship explode.  I loved how we were given clues about what happened and you could tell that none of their emotions had disappeared.  I couldn't wait to see it all play out!
As she left the room, she couldn't help but notice that Gabe wasn't grinning as he watched her from under his thick lashes. Oh, no , the man was smiling that smile that had gotten her in trouble all those years ago, and her stupid, stupid reckless heart jumped in her chest.
Again we got to alternate between our two love interests.  I liked Nikki right from the start! I loved how she stood up for herself, how strong she was and that she felt like someone who could easily become one of my friends.  But Gabe? Sigh, he was a man who was fun to figure out. He could be so harsh to Nikki and then in the next moment he could be playful and charming. I definitely felt lost at times, like Nikki, when Gabe ran hot and cold.  But there were these moments where he was protective of her and oh my heart, he was fierce, loyal and sexy!  
Placing his hands on either side of her hips, he dipped his chin and suddenly their mouths were lined up. She sucked in a soft breath as her heart threatened to slam its way out of her chest.
"What are you doing?" she whispered.
"About to have an awkward conversation with you again."
Anytime they were near each other it felt insanely seductive and hot.  I loved the sexual tension that simmered between them. But you could tell from the hints that they had a lot to work through from their past.  Although there was no denying that eventually they would do more.  I mean, just the simplest touch, or even look between them was scorching.  And when it moved to more, it was beyond steamy.  But there was also heartache, betrayal and tears smudged into the pages and my heart broke for the both of them.
"You tell me to stop and I will."
Her lips parted. She needed to tell him to stop, because she knew that whatever was happening right now was going to change everything between them, and she knew this time there wouldn't be any repairing the damage it would wreak on their friendship . . . and possibly her life.
But other things happened to Nikki and Gabe within the pages.  There were those lingering, creepy moments where I was left thinking….ghosts?  I still wasn't sure, but I knew one thing, I shouldn't have read this book in the dark!  I'm a baby lol. And on top of the mysterious moments, I didn't think this book would go so dark.  I was shocked, gutted and terrified, so I have to give a trigger warning for an attempted rape. Moonlight Seduction was definitely an emotional book.  Or at least it was for me. There was a few moments where I sobbed my eyes out hysterically. It was so easy to become deeply, emotionally connected to these characters.
"I said Saturday night I don't know what we're doing, where it's going to lead." He turned his head, kissing her inner thigh. The rough skin of his jaw drove her crazy. "That didn't mean I wasn't going to travel that road and find out."
There were lots of fun moments and I loved that Lucian and Julia got to be back in the mix of everything.  Lucian is Gabe's brother and was featured in the first book, Moonlight Sins. And while this book could be read as a standalone, I definitely recommend starting with that one.  You don't want to miss out on a moment with these charismatic brothers! So yes, I loved how this book wrapped up, but it definitely left me excited for the next one, Moonlight Scandals.  It's about Devlin, the oldest de Vincent brother, and I've crowned him King of Assholes lol.  I can't wait to get inside his head!
PS I love that Diesel, one of Jen's dogs, got a shout out, awww!
*I voluntarily read and reviewed an advanced copy of this book, provided by the author. All thoughts and opinions are my own.*
About Jennifer L. Armentrout:
# 1 New York Times and # 1 International Bestselling author Jennifer lives in Charles Town, West Virginia. All the rumors you've heard about her state aren't true. When she's not hard at work writing. she spends her time reading, watching really bad zombie movies, pretending to write, hanging out with her husband and her Jack Russell Loki. In early 2015, Jennifer was diagnosed with retinitis pigmentosa, a group of rare genetic disorders that involve a breakdown and death of cells in the retina, eventually resulting in loss of vision, among other complications. Due to this diagnosis, educating people on the varying degrees of blindness has become of passion of hers, right alongside writing, which she plans to do as long as she can.

Her dreams of becoming an author started in algebra class, where she spent most of her time writing short stories….which explains her dismal grades in math. Jennifer writes young adult paranormal, science fiction, fantasy, and contemporary romance. She is published with Tor, HarperCollins Avon and William Morrow, Entangled Teen and Brazen, Disney/Hyperion and Harlequin Teen. Her Wicked Series has been optioned by PassionFlix. Jennifer has won numerous awards, including the 2013 Reviewers Choice Award for Wait for You, the 2015 Editor's Pick for Fall With Me, and the 2014/2015 Moerser-Jugendbuch- Jury award for Obsidian. Her young adult romantic suspense novel DON'T LOOK BACK was a 2014 nominated Best in Young Adult Fiction by YALSA. Her adult romantic suspense novel TILL DEATH was a Amazon Editor's Pick and iBook Book of the Month. Her young adult contemporary THE PROBLEM WITH FOREVER is a 2017 RITA Award Winner in Young Adult Fiction. She also writes Adult and New Adult contemporary and paranormal romance under the name J. Lynn. She is published by Entangled Brazen and HarperCollins.

She is the owner of ApollyCon and The Origin Event, the successful annual events that features over hundred bestselling authors in Young Adult, New Adult, and Adult Fiction, panels, parties, and more. She is also the creator and sole financier of the annual Write Your Way To RT Book Convention, a contest that gives aspiring authors a chance to win a fully paid trip to RT Book Reviews.
Related Posts