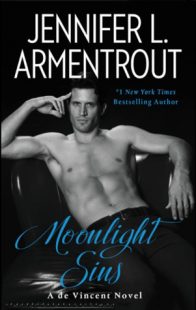 Moonlight Sins
(
de Vincent #1
)
by
Jennifer L. Armentrout
Purchase on:
Amazon
, 
iBooks
, 
Book Depository
Add to:
Goodreads
Synopsis:

Julia Hughes has always played it safe until she learned a very painful lesson. Now Julia's starting over with a job in the Louisiana bayou, working for the infamous de Vincent family, the massively wealthy brothers who are haunted by a dark reputation and whispers of misdeeds. Hired to care for their troubled sister, Julia can't afford any distractions, but the menacing presence in the mansion and the ever-present temptation of the handsome Lucian de Vincent isn't something anyone can ignore.

Julia knows better than to get wrapped up in Lucian. He's from a world she can't relate to. Plus, he's her employer. But his wicked touch and sensual promises are too much deny. What starts with a kiss ends with so much more.

Lucian is the youngest brother—the wildest, most unpredictable one. He's the unrepentant bachelor of the family, known for his escapades in and out of the bedroom, and he wants Julia. There's something about her that makes Lucian want to lay himself bare, but some secrets are better left buried, right along with a past that could not only bring down a dynasty but destroy Julia in the process.
Review:
Moonlight Sins slowly ensnared me in its web of games.  It was sexy, twisted, suspenseful, charismatic and I devoured this book in one day.  It refused to be put down.  Mystery filled the pages and I loved that the characters all felt so much larger than life!  So when I closed that last page I was thankful that there would be two more books about the other brothers.  There was no way I was ready to say goodbye to all of these characters that captured my heart.
His breath now danced over her ear. "I don't know why you're resisting this. I know you want me just as badly as I want you."
She did. Oh God, she did.
Her eyes closed.
It was official.
Julia was already in over her head when it came to Lucian de Vincent and she wasn't coming up for air anytime soon.
Right from the start I liked Julia Hughes.  She was fiery, smart and she didn't have any problems standing up for herself.  She was also kind hearted and such an honest person.  When we stepped into her life, she was in the process of leaving everything behind.  Her job, home and friends, all for a fresh start. It was definitely needed since Julia had some shadows in her closet.  Yet when she arrived at her new job, it was unlike anything she ever could have imagined.
Her lips parted as her body flashed hot, really hot, and then cold. "Is there literally anything you can't make sound sexual?"
"No. It's like a superpower of mine."
Her eyes narrowed.
Lucian smiled.
Julia discovered that she'd be caring for Maddie de Vincent.  The de Vincent's are notorious and one of the wealthiest families in the US.  And each of Maddie's three brothers had a dark reputation. Julia found herself stepping into a world filled with mystery, luxury, curses and so much more.  Thankfully we alternated between Julia and Maddie's twin Lucien.  And while I loved Julia, hearing every single honest thought from Lucien sent me into a tailspin.
"I'm not just screwed up, Ms. Hughes. I'm as broken as they come, but I don't need to be fixed. I don't want to be fixed." He caged her in. "I like all my fucked-up shards and pieces. They make me who I am. They make me real. The question is, can you handle real?"
Lucien de Vincent was sexy, charismatic, loved to be in control and was off the charts scorching hot.  Whether it was his looks, to the way he walked and even the words that came out of his mouth, everything he did was seductive.  So if you love alpha playboys then you definitely have to meet Lucien. But Lucien loved his twin with his whole heart, I loved seeing that side of him.  And while he had a vested interest in who would be caring for Maddie, he crossed the line with Julia. Oh man did he cross the line! But I loved the first time he did it and every single time after that!
"Had a moment?" she whispered, and then yanked her hand free. She lifted her chin. "It was barely a moment."
A surprised laugh almost escaped him as he stared down at her. Damn. He liked that. He liked her. He was smart enough to keep his expression blank, because at least she wasn't trying to grab her purse and storm out.
Julia and Lucien played such a sexy game.  She was drawn to him, but he was her boss. And while he was drawn to her, he was never with the same woman twice.  But Julia continually stood up and challenged Lucien. She was unlike anyone he'd ever met before. Which seemed to fuel his want for her.  But there was no way they could ignore that anytime they were together the sexual tension and fun banter was off the charts! It all just added to the list of reasons why this book was impossible to put down!
Julia's hips tipped back, into his, and she bit down on her lip at the sound of his deep, throaty growl.
God, she never heard a man make that sound before. Not like that. Not like he was about to devour her.
There is so much more I want to say, especially about that sexy beginning, those mysterious footsteps and the fact that it felt as though there were hints of paranormal elements in the house and even with the brothers.  But so much of this tale is shrouded in mystery, so my lips are zipped.  And it was a lot fun to watch as everything slowly unfolded while we got little clues here and there.  While I guessed two of the main mysteries, it definitely didn't take away from my enjoyment. I found myself always second guessing my thoughts, because there were so many different ways it could all play out.  So hang on, because you're going to be on one crazy ride. Now I can't wait to start the second book in this series, Moonlight Seduction. It's about Lucien's brother Gabe, and I'm excited to step back into this gothic feeling series!
About Jennifer L. Armentrout:
# 1 New York Times and # 1 International Bestselling author Jennifer lives in Charles Town, West Virginia. All the rumors you've heard about her state aren't true. When she's not hard at work writing. she spends her time reading, watching really bad zombie movies, pretending to write, hanging out with her husband and her Jack Russell Loki. In early 2015, Jennifer was diagnosed with retinitis pigmentosa, a group of rare genetic disorders that involve a breakdown and death of cells in the retina, eventually resulting in loss of vision, among other complications. Due to this diagnosis, educating people on the varying degrees of blindness has become of passion of hers, right alongside writing, which she plans to do as long as she can.

Her dreams of becoming an author started in algebra class, where she spent most of her time writing short stories….which explains her dismal grades in math. Jennifer writes young adult paranormal, science fiction, fantasy, and contemporary romance. She is published with Tor, HarperCollins Avon and William Morrow, Entangled Teen and Brazen, Disney/Hyperion and Harlequin Teen. Her Wicked Series has been optioned by PassionFlix. Jennifer has won numerous awards, including the 2013 Reviewers Choice Award for Wait for You, the 2015 Editor's Pick for Fall With Me, and the 2014/2015 Moerser-Jugendbuch- Jury award for Obsidian. Her young adult romantic suspense novel DON'T LOOK BACK was a 2014 nominated Best in Young Adult Fiction by YALSA. Her adult romantic suspense novel TILL DEATH was a Amazon Editor's Pick and iBook Book of the Month. Her young adult contemporary THE PROBLEM WITH FOREVER is a 2017 RITA Award Winner in Young Adult Fiction. She also writes Adult and New Adult contemporary and paranormal romance under the name J. Lynn. She is published by Entangled Brazen and HarperCollins.

She is the owner of ApollyCon and The Origin Event, the successful annual events that features over hundred bestselling authors in Young Adult, New Adult, and Adult Fiction, panels, parties, and more. She is also the creator and sole financier of the annual Write Your Way To RT Book Convention, a contest that gives aspiring authors a chance to win a fully paid trip to RT Book Reviews.
Related Posts