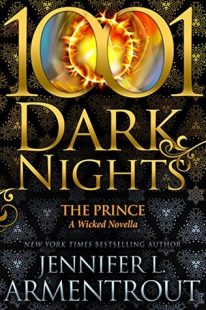 The Prince
(
A Wicked Trilogy
)
by
Jennifer L. Armentrout
Purchase on:
Amazon
Add to:
Goodreads
Synopsis:

She's everything he wants….

Cold. Heartless. Deadly. Whispers of his name alone bring fear to fae and mortals alike. The Prince. There is nothing in the mortal world more dangerous than him. Haunted by a past he couldn't control, all Caden desires is revenge against those who'd wronged him, trapping him in never-ending nightmare. And there is one person he knows can help him.

She's everything he can't have…

Raised within the Order, Brighton Jussier knows just how dangerous the Prince is, reformed or not. She'd seen firsthand what atrocities he could be capable of. The last thing she wants to do is help him, but he leaves her little choice. Forced to work alongside him, she begins to see the man under the bitter ice. Yearning for him feels like the definition of insanity, but there's no denying the heat in his touch and the wicked promise is his stare.

She's everything he'll take….

But there's someone out there who wants to return the Prince to his former self. A walking, breathing nightmare that is hell bent on destroying the world and everyone close to him. The last thing either of them needs is a distraction, but with the attraction growing between them each now, the one thing he wants more than anything may be the one thing that will be his undoing.

She's everything he'd die for….

**Every 1001 Dark Nights novella is a standalone story. For new readers, it's an introduction to an author's world. And for fans, it's a bonus book in the author's series. We hope you'll enjoy each one as much as we do.**
Review:
The Prince was everything I absolutely love about Jennifer L. Armentrout!  It was a page turner, had a sigh worthy male, a heroine I loved, an addicting storyline, and by just that second chapter I found myself bawling my eyes out.  Between the tears, smiles and laughter, my emotions were all over the place.  JLA packed so much emotion and action into this book that I still can't believe I was reading a novella.  I absolutely loved The Prince and I was left feeling so excited to see what happens in the future with these characters!
Panic began to blossom, but I fought it down. I started to raise my leg, aiming for where it counted, but he pressed his hips in, trapping a large thigh between mine.
"Foolish. So very foolish," he said. "Also kind of hot."
Wait. What?
While The Prince can easily be read as a standalone, I definitely recommend reading The Wicked Trilogy too.  Learning first hand about Ivy, Ren and Tink's past was a fabulous and crazy ride, and they are also in this story.  But The Prince does a wonderful job of getting you caught up on the past events, so you can easily follow along with this story without having any prior knowledge.  Little clues to the past, or learning who was who, are sprinkled here and there. It's all done without info dumps and is extremely easy to follow and understand. Just know that there are spoilers about The Wicked Trilogy in this book.
The contact was a shock to my system, and when I drew in a deep breath, he smelled like summer thunderstorms and reminded me of glistening beaches. My skin burned and tingled and the reaction was swift, potent. His hand slid to the center of my back, and the next breath I took caught in my throat.
This time we followed Brighton Jussier.  She had an administrative job in The Order, and was not part of patrolling their city for fae.  I already liked Brighton from the previous books, but in this book I came to love her!  I loved watching her find not only herself but her confidence too.  And I loved that she stood up for herself. Her life hadn't always been easy and in this book she was dealt some hard hands.  Hence the sobbing on my part. So I was grateful that Brighton wasn't on the front lines. But she was there when everything went down in the final moments of The Wicked Trilogy.  And because of that she got to meet both of the Summer Court's Princes. But two years later, one of them started to appear everywhere she seemed to go.
"Because what you said about yourself is a lie."
I stilled. "What do you mean?"
A long moment passed, so much so that I thought he wouldn't answer, but then those thick lashes lifted and those eyes seemed to see straight through me once more. "You're not a ghost. You never could be one, not when you burn as brilliant as the sun."
If you adore tortured males, then you HAVE to meet Prince Caden!  His past haunted him and my heart continually broke for the horrors he was put through.  And while he could be cold and distant, he wasn't always that way around Brighton. He could be seductive, playful and the way he was protective of her was sexy as hell!  Caden was absolutely beautiful inside and out and he easily caught me in his web of seduction.
Something warm and confusing and consuming filled up my chest as I stared at this beautiful, complicated man. And that's what I saw when I stared at him. Not a fae. Not an Ancient. Not a Prince. Just a man.
So like I was saying, Brighton kept finding herself in these random situations with the Prince.  She had no problem putting such a powerful being in his place and their moments together always felt charged.  There was this underlying tension between them that was sexy and smoldering and I always felt like I was on the edge of my seat waiting for them to explode.  It was impossible to keep the smile off of my face when they were near each other!  It was so much fun and also oh so hot!
He drew my head back and then I felt his lips press to my temple. He kissed me there, and I don't know why, but that act squeezed at my chest like my heart was in a juice grinder. It was sweet and intimate and… It was everything.
That's all I'm saying about where this story goes, but just know that I loved, loved, loved The Prince!  And the best part is that we are going to get more Brighton and Caden! I can't wait to pickup their next book and see where their story goes!  I laughed, smiled, cried and was completely captivated reading The Prince!  So yes, I definitely recommend this book!
PS Can I just say that I adore Tink and his cat Dixon?!  They are so hilarious and cute together!

*I voluntarily read and reviewed an advanced copy of this book, provided by the author. All thoughts and opinions are my own.*
Reading Order & Links:
Amazon (click on covers) & iBooks (click on titles)

The Prince #1

Review:
Jen

The King #2

Review:
Jen

The Queen #3

Review:
Jen
Excerpt:
[scroll-box]
Did it make you a bad friend if you were completely, a hundred percent envious of that friend? Yes? No? Kind of?
I figured it was somewhere in between.
That's what I was mulling over as I watched Ivy Morgan brush thick, red curls over her shoulder, laughing at something her boyfriend Ren Owens had said to her.
At least I wasn't envious of that—their love. Okay, well, that wasn't entirely true. Pretty sure anyone who was as single as me would be envious of all that warm and fuzzy that was passed back and forth with each long look or casual brush of skin. The two could barely tear their gazes away from one another to eat the dinner we'd grabbed at the cute little diner inside the shopping center on Prytania Street.
I honest to God couldn't be happier for them. They'd been through so much—way more than two people should ever have to go through to be together, and here they were, stronger and more in love than ever, and they deserved that happiness.
But their epic love story wasn't the source of a current case of the green-eye monster that was sitting on my shoulder.
Ivy was just such a… badass.
Even right now, relaxed in the chair, surrounded by twinkling Christmas lights with her hand in Ren's and her belly full of a cheeseburger deluxe and crinkle fries and half of my tater tots, she could kick ass and take names along with addresses, telephone numbers, and social security numbers.
If the proverbial poo hit the fan, you called Ivy or Ren.
If you needed to know what streets Royal intersected with, you called… me. Or if you needed coffee or fresh beignets but were currently busy, you know, saving the world, you'd call me.
The three of us were all members of the Order, a widespread organization that was literally the only thing that stood between mankind and complete, utter enslavement and destruction by the fae. And not the super cute fae found in Disney movies or some crap like that. Humans thought they were on top of the food chain. They were wrong. The fae were.
The only thing pop culture got right about the fae was their slightly pointy ears. That was it. The fae were more than just beings from another world—the Otherworld—they were capable of glamouring their appearance to blend in with humans. But all Order members, even me, were warded at birth against the glamour. We saw through the human façade to the creature that lurked beneath.[/scroll-box]
Trailer:
About Jennifer L. Armentrout:
# 1 New York Times, USA Today and international bestselling author Jennifer L. Armentrout lives in Martinsburg, West Virginia. All the rumors you've heard about her state aren't true. When she's not hard at work writing. she spends her time reading, working out, watching really bad zombie movies, pretending to write, and hanging out with her husband and her Jack Russell Loki. Her dreams of becoming an author started in algebra class, where she spent most of her time writing short stories….which explains her dismal grades in math. Jennifer writes young adult paranormal, science fiction, fantasy, and contemporary romance. She is published with Spencer Hill Press, Entangled Teen and Brazen, Disney/Hyperion and Harlequin Teen. Her book Obsidian has been optioned for a major motion picture and her Covenant Series has been optioned for TV. She also writes adult and New Adult romance under the name J. Lynn. She is published by Entangled Brazen and HarperCollins.
Related Posts