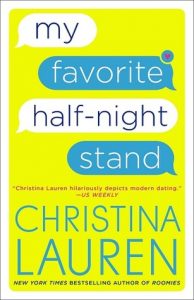 My Favorite Half-Night Stand
by
Christina Lauren
Purchase on:
Amazon
, 
iBooks
, 
Book Depository
Add to:
Goodreads
Synopsis:

From the New York Times bestselling author that "hilariously depicts modern dating" (Us Weekly) comes a sexy romantic comedy about online dating, and its many, many fails.

With a world-famous speaker at their university, Millie Morris and her four woefully single male colleagues make a pact that they'll all find dates. Unfortunately, Millie has more success helping them make matches online than she does navigating the onslaught of lewd pics in her own feed. But when she creates a fictional name for a new account, Millie finds herself vying for the online attention of a man she sees every day in the flesh.
**ARC received via Netgalley in exchange for an honest review-And, also, they were very strict about not using quotes without seeing finished publication so, sadly, I cannot post any! Sorry!**
Christina Lauren is a new author for me, so each book is like some new discovery, just waiting to be explored. I was lucky enough to read an early copy of this with my friend and blog mate, and we both just loved it to pieces. I recently read her book Josh and Hazel's Guide to Not Dating, and while I really related to the main character and loved the book to pieces, it didn't jump to immediate everlasting love, for me. What it did do, however, is awaken a new kind of hunger for this author and the addicting type of writing she (they) can accomplish. And, because of this hunger, I found an absolute and total winner in this fun little read.
I absolutely fell head over heels for Reid, the guy in this one, whereas in her other book, it was Hazel that hooked me and kept me going. The chemistry between Reid and Millie just flew off the charts, and I adored how they were best friends first and explored their, ahem, needs after. But what happens when pushed to find dates for an event through a dating app, even though the heat is through the roof between these two, secretly?
I can willingly admit that I needed more drama in Josh and Hazel-and perhaps that makes me a monster that I can't just enjoy a happy book with just a light smidge of angst instead of a full out oh-my-gosh-when-is-he-going-to-find-outi'mgoingtodie. I just love that feeling. I mean, obviously I hate that in real life, so why do I love it so in books? Well, it came full force here and I LOVED how it wasn't just brushed under the rug. I loved Reid. I loved his pure heart. I loved everything about how he slowly fell for Millie…even as he fell for a girl online he hadn't met…that was, in fact, Millie, too.
A tangled web they weave, slowly falling for one another, but in different ways that could alter their friendship forever. Reid isn't all innocent, talking to other women on the app as well as falling for his best friend, but I'd say he's a lot less at fault-but that's for you to decide.
With an awesome group of friends surrounding them (I loved them all!), you can't help but to love this story with its quick wit and friendly humor. But Ed, as a secondary character, really stood out to me as the most-sincere, loyal, and just an all around sweet and tender-hearted guy looking for love. I found that he made my heart beat with all the most wonderful feels, right beneath Reid and Millie.
Honestly, this review has been really hard to write, because I don't want to say too much and ruin the whole plot-but I also wanted to stress just how much I love this angst, this drama, this I'm-falling-for-my-friend deep and emotional roller-coaster. I just…I loved it, and I loved how deeply I fell for it. But, to be fair, I am OBSESSED with online romance/'I don't know who it is but the other person does' romances. I'm actually a rabid fan of them and it's been forever since I read a good one…so what an amazing, surprising new favorite for me.
I can't wait to purchase this for my bookshelf when it comes out and I think many fans of this author duo will really like it. To those who haven't read anything by her yet? It's definitely a fun one and I highly recommend it-though, I may be biased because this trope duo is a favorite of mine 😊.
Related Posts