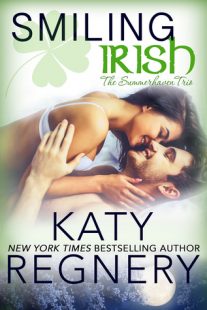 Smiling Irish
(
The Summerhaven Trio #2
)
by
Katy Regnery
Purchase on:
Amazon
, 
Book Depository
Add to:
Goodreads
Synopsis:

Tierney Haven and Burr O'Leary come from completely different worlds…
…but there's a reason they say "opposites attract."

Bookish Tierney Haven has always preferred places to people, and she especially loves the peace and quiet of Moonstone Manor, an estate museum located in the White Mountains of New Hampshire, where she is head docent, chief historian and live-in caretaker. The very last thing she expects to find on her doorstep in the middle of the night is bruised and bloodied stranger, Burr O'Leary, in desperate need of her help.

Against her better judgement and at the risk of her brothers' wrath, Tierney offers Burr sanctuary at Moonstone Manor, and nurses him back to health, surprised to discover that the dashing, enigmatic stranger loves the history and peace of Moonstone as much as she. But Burr has a dark history, and those who hurt him will stop at nothing to eliminate him...placing Tierney in grave danger until he is well enough to find them first.
Review:
I absolutely adored Smiling Irish!  The story started off with a bang in the middle of a dark and stormy night and I was glued to the pages.  There was action, heartache, friendship, secrets, true love and I couldn't get enough of it!
He'd barged into her tidy life, turning it upside down, and yet…and yet, it was some of the most exciting fun she'd ever had. She didn't want him to go. Not even a little bit.
Tierney Haven was the sweetest woman ever, and I came to care for her in the previous book, Fighting Irish.  She loved her happy, quiet little life….well almost all of it.  Once her brother, Rory, became involved with Brittney, she seemed to long for more.  So I loved that right from the start of this story, Burr O'Leary stormed into Tierney's life.  Burr was bloodied, injured, showed up in the middle of the night and was frightening.  Yet Tierney and her good heart helped him.  From that one decision, Tierney's whole life was about to change.
"You asked if I was good or bad. I can't tell you exactly who I am or what I've done, because the less you know, the better. But I want you to know this: I was always on the good side, Tierney. I've always counted myself among the good guys."
While Burr was a mystery, I quickly liked him.  In case you haven't realized it yet, I'm a sucker for tortured males. And Burr was absolute perfection in that regard.  He had scars that ran deep from what he saw and did, and my heart ached for him.  He sacrificed more than any person ever should.  As time passed, we slowly got to learn little pieces of who he was, and see the bigger picture.  It was so easy for me to fall head over heels in love with him.
Her breath caught as he took a step toward her. Placing two fingers under her chin, he lifted it so that her face was upturned to his. Then, gently, so gently that tears bit at the backs of her eyes, he dropped his lips to hers, brushing against them tenderly.
With the traumatic situation Tierney and Burr were thrust in, they easily formed a quick friendship.  They had to trust each other right from the start, even if the trust wasn't entirely there.  They were both Irish, and it was heartwarming how that helped link them together.  Plus the banter and chemistry did that too.  They had me laughing one moment and then swooning the next.  Their scenes together officially made them my favorite couple in this series.  Just don't tell Tierney's brothers that. 😉
"You are…the most beautiful thing I've ever seen, in all my life."
He reached for her waist, pulling her back between his legs.
Again I loved watching the relationship the triplets had with one another.  It was heartfelt and emotional.  They loved one another deeply.  And while Tierney had her brothers, I liked watching her form a friendship with her brother's girlfriend, Brittney.  They both needed a true friend and Tierney was beyond clueless when it came to guys.  She was highly inexperienced and I loved that she had Brittney to talk to.  Because Burr and Tierney realized that fighting their attraction was futile.  It didn't matter that they were from two entirely different worlds.  What was happening between them was so much bigger than life.  I just knew in the bottom of my heart that they would get their happily ever after.
"Do you still have hope for us?"
"I'll always have hope for us," she said.
Smiling Irish was the perfect mix of suspense, romance and friendship!  I loved every single moment and I'm so thankful I picked up this series.  So if you adore sweet romance stories, then definitely give this series a try.  Spoiler alert – I've already read the next book and it's absolutely adorable too.
Reading Order & Links:


Amazon (click on covers), iBooks (click on titles) & Book Depository (click on book #)
***Each book can be read as a standalone, but best enjoyed in order.***


Fighting Irish #1
Reviews:
Jen

Smiling Irish #2
Reviews:
Jen


Loving Irish #3
Reviews:
Jen


Catching Irish #4
Reviews:
Related Posts