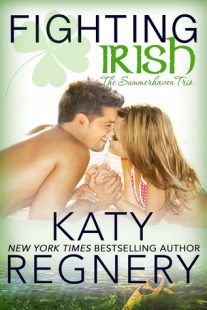 Fighting Irish
(
The Summerhaven Trio #1
)
by
Katy Regnery
Purchase on:
Amazon
, 
iBooks
Add to:
Goodreads
Synopsis:

Rory Haven and Brittany Manion knew one another as children...
...but it's been a long time since their childhood summers at Summerhaven.

The Havens weren't the children who attended exclusive Summerhaven Camp in Center Sandwich, New Hampshire. They were the children of the owners, expected to "pull their weight" and absolutely forbidden to fraternize with the paying guests. But that didn't keep Rory from having a quiet, unrequited crush on gorgeous, popular, insanely-rich, Brittany Manion for three tortuous summers.

When all-grown-up, recently-engaged Brittany books the off-season summer camp for her upcoming spring wedding, she immediately recognizes Rory as the scorching-hot boy who wouldn't give her the time of day. Meanwhile, Rory, who senses that Brittany's nuptials are less about Mr. Right and more about Mr. Right Now, launches the fight of his life to win the heart of the girl he's always wanted.
Review:
Fighting Irish was a sweet story that left a smile on my face.  It was filled with heartwarming characters, not a lot of angst and it was a quick read.  So here are three things that I absolutely adored while reading this book:
✮ Cute love story:
"Rory," whispered Brittany, her lips so close to his ear that his eyes fluttered closed for a split second, "I wish you'd broken the rules."
Rory always liked Brittney from afar.  She was one of the campers that would come to his family's exclusive camp each year.  But Rory's mom had a strict do not fraternize with the guests rule, and Rory was always the rule follower.  Years later he comes face to face with Brittney, she wanted to use the camp to host her wedding.  While the obstacles should feel daunting, because Brittney was engaged, I never felt like they were.  I didn't like her fiance from the get to, so I was all about her ditching her fiance and getting with Rory.  Bad Jen lol.  Brittney and Rory were both attracted to each other, even if they shouldn't, and there was no way they could deny what was between them.  What unfolded was oh so sweet and absolutely adorable. 
✮ Loveable characters:
"Why are you so sweet?" she asked, blinking away unexpected tears as she looked over at him, her glance resting on his strong, smooth jaw and tracing the lines of his beautiful profile. Her cheeks were still warm from the way he'd just looked at her, but she squelched the tiny thrum of hope from deep, deep within her heart.
The characters were so easy to connect with and I loved how we alternated between Rory and Brittney.  Rory Haven was sigh worthy, extremely patient, a hard worker and I loved how he went after what he wanted.  Brittney Manion was from an extremely wealthy family, and she seemed a little nervous about why others truly liked her.  While she didn't always trust her judgment, I loved how much she grew in this book.  She went from a woman who almost seemed meek at times to one who finally started to listen to her heart.  Brittney was such a warm, caring, thoughtful woman and I hoped she would finally make the right decision for herself.
✮ The importance of family:
Rory, you're a dumbass if you think all fights require fists and fury. Some fights are quiet, but the battle's still being waged. – Ian talking to Rory
This wasn't just a love story, in my eyes, family also played a strong, central theme.  You see, Rory is one of three triplets.  Not only did he come home to take over the family's business and put aside his dreams because his mother had a stroke.  But his brother, Ian, was an alcoholic and we got to see how Rory and his sister, Tierney, pulled together for their brother.  It was extremely heartwarming and I loved their dynamics.  I also adored the mother son relationship Rory had with Mrs Toffle, who worked for him.  They were such opposites, but they cracked me up!
So now I'm off to jump into the second book.  It's about Rory's sister, Tierney, and I can't wait to learn more about her!
Reading Order & Links:




Amazon (click on covers), iBooks (click on titles) & Book Depository (click on book #)
***Each book can be read as a standalone, but best enjoyed in order.***


Fighting Irish #1
Reviews:
Jen

Smiling Irish #2
Reviews:
Jen


Loving Irish

#3


Reviews:
Jen


Catching Irish #4
Reviews:
Related Posts