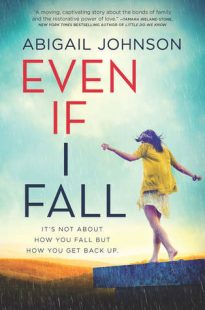 Even If I Fall
by
Abigail Johnson
Purchase on:
Amazon
, 
iBooks
, 
Book Depository
Add to:
Goodreads
Synopsis:

A year ago, Brooke Covington lost everything when her beloved older brother, Jason, confessed to the murder of his best friend, Calvin. Brooke and her family became social pariahs, broken and unable to console one another. Brooke's only solace remains the ice-skating rink, where she works but no longer lets herself dream about a future skating professionally.

When Brooke encounters Calvin's younger brother, Heath, on the side of the road and offers him a ride, everything changes. She needs someone to talk to…and so does Heath. No one else understands what it's like. Her brother, alive but gone; his brother, dead but everywhere. Soon, they're meeting in secret, despite knowing that both families would be horrified if they found out. In the place of his anger and her guilt, something frighteningly tender begins to develop, drawing them ever closer together.

But when a new secret comes out about the murder, Brooke has to choose whose pain she's willing to live with—her family's or Heath's. Because she can't heal one without hurting the other.
Thank you to NetGalley, Abigail Johnson and Harlequin Teen for my free ARC in exchange for an honest review.

"I'm not allowed to feel bad in front of you. I'm not allowed to feel bad in front of anyone, but especially not you, and I don't know how to stop."

"Even If I Fall" by Abigail Johnson is a hauntingly beautiful YA novel about love, family and forgiveness. As I described it to a friend, it reminded me of a more tragic, YA version of Mariana Zapata's "From Lukov with Love."
As the synopsis says, the story follows Brooke, who (along with her family) become social pariahs following her brother Jason's murder of his best friend, Calvin. Brooke's family is shattered, and each member struggles to deal with the loss of someone who is still alive, but admitted to committing an unspeakable crime. Also dealing with the loss of a brother, enter Heath, Cal's younger brother.
"I resist another urge to press my back against my door. Not because I'm physically afraid of Heath, but because I'm afraid of what he might say and how his words could shred me if he wants them to."

One day, Brooke offers Heath a ride into town. And that's how the story of Brooke and Heath begins. Both are struggling with the loss of a brother, though Brooke knows Heath's pain comes from the decision of her own brother. There are so many layers of loss, sadness and struggle. There's also a good deal of anger and resentment. It's a lot for our main characters to deal with, but I thought it was all very realistic and thoughtful.
After several other encounters, Brooke eventually asks Heath with his help training for an ice skating tour, as Brooke is an excellent skater. Heath ultimately agrees and they being spending more time together, but not before agreeing to keep it a secret from their respective families.
We keep trying to not hurt each other. But I did and he did. We are.

While it was fairly obvious what some of the main plot points were going to be, it didn't make the story any less enjoyable. I adored both Brooke and Heath and their slow-burn relationship. It was so well done and the build up was great. I also enjoyed the cast of characters around Brooke. They were all well-defined and added so much to the story. I would love to see a novella or long-form epilogue some day, as I'd love to see what everyone is up to after some time has past from the book's ending.
As steady as his arms are, my heart is beating wildly. And he just keeps holding me in the air like that, like I weigh nothing and he can go on holding me forever.
Related Posts