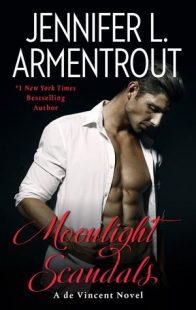 Moonlight Scandals (de Vincent #3) by Jennifer L. Armentrout
by
Jennifer L. Armentrout
Purchase on:
Amazon
, 
iBooks
, 
Book Depository
Add to:
Goodreads
Synopsis:

It takes a fearless woman to love the most scandalous man alive in New York Times Bestselling Author Jennifer L. Armentrout's breathtaking novel.

Even a ghost hunter like Rosie Herpin couldn't have foreseen the fateful meeting between two mourners that has brought her so intimately close to the notorious and seductive Devlin de Vincent. Everyone in New Orleans knows he's heir to a dark family curse that both frightens and enthralls. To the locals, Devlin is the devil. To Rosie, he's a man who's stoking her wildest fantasies. When a brutal attack on her friend is linked to the de Vincents, he becomes a mystery she may be risking her life to solve.

Devlin knows what he wants from this sexy and adventurous woman. But what does Rosie want from him? It's a question that becomes more pressing—and more dangerous—when he suspects her of prying into the shadows of his past.

Now, the legends surrounding the de Vincents may not be myths at all. But if she's to discover the truth, she must follow them straight into the arms of the man she can't resist—the handsome devil himself
Review:
"The devil is coming."
With its gothic feel and enticing story-line, Moonlight Scandals was a stunning conclusion to the de Vincent series.  This story was filled with characters I loved, some impressive twists and turns and it all made this book impossible to put down.  If you're not familiar with this series, I recommend starting back at the beginning with Moonlight Sins. Each book weaves itself into the next and it's an intoxicating ride getting to know each of the de Vincent brothers.  You don't want to miss a single minute of it!
"Did you seriously just tell me I needed to get laid?"
Rosie rolled her eyes. "Did you seriously just prove what I said?"
A moment passed. "Are you volunteering?"
Devlin de Vincent, aka the Devil, intrigued me back in that first book.  And throughout this series he has remained the biggest mystery ever. He always came across as closed off and cold.  But from the moment he interacted with Rosie, in that last book, he came to life. Rosie was best friend's with Devlin's brother's girlfriend.  So they were bound to run into each other, and each and every time they did I couldn't hold back the laughter or the sighing. Devlin and Rosie were hilarious, swoon worthy and I was always begging for more.
What had she called him?
Ah, yes. A dickhead.
His shoulders lifted in a silent chuckle as he reached for his glass of bourbon.
If you love stories that are hate to love with fabulous banter, you're going to love this book.  Devlin was definitely the king of assholes and Rosie had no problem putting him in his place.  She would go toe to toe with him and even tell him when he was wrong. So of course Rosie quickly earned my respect.  She was brave, fierce, loved her family, was a good friend and wasn't scared of the infamous Devlin de Vincent. Yet each time they were together you could feel how much they physically wanted the other.  And when they finally did kiss or touch, it was like fireworks exploded.
"You want to kiss me?"she repeated, feeling foolish for even asking that question and for the flutter that picked up in her stomach.
That small grin appeared again. "I do."He paused. "Very badly."
I've been so curious to know more about Devlin.  Especially since he was the most secretive of the de Vincent's, even his brother's didn't know his deepest and darkest secrets.  So when Devlin started to let Rosie see a tiny bit of who he was, oh he stole my heart even more.  But there was bumps because Devlin didn't trust easily. He would act hot and cold towards Rosie, so that led to him making mistakes.  But the man knew how to ask for forgiveness and it was not only heartwarming but sexy as hell. And when you add in how Devlin fiercely protected those he cared for, I was more than obsessed with him.
She leaned in, kissing the center of his chest, through his shirt, and hell if that didn't cause this weird pressure to clamp down on him.
It was unexpected.
Potent.
Confusing as fuck.
Moonlight Scandals had other moments in it that made me pause.  It was said that the de Vicents were cursed and that their land was haunted.  There were moments in the prior books that also made me pause, so I should have known better than read this book in the dark lol.  Especially since Rosie was part of a paranormal exploration team and one of her good friends was a psychic medium. When you tie that in with the bumps in the night and the sights of something that couldn't possibly be there, well there was an eeriness in the air that you could feel.  Just by that second chapter I had chills racing down my arms and I even screamed out loud.
He dipped his head as his hand slipped down her stomach, resting just below her navel. "You make me want . . . so much, Rosie. You have no idea."
She lifted her head, brushing her lips against his. "Show me."
This book was so much fun!  There was a ton of secrets and everything gets spilled.  And while I guessed a few of the plots twists and was shouting out loud "I knew it!" there was one I didn't even see coming.  Now I'm desperately begging, please let there be one more book. Please, please, please! But don't worry, there was an epilogue at the back of this book that was everything dreams were made of.  Not only do we get a peek into Devlin and Rosie's future, but also a look into Julia, Lucien, Gabe and Nikki's futures and it was beautiful.  So yes, I definitely recommend this book and series to everyone who loves romance.
*I voluntarily read and reviewed an advanced copy of this book, provided by the author. All thoughts and opinions are my own.*
Other Quotes I Loved….
Rosie allowed herself to be dickmatized— you know, when you were either hypnotized by how attractive someone was or you were hypnotized by their dick, which therefore allowed you to look past unsavory traits about the person. That was what she was doing right then.
 A douchebag was a douchebag, even if there were moments of nondouchery.
 "You know ," she said, letting her head rest against the seat as she watched him. "You're allowed to laugh and smile."
His gaze shot to hers. "I know."
"Do you?"
 His mouth moved over hers, and she could taste his desire in his kiss, feel it when his tongue moved across her teeth and then her tongue, and in the way his hips rolled into her as the hand that had been at her jaw slid down.
About Jennifer L. Armentrout:
# 1 New York Times and # 1 International Bestselling author Jennifer lives in Charles Town, West Virginia. All the rumors you've heard about her state aren't true. When she's not hard at work writing. she spends her time reading, watching really bad zombie movies, pretending to write, hanging out with her husband and her Jack Russell Loki. In early 2015, Jennifer was diagnosed with retinitis pigmentosa, a group of rare genetic disorders that involve a breakdown and death of cells in the retina, eventually resulting in loss of vision, among other complications. Due to this diagnosis, educating people on the varying degrees of blindness has become of passion of hers, right alongside writing, which she plans to do as long as she can.

Her dreams of becoming an author started in algebra class, where she spent most of her time writing short stories….which explains her dismal grades in math. Jennifer writes young adult paranormal, science fiction, fantasy, and contemporary romance. She is published with Tor, HarperCollins Avon and William Morrow, Entangled Teen and Brazen, Disney/Hyperion and Harlequin Teen. Her Wicked Series has been optioned by PassionFlix. Jennifer has won numerous awards, including the 2013 Reviewers Choice Award for Wait for You, the 2015 Editor's Pick for Fall With Me, and the 2014/2015 Moerser-Jugendbuch- Jury award for Obsidian. Her young adult romantic suspense novel DON'T LOOK BACK was a 2014 nominated Best in Young Adult Fiction by YALSA. Her adult romantic suspense novel TILL DEATH was a Amazon Editor's Pick and iBook Book of the Month. Her young adult contemporary THE PROBLEM WITH FOREVER is a 2017 RITA Award Winner in Young Adult Fiction. She also writes Adult and New Adult contemporary and paranormal romance under the name J. Lynn. She is published by Entangled Brazen and HarperCollins.

She is the owner of ApollyCon and The Origin Event, the successful annual events that features over hundred bestselling authors in Young Adult, New Adult, and Adult Fiction, panels, parties, and more. She is also the creator and sole financier of the annual Write Your Way To RT Book Convention, a contest that gives aspiring authors a chance to win a fully paid trip to RT Book Reviews.
Related Posts