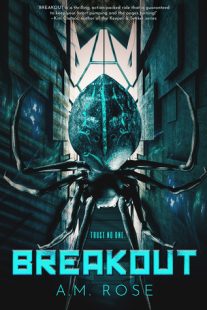 Breakout
by
A.M. Rose
Purchase on:
Amazon
, 
iBooks
Add to:
Goodreads
Synopsis:

Six days.

That's the amount of time until Lezah's execution.

She'll die never knowing what got her locked up in that godforsaken prison in the first place. Her only chance of survival is to escape. Except the monitoring bracelet that digs into her wrist, the roaming AI, and the implant in her neck make freedom close to impossible.

Her best chance is to team up with the four other inmates who are determined to break out, even if one of them is beyond gorgeous, annoying—oh, and in for murder. But he has a secret of his own. One that could break Lezah if she finds out, but could also set him free.

Figuring out how to work with him and the rest of this mismatched group of criminals is the only way Lezah will survive to see the outside world again.

But nothing in this prison is as it seems. And no one.
Review:
Breakout was an intense ride that kept me on the edge of my seat. I found myself completely captured by this story and had to know what happened next. So this book refused to be put down and I needed to know that everyone I cared for survived. There were lots of twists and turns and while I tried my hardest to put the clues together, I was still left in the dark at times. I loved that this book challenged me. So if you're a fan of dystopian, then definitely give this book a try!
My legs beg for me to run, to find a way out, but all I'm trying to do right now is survive. Live one more day to figure out how to crack the system. Find a flaw they don't even know exists to escape.
From that very first page, I was sucked in and terrified for Lezah. She found herself in a horrific prison, and she didn't know what she did to end up there. But there was a countdown for her death, and if she wanted to survive then she had to escape. The scenes that unfolded were so intense. I was literally scared to move or make any noise at all. I felt like I was trapped in that hell with her. And that was only the first chapter.
Something out there's hunting us, and I don't have the time to be quiet or think about where I'm going, I just have to go.
But escaping wasn't easy. The prisoners were not only monitored by a device they wore, but also by WALTERS. WALTERS were artificial intelligence that were self aware and could think on their own. They added another level of intensity and terror to the prison Lezah was in. So by the second chapter I jumped and gasped out loud from being scared and startled. And my claustrophobic self was dying in some of the situations Lezah found herself in. It just kept getting worse and worse and as the story progressed I could feel my heart pounding in my chest.
His aren't just gray; they look like the clouds, with swirls of blue around the middle. That weird feeling in my stomach is back, and I'm warm, maybe a little hot even with the chill in the air. He's so close. Closer than he's ever been, and for a second I allow myself to forget about the past and look at the boy who was willing to risk everything for us today.
Lezah was so easy to connect with, even if her past was fuzzy and she wasn't able to give us a full picture of who she was. She was brave, smart, resourceful and she listened to her heart and brain, which I loved. We got introduced to other characters, but I'm keeping them a secret because this book is best going in blind in regards to them. Each one stood out brightly and it was interesting to see how they played into this puzzle. Just know that the love interest? Sigh. He was everything I love in a guy. And the tentative friendships she created with the others gave me the hope and lightness I needed in this story.
"They have to know by now that we're all gone anyway." And possibly they know exactly where we are, too.
So while this story was action packed, it was also filled with deception, friendship, lies, trust and love. Breakout was the perfect balance between a gripping storyline and emotional characters that pulled at my heart and grew as the story progressed. Looking back, I loved how Breakout was a maze of twists and turns the whole way through. Just when I thought safety was within reach, I had to think again, because everything would change in the blink of an eye.
"What is this place?"
He turns toward me and tilts his head. "Why do you ask questions you already know the answer to?"
This book ended at a fabulous stopping point. Lots of questions were answered and problems were solved. But there's still so much that can happen in this world, so of course I'm hoping for that next book. That way I can get a few more answers and be back with this group of characters that captured my heart. So if you're a fan of The Matrix or dystopian books that have sci-fi twists then definitely pick this one up. I'm so glad I did!
*I voluntarily read and reviewed an advanced copy of this book, provided by the publisher. All thoughts and opinions are my own.*
Related Posts