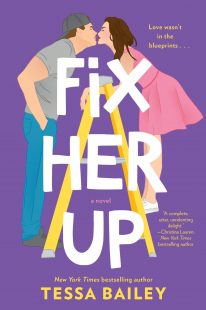 Fix Her Up
(
Hot & Hammered #2
)
by
Tessa Bailey
Purchase on:
Amazon
, 
iBooks
Add to:
Goodreads
Synopsis:

A brand new romantic comedy from New York Times bestseller Tessa Bailey!

Georgette Castle's family runs the best home renovation business in town, but she picked balloons instead of blueprints and they haven't taken her seriously since. Frankly, she's over it. Georgie loves planning children's birthday parties and making people laugh, just not at her own expense. She's determined to fix herself up into a Woman of the World... whatever that means.

Phase one: new framework for her business (a website from this decade, perhaps?)

Phase two: a gut-reno on her wardrobe (fyi, leggings are pants.)

Phase three: updates to her exterior (do people still wax?)

Phase four: put herself on the market (and stop crushing on Travis Ford!)

Living her best life means facing the truth: Georgie hasn't been on a date since, well, ever. Nobody's asking the town clown out for a night of hot sex, that's for sure. Maybe if people think she's having a steamy love affair, they'll acknowledge she's not just the "little sister" who paints faces for a living. And who better to help demolish that image than the resident sports star and tabloid favorite?

Travis Ford was major league baseball's hottest rookie when an injury ended his career. Now he's flipping houses to keep busy and trying to forget his glory days. But he can't even cross the street without someone recapping his greatest hits. Or making a joke about his… bat. And then there's Georgie, his best friend's sister, who is not a kid anymore. When she proposes a wild scheme—that they pretend to date, to shock her family and help him land a new job—he agrees. What's the harm? It's not like it's real. But the girl Travis used to tease is now a funny, full-of-life woman and there's nothing fake about how much he wants her...
"I didn't want to visit tickle town, but you left me no choice."
"Stop calling it that."
Georgie half laughed, half squealed, attempting and failing to twist onto her belly. "Oh my God. A naked man is tickling me by force. I never want to hear clowns are scary again."

Holy sheeeeeeet this was good. So far this book weirdly seems to make people either fall madly in love or hate which is pretty impressive. I am strongly in the LOVE camp. Wow. This is my first book my Tessa Bailey and you can best believe she is staying on my radar now (I may have already ran to request an advanced copy of Love Her of Lose Her. Now, I think this book cover, similarly to The Hating Game, is going to make people think that they are going to find something else when they open this up. I know that I would have before reading the reviews that I did.

This book is NOT cutesy and fluffy and tame. This book is emotional, and filthy, and addicting. I listened to most of it yesterday while I was doing things at my desk at work and holy shit….you probably shouldn't do that hahahah. I kept being super paranoid about my volume being too loud or my headphones suddenly being ripped from my computer which would have led to my coworkers being probably momentarily stunned and I would have had to run away and hide my blushing face for at least a week. Seriously though, the dirty talk. I'm sweating and fanning myself just thinking about it. If you're not a big fan of that, I don't think you will like this book, tbh. Travis is a very, in-your-face, tell-it-like-it-is-especially-sexually kind of character lol.

"The quiet got too loud once you'd come and gone." Another long kiss that left her gasping. "How dare you."

What I love most about this book though, is that it's more than just some book about sex. Bailey gives us so, SO much more emotionally with ALL of the characters. Georgie was so relatable on so many different levels. Even if you're not a youngest child, I think it's safe to say that we've all been treated like a kid before, even long after we should have been. We've all been not taken seriously at one point in our lives and know how shitty that can feel, especially if it's coming from someone you know and love. I appreciated that while Georgie and Travis started their "fake relationship" to help fix one another's appearances, that they both kind of still ended up helping themselves in the process. Of course the fact that they could be real with each other and talk about what they were REALLY thinking or what they really WANTED out of life helped a lot…but Georgie especially ended up taking her life into her own hands just after Travis had stuck up for her to her family ONE time even. I do love a good H saves h story but who also doesn't love stories that also feature the heroine saving herself, too?!

I also really loved when Georgie, Bethany, and Rosie started the Just Us League. I think that really went a long way with Bethany realizing how hurtful (even without meaning it) and unfair she was being to Georgie about being a clown and all that jazz. Also….can we just talk about how much I'm DYING to get Rosie and Dom's story. Especially after that….charged….scene before they did the tough mudder. Wowwowwow. I am going to snatch that up so fast.

FINALLY I just loved Travis and Georgie together so much in general. I have always really liked the older brother's best friend gets with young sister trope. It's weirdly exciting and always steamy with the "no I shouldn't be doing this but I literally can't helping ripping you're your clothes off right now" type of thing. Even though Travis seems like he has the possibility of being a douchey, macho character (his dick is called Two Bats but I'd like to think he didn't name it that himself lololol), there was SO much more depth to him. I hurt for him so much hearing about how shitty his parents were to him and and how much it hurt him for people to objectify him day after day. I can't even imagine what that must have felt like. Knowing that Georgie was there, rooting for him since high school made my heart fucking melt into a gooey mess. ALSO THAT PROPOSAL???!?!?! Sighhhh This a must read, you guys. Seriously.

Georgie's heart was in her eyes. She could feel it. How much she showed him in that moment. Ten years of nursing an all-consuming crush she'd assumed was love, when she'd had no idea that this was what love felt like. This. This was it. So heavy at times it couldn't be lifted, so light at others it made you capable of floating.
Related Posts