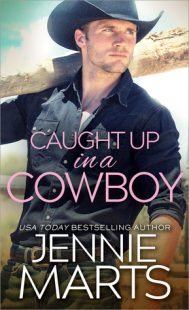 Caught Up in a Cowboy
(
Cowboys of Creedence #1
)
by
Jennie Marts
Purchase on:
Amazon
, 
iBooks
Add to:
Goodreads
Synopsis:

This cowboy plays to win

Rockford James was raised as a tried and true cowboy in a town crazy about ice hockey. Rock is as hot on the ice as he is on a horse, and the NHL snapped him up. Now, injuries have temporarily benched him. Body and pride wounded, he returns to his hometown ranch to find that a lot has changed. The one thing that hasn't? His feelings for high school sweetheart and girl-next-door Quinn Rivers.

Quinn had no choice but to get over Rock after he left. Teenaged and heartbroken, she had a rebound one night stand that ended in single motherhood. Now that Rock's back―and clamoring for a second chance―Quinn will do anything to avoid getting caught up in this oh-so-tempting cowboy...
Review:
Caught Up in a Cowboy was such a fun, heartwarming story!  I loved how quickly we jumped in and I found myself completely captivated by Quinn and Rock.  Their back story, their family, and their run ins all had my full attention. And with moments of sexiness, heartache, and laughter all tied together, it made for such a charming book!
It didn't matter how many sparkles of heat shot through her or how ridiculously muscled his arms were or how his offer of peace between them filled her heart with a secret longing of hope, the cold, hard truth was that he wasn't back. Not really. He was back only for now.
Right from the start, Quinn and Rock met back up.  It was hilarious, yet at the same time there was a lot of other emotions mixed in too.  You see, Rock broke Quinn's heart 9 years ago.  They were High School sweethearts who planned to spend their future together.  But when Rock pursued his hockey career, he left Quinn in the dust. And with Quinn feeling bitter and upset, she had a one night stand which left her pregnant and alone.  As years passed, Quinn and Rock ran into each other but it was always a tense and brief hello. But not anymore. Rock suffered an injury while playing for the NHL and he's back home on an extended break.  
A thick chunk of regret settled in his gut, and he knew letting her go had been the biggest mistake of his life.
Through a fun turn of events, Rock found himself back in Quinn's life.  And the chemistry between the two of them was definitely still there. You could feel it every time they were near each other.  Even if Quinn still held her anger in a death grip, ha! And while I loved watching the tension between them build, I also loved how easily their friendship restarted.  It was filled with honesty, teasing and it all felt so simple and heartfelt.  Ohhh and I loved, loved, loved how quickly Rock and Max bonded.  Max is Quinn's eight year old son and he was seriously the most adorable child ever.  He made me laugh and smile so much. I loved how much heart he brought to the story! And while I watched them all interact, I started to imagine what they would be like.  As a real family.
He picked up a loose strand of her hair and twisted it between his fingers. "You were the best part of my life, and for the past eight years, I feel like a piece of me has been missing. And that piece is you. I want you back in my life, Q."
So while Quinn and Rock grew closer, I got Quinn's uncertainty.  She'd been left and heartbroken by him in the past. And everyone knew that once Rock was healed, he was heading back to the NHL.  Quinn tried her hardest to protect her heart, but Rock was persistent…. I loved that about him!  Just you wait and see all that he does, sigh.  But Rock definitely had some growing up to do and I loved how much he progressed as the story unfolded.  He gained so much wisdom and insight being back home and I was so proud of him.  It left me with a lot of faith, and I could easily see Quinn and Rock getting their happily ever after.  Well that was until a different variable stepped in……the suspense was a lot of fun! I can't say anything more, other than I was impressed with how it all played out!
He gingerly set the necklace down and raised his hand to cup her cheek. "You still have it, you know. No matter where I've been, or what stupid decisions I've made, my heart has always belonged to you."
Caught Up in a Cowboy was such an adorable story!  There were a few cheesy moments in the beginning, but it was definitely warranted.  All I can say is birthday party and pirates…..it made me laugh and smile. And if you're a fan of families playing an integral part in stories, you're in for a treat.  I absolutely loved both of their families and I'm keeping my fingers crossed that their brothers will get their own stories down the road.  So if you love second chance romance, with family thrown in the mix, definitely check out Caught Up in a Cowboy!  It was such a cute story and I'm looking forward to the future books in this series!
*I voluntarily read and reviewed an advanced copy of this book, provided by SOURCEBOOKS Casablanca. All thoughts and opinions are my own.*
Reading Order & Links:




Amazon (click on covers), iBooks (click on titles) & Book Depository (click on book #)
***Each book can be read as a standalone, but best enjoyed in order.***


Caught Up in a Cowboy #1
Reviews:
Jen

You Had Me at Cowboy #2
Reviews:
Jen

It Started With a Cowboy #3
Reviews:
Jen

Wish Upon a Cowboy #4
Reviews:
Jen
Related Posts