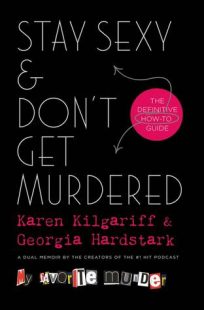 Stay Sexy & Don't Get Murdered: The Definitive How-To Guide
by
Karen Kilgariff, Georgia Hardstark
Purchase on:
Amazon
, 
iBooks
, 
Book Depository
Add to:
Goodreads
Synopsis:

The highly anticipated first book by Karen Kilgariff and Georgia Hardstark, the voices behind the #1 hit podcast My Favorite Murder!

Sharing never-before-heard stories ranging from their struggles with depression, eating disorders, and addiction, Karen and Georgia irreverently recount their biggest mistakes and deepest fears, reflecting on the formative life events that shaped them into two of the most followed voices in the nation.

In Stay Sexy & Don't Get Murdered, Karen and Georgia focus on the importance of self-advocating and valuing personal safety over being 'nice' or 'helpful.' They delve into their own pasts, true crime stories, and beyond to discuss meaningful cultural and societal issues with fierce empathy and unapologetic frankness.
Alright, I know we don't review a lot of non-fiction on this blog, especially true-crime related fiction. But I thought I'd spice things up a little bit with something different from our usual genres, as I occasionally dip my toes into non-fiction.
We barely get any time on this planet. Do not spend it pleasing other people. Fuck politeness. Live life exactly how you want to live it so you can love the life you make for yourself.

I'm joining the other couple of voices in the minority and saying, sadly, this book was a miss for me. Let me also preface this review by also saying I am a long-time listener of the podcast and have seen them live twice.

I wasn't really sure what to expect from this book, as K&G had said this would be more of memoir than a true crime book. Fine – I don't mind a good celebrity memoir. But to call it a memoir wouldn't be quite accurate. It was closer to a set of essays, with some self-help and true crime anecdotes thrown in there. There was a very small structure to the book, but honestly, it jumped all around and felt very random at times (This was especially true with Karen's latchkey guide essay. That was something…).

The book is a very quick read. You could easily finish it in a few sittings. It's written very informally, in a way that's meant to emulate their speaking style. Sometimes it would work, but more often that not, I felt it landed pretty flatly. For as much as K&G make me chuckle on the podcast, I don't recall laughing too much through this. Honestly, I laughed a lot more reading Scrappy Little Nobody than I did this, though this specific line made me chuckle:

The foresty sounds of the forest and the crackle of the bonfire slowly dying lulling us to sleep. The animals and serial killers tucking in for the night nearby.

And for a book based around/inspired by true crime, the true crime was pretty sparse. The strongest chapters, in my opinion, were the ones about Georgia's family camping escapades and Karen's advice/recalling Michelle McNamara in chapter 8. I also enjoyed (sorry if that's not the right word, but that's what I'm going with) the stories about Georgia's photoshoot, Karen's dealings with her mother's Alzheimer's and Karen's thoughts on Scientology and LA.

Overall, I'm glad I read it but also glad I made the decision not to buy it. I certainly can't see myself re-reading it. And while you certainly don't need to be a fan of the podcast to read the book, I think it really is for the fans.

I don't know if anyone else feels the same way, but I feel the book reflects the direction the podcast has taken: it's more about their lives and social topics, rather than murder stories. The "favorite murders" seem to be almost an after thought some weeks. Which is fine, if that's what they want to do. But for those of us who started following K&G for their unique perspective on the darkest aspects of life, it's been a slightly disappointing pivot. I'm going to keep following along, as every time I get close to moving on, they put out an amazing episode and I remember why I loved them in the first place.

Sorry for my slight rambling, but I haven't had any place to put these thoughts down, so here I am. If you are still with me, thank you.

We're all crazy and scared and searching. No one gets to use that against you. It's not proof you're broken, it's proof you're human.
Related Posts