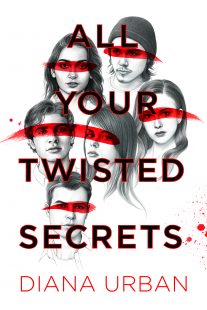 All Your Twisted Secrets
by
Diana Urban
Purchase on:
Amazon
, 
iBooks
Add to:
Goodreads
Synopsis:

Welcome to dinner, and again, congratulations on being selected. Now you must do the selecting.

What do the queen bee, star athlete, valedictorian, stoner, loner, and music geek all have in common? They were all invited to a scholarship dinner, only to discover it's a trap. Someone has locked them into a room with a bomb, a syringe filled with poison, and a note saying they have an hour to pick someone to kill … or else everyone dies.

Amber Prescott is determined to get her classmates and herself out of the room alive, but that might be easier said than done. No one knows how they're all connected or who would want them dead. As they retrace the events over the past year that might have triggered their captor's ultimatum, it becomes clear that everyone is hiding something. And with the clock ticking down, confusion turns into fear, and fear morphs into panic as they race to answer the biggest question: Who will they choose to die?

"Talk about frightening page-turners! I kept reading chapter after chapter. I had to know what happens next! And trust me―the scares just keep on coming!" ―R.L. Stine, bestselling author of Goosebumps and Fear Street
Thank you to Edelweiss, the publisher and the author for an ARC in exchange for a honest review.

Welcome to dinner, and again, congratulations on being selected. Now you must do the selecting. Within the hour, you must choose someone in this room to die. If you don't, everyone dies.

As soon as I read the blurb for this book, I knew I HAD to have it. It has so many elements I love in thrillers: an isolated location (in this case, a locked room), a group of people who have secrets and a running clock until disaster strikes. SIGN ME UP.

Here are the major players of the book:
Amber – Main POV. Loves to compose music and is still dealing with the death of her older sister.
Sasha – Popular cheerleader and lead in the school play. Regina George, if you will.
Priya – Amber's longtime best friend.
Robbie – Amber's boyfriend and college-bound baseball player. Also popular.
Diego – Smart and a former friend of Amber's. Won a Shark Tank-style show, which was the eventual cause of the rift.
Scott – The outlier of the group. Friendly with Amber but not friends with anyone else with the group and falls under your classic "bad boy" trope.

The book is told in a series of short bursts of present day and extended flashback to the events leading up to the fateful night. It is also mostly told through the viewpoint of Amber Prescott, a girl who loves to compose music. So much so that she has convinced to the drama club to perform a Romeo & Juliet set entirely to her original compositions.

It wouldn't be high school without friend or relationship drama, and while Amber previously found herself on the fringe of high school society, she is thrust into the popular group when she becomes friends with Sasha and begins dating Robbie. Soon she is juggling so many priorities, things start to fall apart. But above all, her driving force is to be accepted into USC's music program.

"Killing him won't bury your secret…because I know it too."

I really don't want to give away anything more than what I've mentioned above, because you just need to read it for yourself. But by the end, everything is threaded together. We know exactly how and why everyone is in that room. I was OK with the ending. I think my biggest frustration was with how little of the book actually takes place in the present. I understand with a ticking clock and everything happening in one room, there's only so much that can happen. But it really seemed like 80-85% of the book takes place in flashbacks, when the most interesting stuff (to me at least) was what was happening in the locked room. Thus, the four instead of five stars.

If you ever wished the Breakfast Club had been a little more intense (aka those Riverdale episodes), then I wholeheartedly recommend picking up this book and devouring it like I did.

The thing about being trapped in a room with five other people, a bomb, and a syringe of lethal poison is that at some point, shit's going down. No matter how frantically you claw at rationality, how desperately you cling to common decency, you eventually give in to your basic instinct to survive.
All Your Twisted Secrets will be available March 17, 2020.
Related Posts